Herb-Rubbed Pork Tenderloin
Published Mar 03, 2020•Updated Dec 06, 2022
Flavorful pork tenderloin is rubbed with dried herbs and spices and roasted with tender potatoes in this crowd-pleasing sheet pan meal. Top it all off with lemony pan sauce.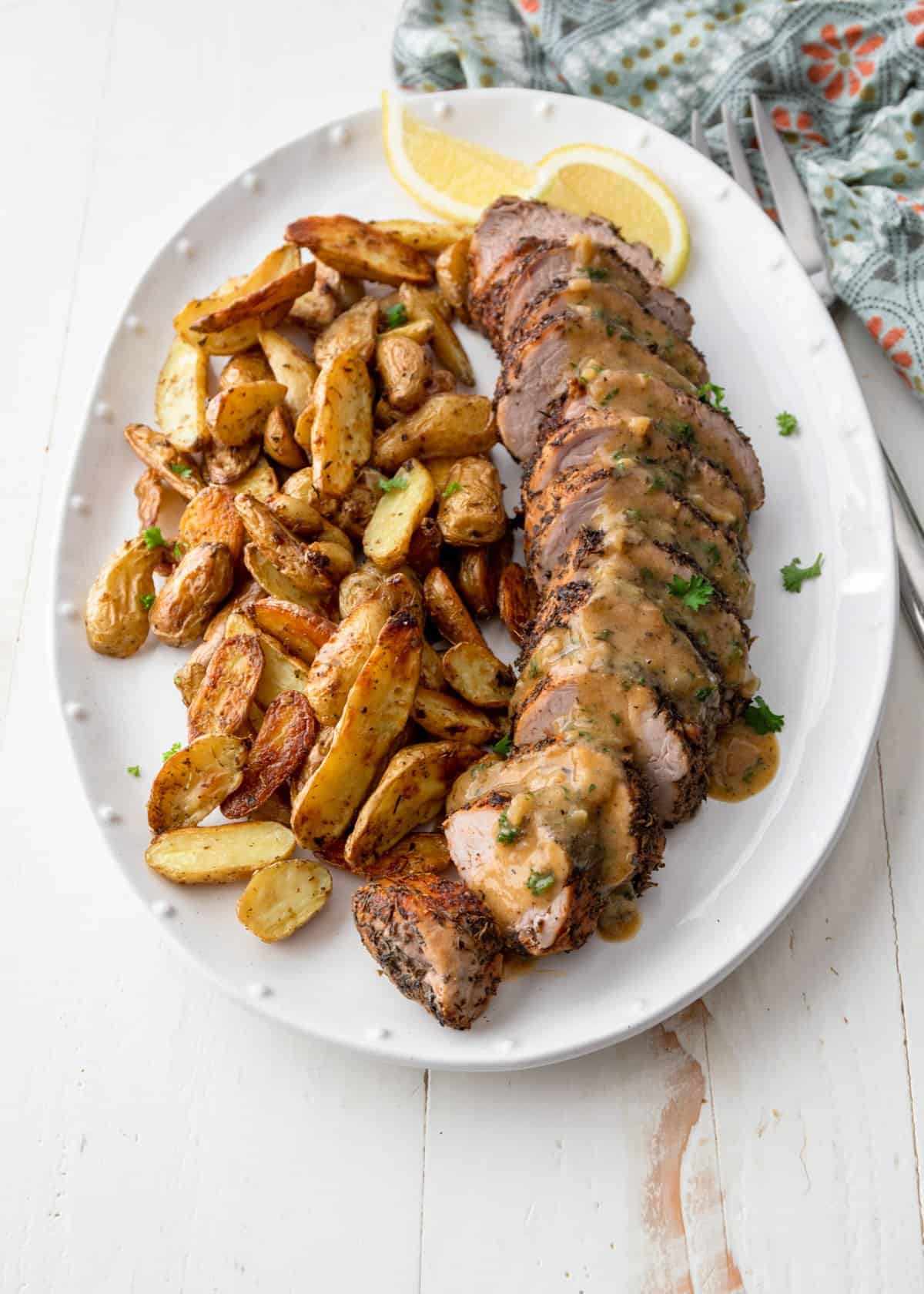 My three-year-old, June, has gotten it in her head that "yesterday" is pronounced "rest-of-day". As in, when did we go to the park? Rest-of-day. Did you play with your friends? Yes, rest-of-day. When did we have pork tenderloin for dinner? Rest-of-day.
It's so cute that I wouldn't dream of correcting it.
But the phrase is sort of true when it comes to this sheet pan pork tenderloin. It seems that we've had it so often lately that you really could say we've had it the "rest" of the days. It's turned out to be my go-to meal for early spring. Full of flavor, easy to prep, and perfect for family members who need a dairy-free or gluten-free option, I've found myself turning to this again and again and I hope you will too. Paired with a simple green salad, it works just as well on a Tuesday night at home with just the family as it does on a weekend with guests. Here's how to pull it together.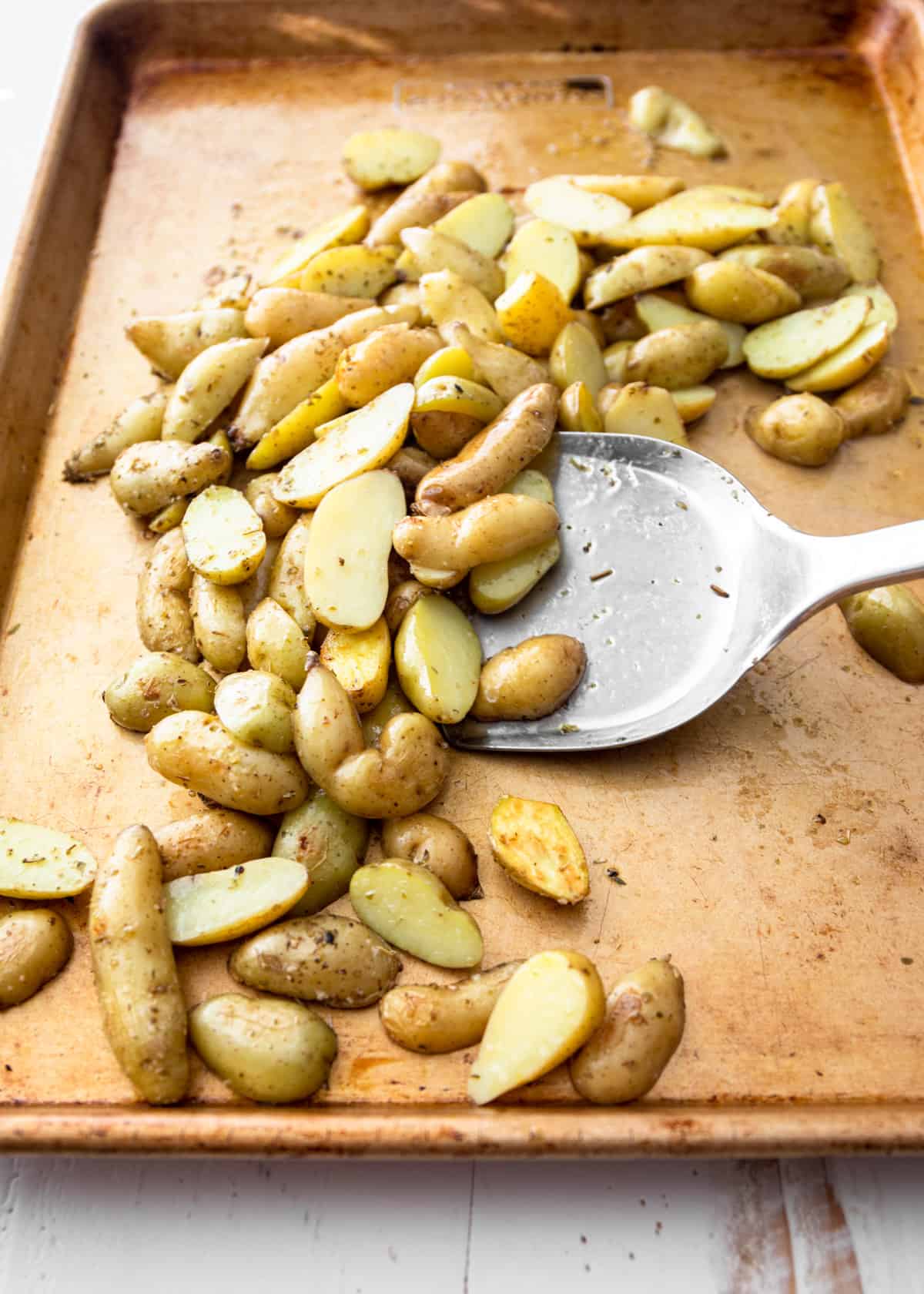 Step-by-Step Sheet Pan Pork and Potatoes
Make Spice Rub

– I've played around with the combination of spices and herbs to flavor this pork, and landed on the mix below, but feel free to change things up if you prefer. It's heavier on dried herbs than spices. You can absolutely skip the red pepper flakes if you don't want spice. A pinch of ground cinnamon may seem strange but it goes so nicely with the savory flavors in this dish.

Roast Potatoes

– The potatoes need a bit of a head start, so let them roast, covered in a very hot oven. This steam-roasting method is the best way to get potatoes that are fluffy in the middle and golden on the outside. It's the same method I use for

Parmesan Roasted Potatoes

.

Sear Pork

– Rub the pork with the spice rub and then sear it in a hot skillet just until a golden crust forms on the outside.

Finish Pork and Potatoes Together

– This is where the real magic happens. Nestle the pork in the potatoes where any of the juices it releases while cooking will flavor the potatoes.

Make Pan Sauce – In the skillet used to sear the pork, whisk up a quick pan sauce. It's an incredibly simple sauce flavored with lemon, mustard, and a bit of fresh parsley.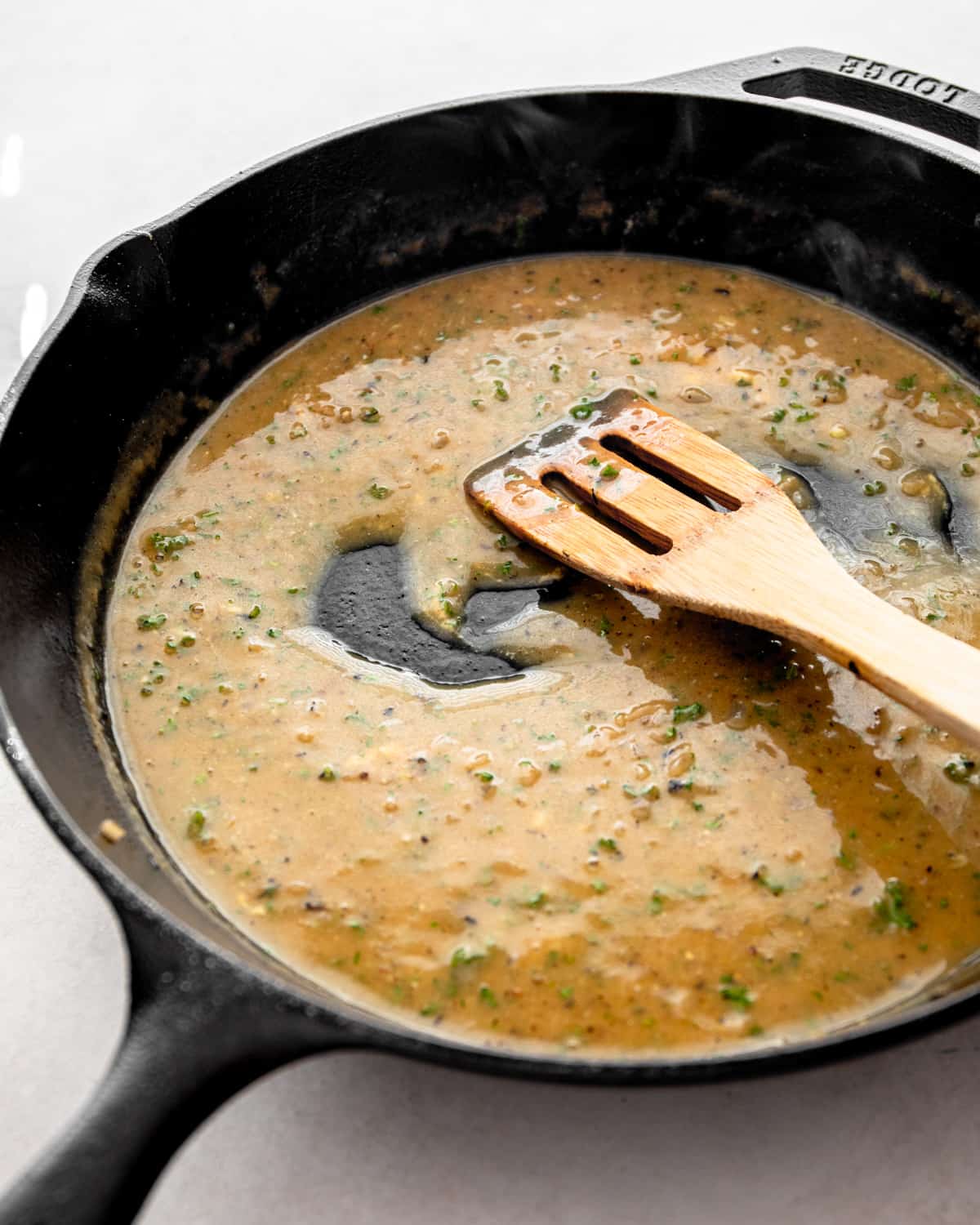 Rest Pork
Whatever you do, make sure you let the pork tenderloin rest before you slice into it. Resting the pork will result in a pork that is evenly cooked and will help the juices to distribute so that each bite is tender and flavorful. Cover it with foil so it stays warm while resting.
Variations
Make it Gluten-Free –

Use a gluten-free flour blend in the pan sauce or just skip the flour and reduce the stock amount by about half. (The sauce will be more thin but still delicious.)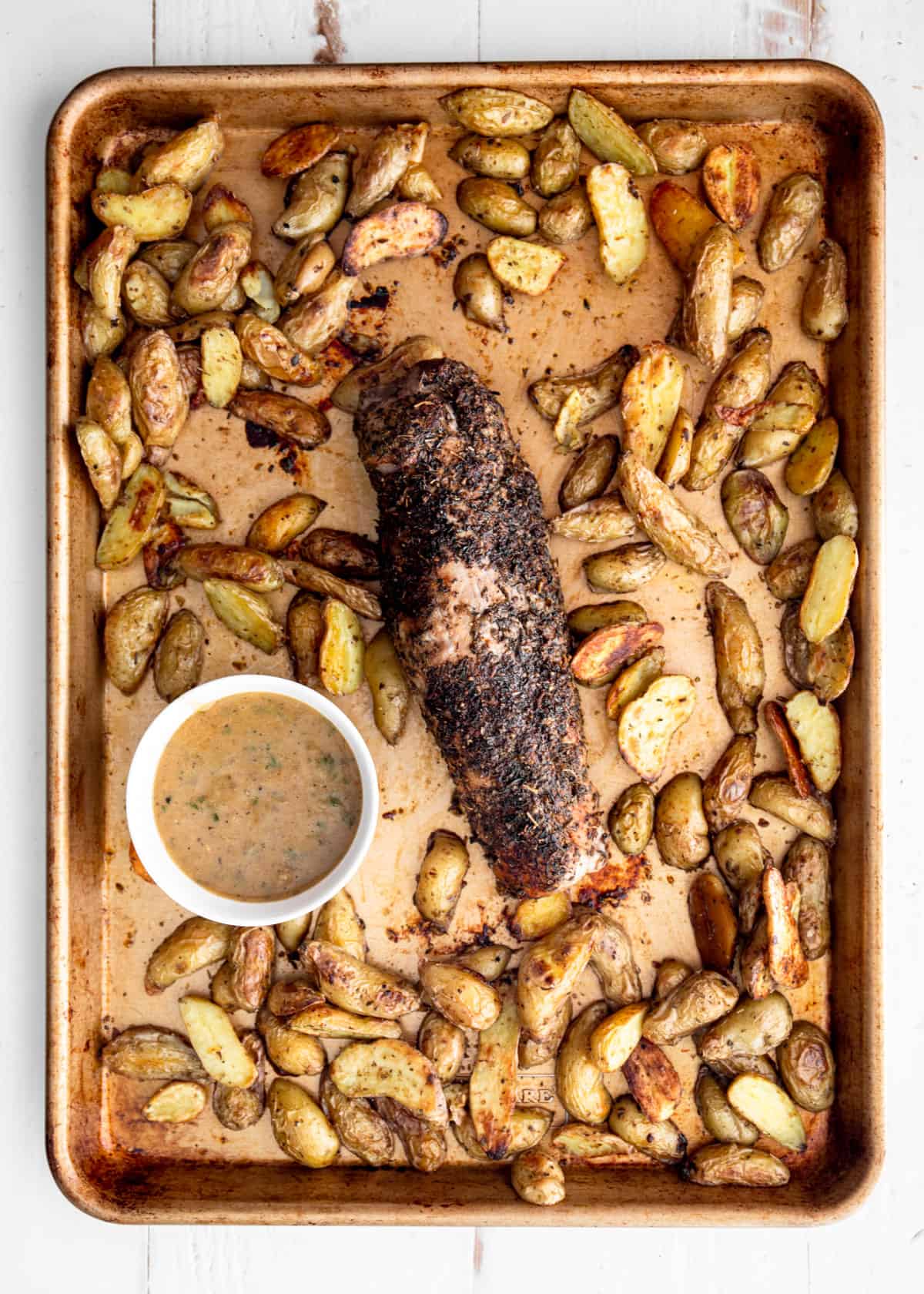 More Sheet Pan Meals
Lodge Cast Iron Skillet – I use this 10.5-inch cast iron skillet nearly every day. To keep it seasoned, just be sure to dry it well and rub it with some oil before storing it (this will prevent rust and keep it seasoned).
Half Sheet Pan – The perfect size pan for everything from roasting vegetables to baking cookies.
Global Chef's Knife – You only really need one chef's knife to use for everything and this is my favorite. I've had it for 7+ years. It's incredibly lightweight. If you, like me, are under 5'4″, the 6-inch is a perfect size (if you're taller, get the 8-inch).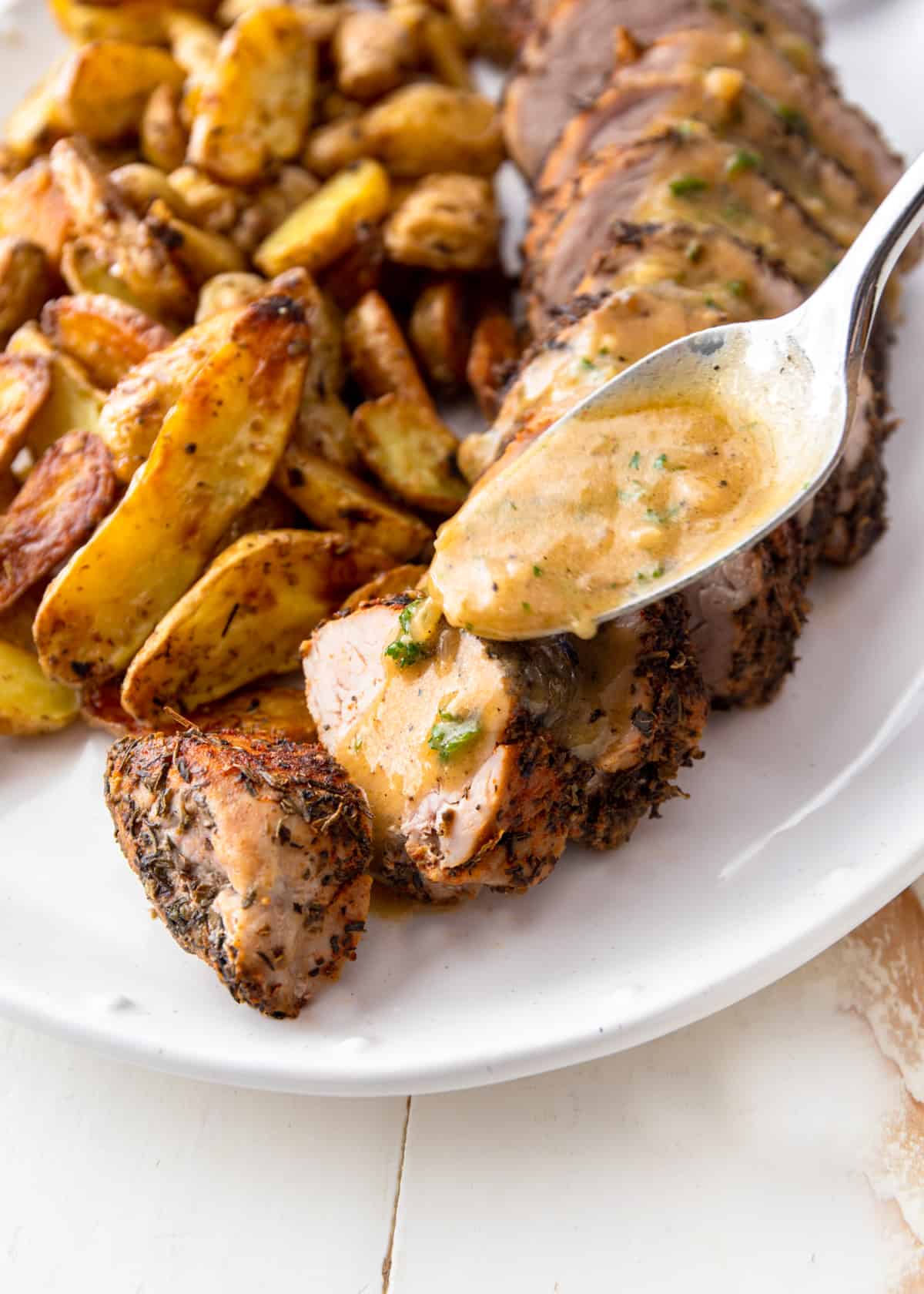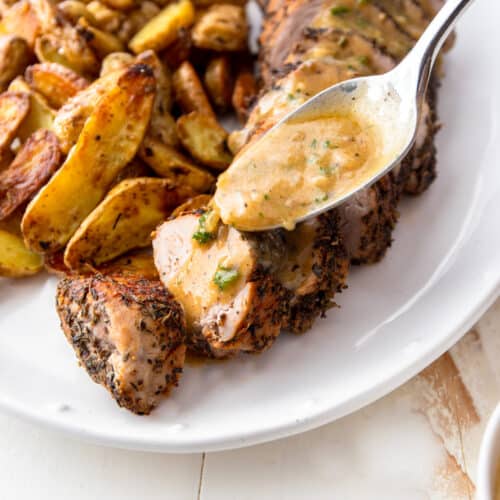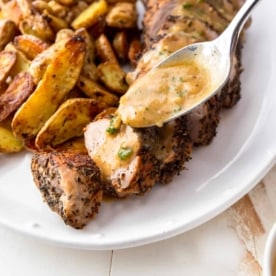 Herb-Rubbed Pork Tenderloin with Fingerling Potatoes
Flavorful pork tenderloin is rubbed with dried herbs and spices and roasted with tender potatoes in this crowd-pleasing sheet pan meal. Top it all off with lemony pan sauce.
Ingredients
Spice Rub:
2

teaspoons

Dried Thyme

2

teaspoons

Dried Basil

1/2

teaspoon

Garlic Powder

1/2

teaspoon

Dried Mustard

1/2

teaspoon

Kosher Salt

1/2

teaspoon

Paprika

1/2

teaspoon

Black Pepper

Pinch of Red Pepper Flakes

Pinch of Ground Cinnamon
Pork and Potatoes:
1 1/2

pounds

Pork Tenderloin, trimmed

(see note)

1 1/2

pounds

Fingerling Potatoes, halved lengthwise

(sub any small potatoes)

3

Tablespoons

Cooking Oil, divided

(olive oil, avocado oil, or grape seed oil)

1/2

teaspoon

Kosher Salt

1/2

teaspoon

Dried Oregano

2

Tablespoons

Butter

2

Tablespoons

finely minced Shallots

1

Tablespoon

Flour

1

cup

Low-Sodium Chicken Stock or Water

(you'll get more flavor with stock, but water will work in a pinch)

1

teaspoon

Lemon Juice

1/2

teaspoon

Dijon Mustard

1

Tablespoon

finely chopped Parsley, for serving

(optional)
Instructions
Preheat oven to 500°F / 260°C.

In a baking dish or bowl that is large enough to hold the pork, mix together all ingredients for spice rub.

Rub pork tenderloin with 1 Tablespoon oil (this will help the spices to stick). Roll pork in spices until evenly coated. Refrigerate until ready to use.

When oven is heated, toss potatoes with 1 Tablespoon oil, salt, and dried oregano. Spread out on a large sheet pan and cover tightly with foil.

Roast potatoes, covered, for 15 minutes.

While potatoes roast, heat 1 Tablespoon oil in a large skillet over medium heat.

When oil is shimmering, add pork and sear on all sides until golden brown.

Move skillet off the heat but keep it on the stove (you'll use it for the pan sauce).

Remove potatoes from the oven and remove foil. (Reserve the foil for tenting the pork later.)

Turn oven's heat down to 425°F / 218°C

Flip potatoes with a spatula and move them out to the sides of the baking sheet. If the potatoes stick to the bottom of the pan, drizzle with a bit more oil as you toss them.

Nestle pork in the center of the potatoes.

Return sheet pan to the oven and continue baking together until the potatoes are tender and the pork reaches an internal temperature of 145°F. They should finish cooking at around the same time, 12 to 20 minutes more.

While pork and potatoes roast, make the pan sauce. Add butter to the skillet you used to sear the pork. Move it back over medium heat. When butter melts, add in shallots and cook until tender, 2 to 3 minutes. Sprinkle flour over top and stir until no dry spots remain. Slowly add in stock or water while scraping up any browned bits on the bottom of the pan. Bring to a simmer. Simmer sauce until thickened, about 5 minutes.

Move sauce off heat and whisk in lemon juice, mustard, and parsley.

When pork is done cooking cover it with foil and let rest for 8 to 10 minutes. (This is the key to juicy, tender pork – don't skip this step.)

Slice pork and serve with potatoes. Serve sauce over top.
Notes
Pork Tenderloin vs Loin
– This recipe uses pork tenderloin which is a thinner piece of pork than than pork loin. Pork loin can take 45 to 50 minutes to cook. If using pork loin, remove potatoes when they are done cooking (set aside, covered, to keep warm) and roast the pork loin on its own until it reaches an internal temperature of 145°F.
Nutrition
Calories:
413
kcal
|
Carbohydrates:
34
g
|
Protein:
41
g
|
Fat:
12
g
|
Saturated Fat:
6
g
|
Polyunsaturated Fat:
1
g
|
Monounsaturated Fat:
4
g
|
Trans Fat:
1
g
|
Cholesterol:
126
mg
|
Sodium:
757
mg
|
Potassium:
1494
mg
|
Fiber:
5
g
|
Sugar:
2
g
|
Vitamin A:
334
IU
|
Vitamin C:
35
mg
|
Calcium:
65
mg
|
Iron:
5
mg
Nutrition information is automatically calculated, so should only be used as an approximation.