Chinese New Year has always had special meaning in my family. We recognized it with food and festivities it as long as I can remember, although I suspect that it really only became a part of the rhythm of annual celebrations in my home when I was 16 - thanks, largely, to my sister Rachel. Rachel spent her first 9 months in China, and although she is every ounce an American teenager these days, sister has always loved her some noodles….and dumplings…and just about any other Chinese-inspired dish you can imagine. I think my mom breathed a sigh of relief the day that Rachel became old enough to fill and fold her own dumplings because, every Chinese New Year, our petite girl puts away her weight in steamed dumplings.
In 2008 I went to China for the first time with my mom and three sisters. We had hysterical dinners in Beijing during which the girls scoured menus for the strangest things they might order, piled ourselves into world's smallest train car on an overnight to the South, had a panicked moment on the 26th floor of a hotel in Xi'an when a small aftershock scared our firm-soil-loving Midwestern selves straight to the core (we were there a couple short weeks after the deadly earthquake that struck the region on May 12 that year).
We also ate every delicious thing we encountered. For the five of us, it solidified our love of Chinese cuisine all the more, and has resulted in some pretty impressive Chinese New Year spreads as we try to recreate the things we tasted on that trip.
Of all my food discoveries on that first trip to China, the one that stuck with me most is one that (I've since discovered) many people in other parts of the world consider to be as typical a part of a Chinese take-out meal as white rice. Perhaps in Kansas City we just overlooked scallion pancakes in favor of as the ubiquitous crab rangoon. (If you have been reading this blog for a while, you know there are few things I love as much as crab rangoon. And yes, they will always be "Chinese food" to me, despite their questionable link to anything authentically Chinese.) Somehow though, I never had the pleasure of biting into a crisp, flaky, hot wedge of scallion pancake until I visited China. I was stunned to discover that I had missed out on something this incredible for so long.
Since that time, I have made many a batch of scallion pancakes at home. I make an enormous batch and freeze them in sets of four or six so that Frank and I can have them for "homemade take-out". To be honest, the recipe I've been using for years wasn't the greatest, but even in their humblest of forms, these things are irrefutably fantastic.
This year I knew I wanted to make and write about scallion pancakes for Chinese New Year, but I knew that the recipe I shared had to be one that really delivered. And deliver, this one did. Although I tried a few recipes (no one in this house would ever complain about taste-testing these), when I found an entire article on Serious Eats describing how to make Extra-Flaky Scallion Pancakes, I knew my search was over. Although the ingredients for these snail-shaped beauties are the same nearly everywhere I looked, the method described in the article (and recipe below) for double-rolling the dough makes all the difference in the world. That extra step is the secret to the crisp layers I remember from my favorite meals in China.
📖 Recipe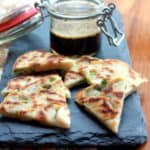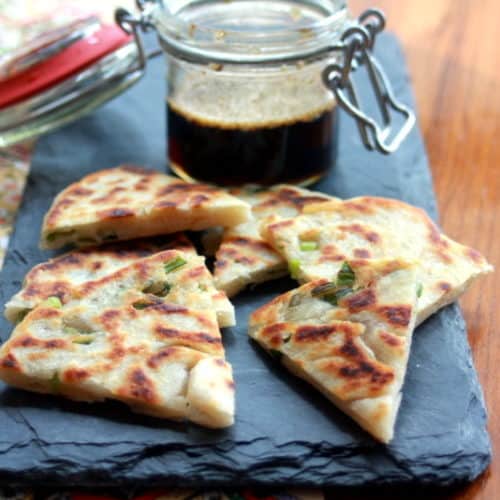 Print Recipe
Crispy Scallion Pancakes
These flaky pancakes are crisp on the outside and tender on the inside. Sliced into wedges, hey are the perfect complement to saucy Chinese food, or great as an appetizer. I love to make a few batches of the dough at a time and freeze them for a homemade Chinese "take-out" night.
Ingredients
2

cups

All-Purpose Flour, plus extra for dusting work surface

1

cup

Boiling Water

Up to ¼ cup toasted sesame seed oil

2

cups

thinly sliced Scallion Greens

¼

cup

Vegetable Oil

Kosher salt

for serving: ⅓ cup honey soy dipping sauce (recipe below)
Instructions
Place flour in bowl of food processor (see note). With processor running, slowly drizzle in about ¾ of boiling water. Process for 15 seconds. If dough does not come together and ride around the blade, drizzle in more water a tablespoon at a time until it just comes together. Transfer to a floured work surface and knead a few times to form a smooth ball. Transfer to a bowl, cover with a damp towel or plastic wrap, and allow to rest for 30 minutes at room temperature, or up to overnight in the fridge.

Divide dough into four even pieces and roll each into a smooth ball. Working one ball at a time, roll out into a disk roughly 8-inches in diameter on a lightly floured surface. Using a pastry brush, paint a very thin layer of sesame oil over the top of the disk. Roll disk up like a jelly roll, then twist roll into a tight spiral, tucking the end underneath. Flatten gently with your hand, then re-roll into an 8-inch disk.

Paint with another layer or sesame oil, sprinkle with ½ cup scallions, and roll up like a jelly roll again. Twist into a spiral, flatten gently, and re-roll into a 7-inch disk. Repeat steps two and three with remaining pancakes.

Heat oil in an 8-inch nonstick or cast-iron over medium-high heat until shimmering and carefully slip pancake into the hot oil. Cook, shaking the pan gently until first side is an even golden brown, about 2 minutes. Carefully flip with a spatula or tongs (be careful not to splash the oil), and continue to cook, shaking pan gently, until second side is even golden brown, about 2 minutes longer. Transfer to a paper towel-lined plate to drain. Season with salt, cut into 6 wedges. Serve immediately with sauce for dipping. Repeat with remaining 3 pancakes.
Notes
Recipe adapted only slightly from Extra Flaky Scallion Pancakes shared at Serious Eats (although I've posted the recipe below, I highly recommend checking out this article, as it contains just about the best step-by-step photos that a scallion pancake-loving girl could ever ask for).
These freeze extremely well. After rolling them out, but before cooking, place each pancake between pieces of wax paper and freeze flat. When you are ready to cook, they just need to rest at room temperature for about 10 minutes before you throw them into an oiled pan. (They may need an extra minute or two to cook on each side.)
Print and attach the label below so cooking instructions are ready when you are!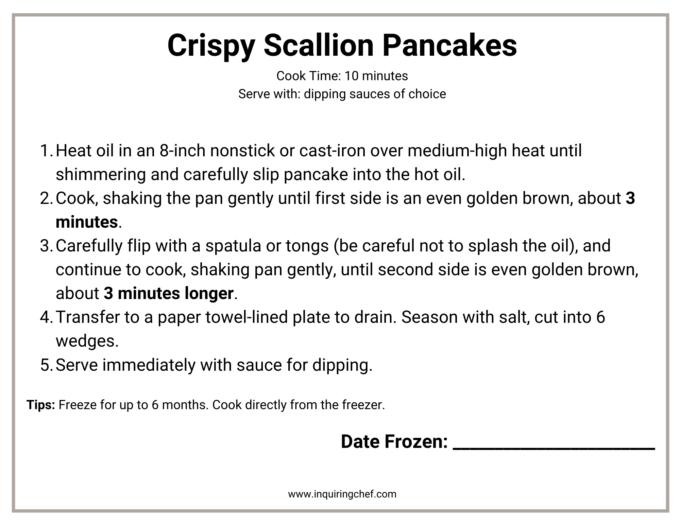 📖 Recipe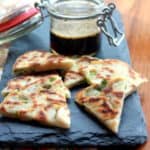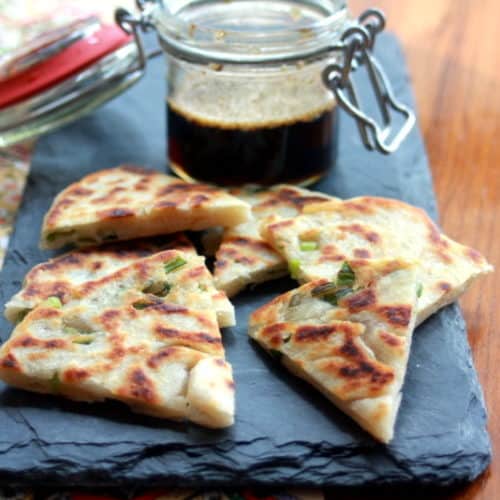 Print Recipe
Honey-Soy Dipping Sauce
Ingredients
3

Tbsp.

light soy sauce

1

teaspoon

honey

1

teaspoon

rice wine vinegar

1

teaspoon

white sesame seeds

1

teaspoon

chopped green onions (optional)
Instructions
Whisk together all ingredients. Serve immediately or refrigerate up to a week before serving.