Hoisin-Glazed Pork Tenderloin
Published Jan 24, 2012•Updated Apr 19, 2022
I had trouble sleeping last night. As I stared at the ceiling late into the night, I found it hard to figure out if it was the list of minor life challenges running through my head (busy work week, broken washing machine) or, more pleasantly, the lingering effects of the excitement coursing through Bangkok the past few days. Chinese New Year in Bangkok has a magnificent unifying quality. Many Thai people in Bangkok are ethnically Chinese, but the New Year really is a holiday celebrated in big and small ways by all around these parts. The excitement yesterday was palpable. Folks wore beautiful red dresses, ate special meals, and I witnessed more than a few long golden dragons tucked tidily along the road on my way home from work (presumably waiting for their chance to shine in a parade).
Since Chinese New Year always feels special to me, last year Frank and I threw ourselves headlong into the crowds to take part in the fun. We packed into Bangkok's thriving Chinatown with thousands of others, waited in line for dim sum, sampled street food, and took in the spectacular costumes. This year it's been a more quiet celebration for us. Fortunately though, Thai friends and colleagues are liberal with the holiday snacks. Everywhere I turn, there is some other dish or treat that I am told is "special" this time of year. The most incredible are these very small sweets that are baked in an enclosed space with burning candles. They taste like the essence of a just-blown-out candle, tossed in sugar, formed into flowers, and baked to crisp. Strange and wonderful.
I debated about which of my favorite Chinese New Year dishes to make this week, but in the end this sweet-spicy tenderloin inched ahead by just a bit. In recent years, I have found myself faced with the overlap of Chinese New Year and my husband's Lenten vegetarian Fridays which means I've got a lovely collection of Chinese-style vegetarian dishes that I will have to share another day. Seeing as it is not Friday (nor is it yet Lent), we're going all out with this tender, fragrant pork.
I love that this tenderloin looks beautiful on a platter over rice with a sauce on the side, but even more so, I am always impressed with how much flavor its marinade packs. The addition of garlic, soy sauce, and a touch of sugar give the Hoisin Sauce an impressive boost.
If you are looking for something complicated to ring in your Chinese New Year feel free to take on Chinatown (and consider giving yourself a break afterwards by ordering take-out). However, if you are looking for something simple, flavorful, and utterly satisfying to serve at home, this dish definitely fits the bill.
Happy Chinese New Year!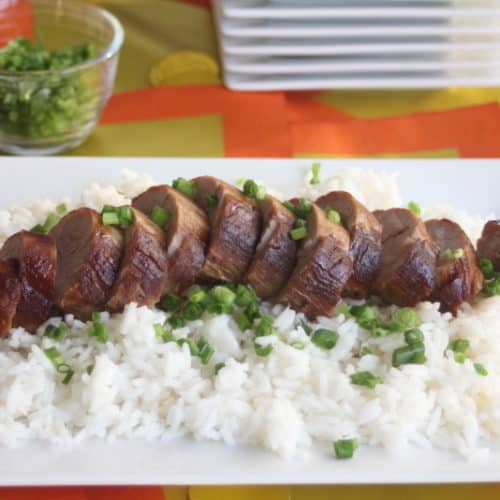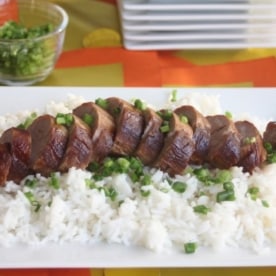 Hoisin-Glazed Pork Tenderloin
The flavors of this pork tenderloin are fitting for a celebration, whether for Chinese New Year or any other time of year. The marinade takes just a few minutes to prepare and does all the work to bring flavors of sweet hoisin and a subtle spice to the finished dish. I serve this over rice, with roasted broccoli on the side - a perfect dish for entertaining since the oven does all the work.
Ingredients
1/3

cup

soy sauce

1/3

cup

hoisin sauce

2

tablespoons

vegetable oil

1

tablespoon

sugar

3

crushed garlic cloves

1

dash red pepper flakes, to taste

2

(3/4 lb) pork tenderloins (not pork loin)

1/2

cup

water

1/4

cup

butter

6

green onions, green tops included, sliced into rings

cooked rice, for serving
Instructions
In heavy duty freezer Ziploc bag, mix soy sauce, hoisin sauce, oil, garlic, sugar and red pepper flakes. Add tenderloins and stir to coat all over. Seal and refrigerate at least 3 hours, turning bag over occasionally. (I refrigerated this overnight.)

Preheat oven to 500°F. Line small roasting pan with foil. Spray a cooling or cooking rack with nonstick spray, and place on top of pan. Place tenderloins on rack. Add 1/2 cup water to the marinade bag and pour the liquid into a small saucepan.

Roast meat for 9 minutes. Turn pork and continue to roast on the other side until a thermometer inserted in the center registers 160°F, about 9 minutes more. Remove from oven, and allow meat to rest 8 minutes.

While the meat rests, bring marinade to a low boil. Boil slowly for 6 minutes. Remove from heat and stir butter into the marinade.

Slice tenderloin into 1/4 inch slices and arrange over rice. Spoon heated marinade over meat and rice. Top with green onions. Serve immediately.
Nutrition information is automatically calculated, so should only be used as an approximation.