I don't know about you, but I am ready to wrap this week up with a bow and get on with the important business of enjoying the weekend.
This morning I stepped out of my apartment and down to the gym before the sun was up and, as I often do in the early morning, I heard the echo of a rooster crowing over the tops of the buildings in my neighborhood. I live in the heart of the city, but somewhere, there is a rooster.
I need reminders like that from time to time. Sometimes I feel a bit lost in the crush of traffic and people, but there is so much more to this city than first meets the eye.
I've said it before, but Frank is a fantastic cook. I'd be lying if I said that I didn't often dominate the kitchen, but when he gets in there he has a unique sense of how flavors work together and and how to make those flavors shine.
If you have had Chicken Piccata, I imagine you can already imagine how the ingredients in this dish come together in your mind. They are distinct and balanced – tart lemons and salty capers, slight sweetness from white wine, and a hint of butter. We had a masterpiece of a Chicken Piccata on our honeymoon in Healdsburg, California, so as I watched Frank make the dish himself, I knew that both our thoughts were back in wine country. (Back in the day when we didn't have a nice camera or a blog, and yet we still took pictures of our food. Evidence below.)
With thoughts of roosters welcoming the sun, and favorite honeymoon dishes, I'm off to work. We are meeting friends out for an early dinner tonight, and I can feel the weekend beginning to take shape.
Happy Friday.
______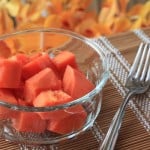 Print Recipe
Chicken Piccata
Ingredients
4

(6-ounce) skinless, boneless chicken breast halves

¼

cup

all-purpose flour (about 1 ounce)

1

tablespoon

butter

1

tablespoon

olive oil

½

cup

white wine

¼

cup

fresh lemon juice

2

tablespoons

capers

2

teaspoons

minced fresh garlic

¼

teaspoon

salt

¼

teaspoon

freshly ground black pepper

2

tablespoons

chopped fresh flat-leaf parsley
Instructions
Place each breast half between 2 sheets of heavy-duty plastic wrap; pound to ½-inch thickness using a meat mallet or small heavy skillet. Place flour in a shallow dish, and dredge chicken in flour.

Heat butter and oil in a large skillet over medium-high heat. Add chicken, and cook for 3 minutes on each side or until browned. Remove chicken from pan; keep warm. Add white wine, ¼ cup lemon juice, capers, and garlic to pan; scrape pan to loosen browned bits. Cook for 2 minutes or until slightly thick. Sprinkle chicken with parsley. Serve with sauce on the side.
Notes
Recipe by Jeffery Lindenmuth, Cooking Light, November 2006.
Note: The original recipe calls for the chicken to be served over spaghetti, but Frank served it with roasted potatoes instead. Either would be lovely.