It's a well-kept secret that braised short ribs are a gourmet home cook's best friend. Browning and then braising for hours in the oven turns the short ribs so tender that the meat needs little more than a second glance to fall off the bone. In this case, it will fall off the bone into super creamy parmesan polenta that transforms this into a comfort food dream of dinners.
In my early 20s when I lived in a shoebox of an apartment that was generously labeled a "junior" one bedroom, I was convinced that the secret to kitchen adulthood was learning to make braised short ribs.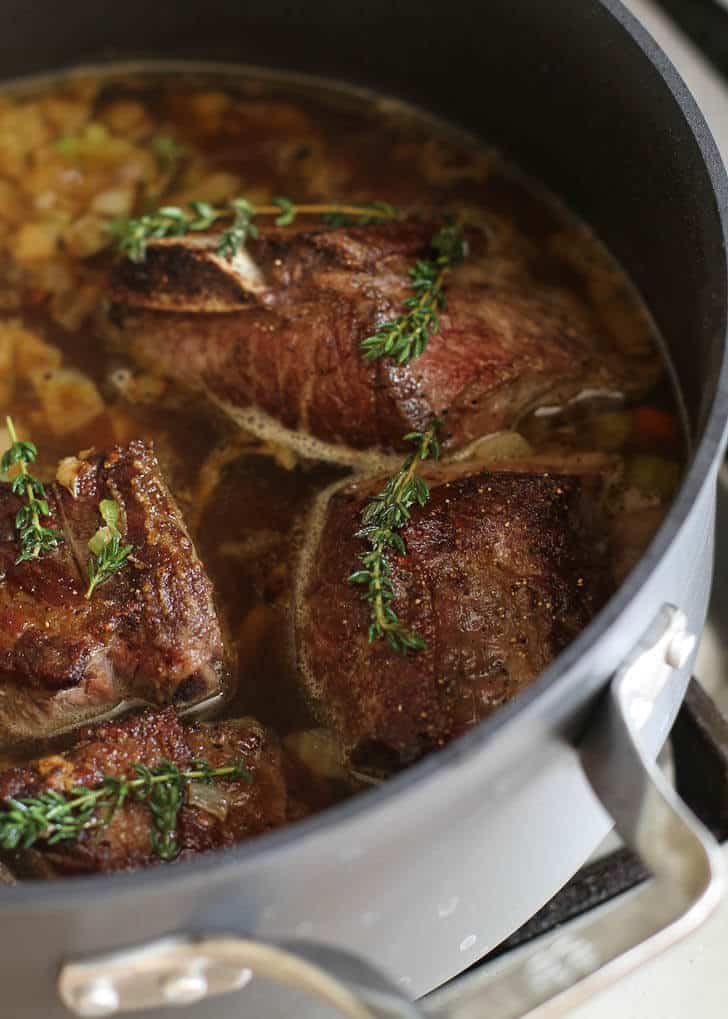 And they have served me well over the years. Braised short ribs are the perfect dish for entertaining because, not only they make the whole house (or junior one-bedroom as the case may be) smell like a fancy restaurant kitchen for hours, but they are incredibly forgiving. Get the braise in the oven hours before guests arrive and you've got plenty of wiggle room to make an appetizer, have a glass of wine, and pull the braise out of the oven right when you want to serve dinner.
It's an impressive plate of food to bring to the dinner table. And easy to make in large batches. Which is great because your neighbors will likely follow their noses to your door and ask for a plate. And like most braises, Braised Short Ribs are even better a day after you've made them.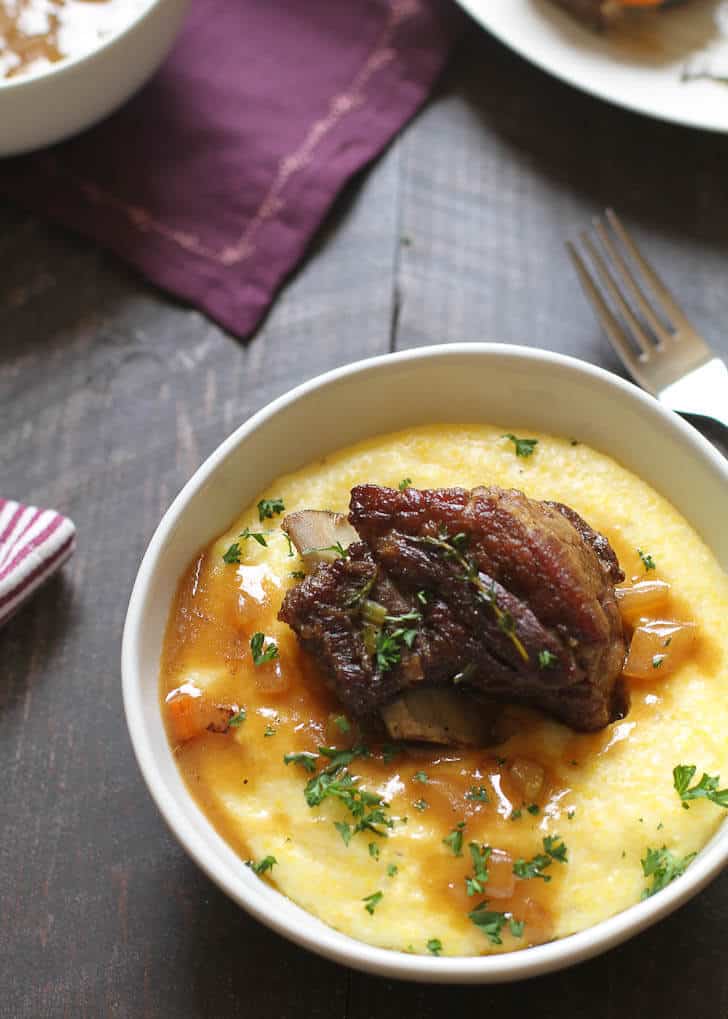 This recipe was created using a Calphalon Signature™ Nonstick 5Qt Dutch Oven which is one of our favorite and most used kitchen tools. The nonstick surface of Calphalon's Signature Nonstick line is created using some truly fancy technology that means you can use it over high heat to get a beautiful sear.
Which you'll see more of in just a moment.
To make this braise…
1) Season Short Ribs
---
Braises are all about developing rich flavors from a few basic, delicious ingredients. Start by generously seasoning the short ribs with salt and pepper.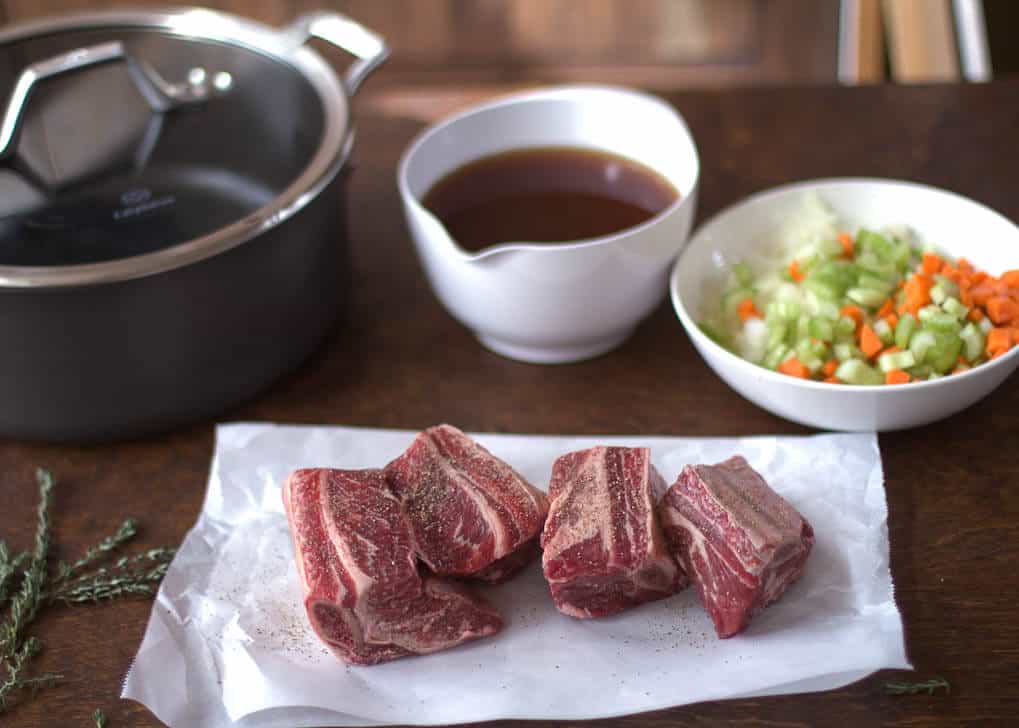 2) Sear Short Ribs
---
Over high heat, get a nice golden brown sear on all sides of the short ribs.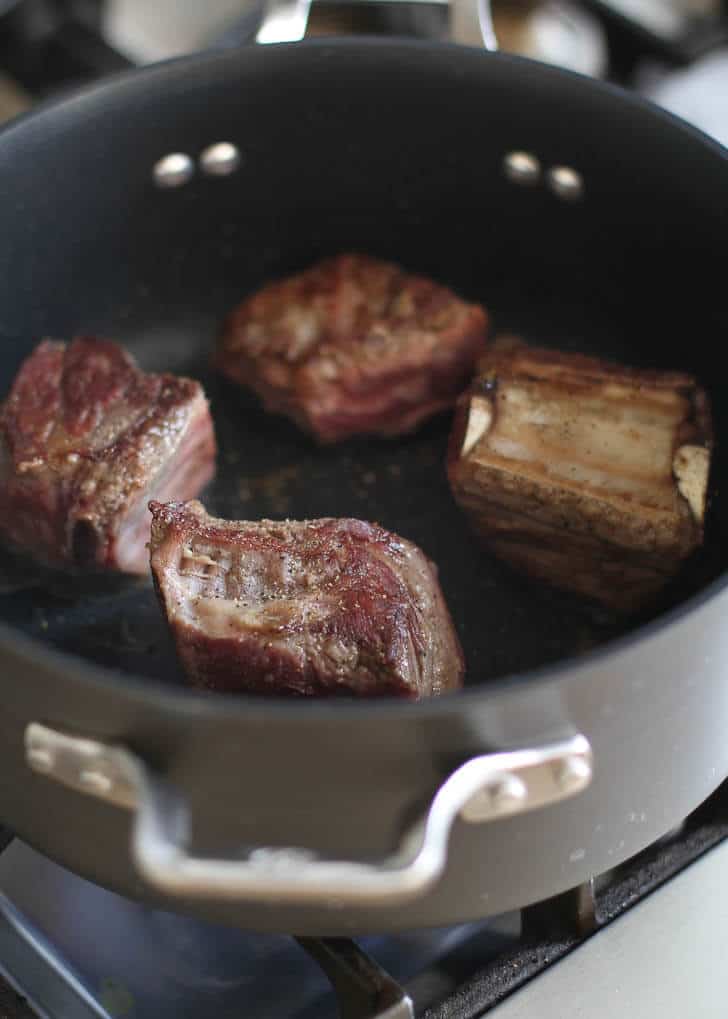 We used the new Calphalon Signature™ Nonstick cookware which is great for searing.  This is some serious sear action for a nonstick surface.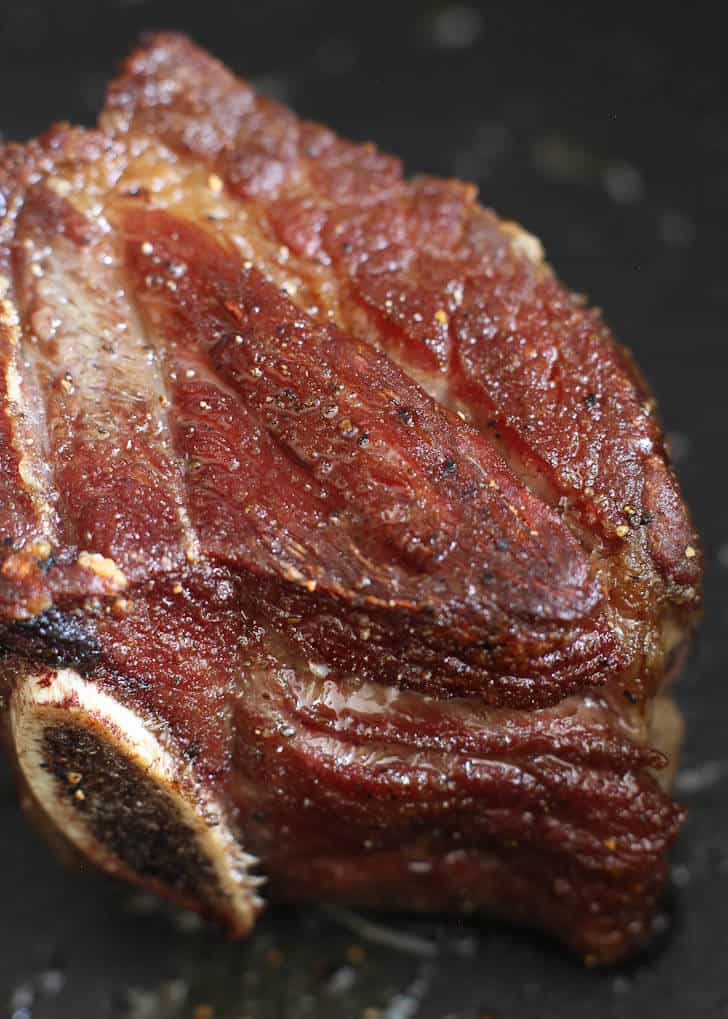 3) Deglaze
---
After the short ribs are seared, transfer them to a plate and return the pan to the heat. Add the mirepoix (fancy name for the mix of chopped onions, celery and carrots) and stir it around a bit to get it started cook.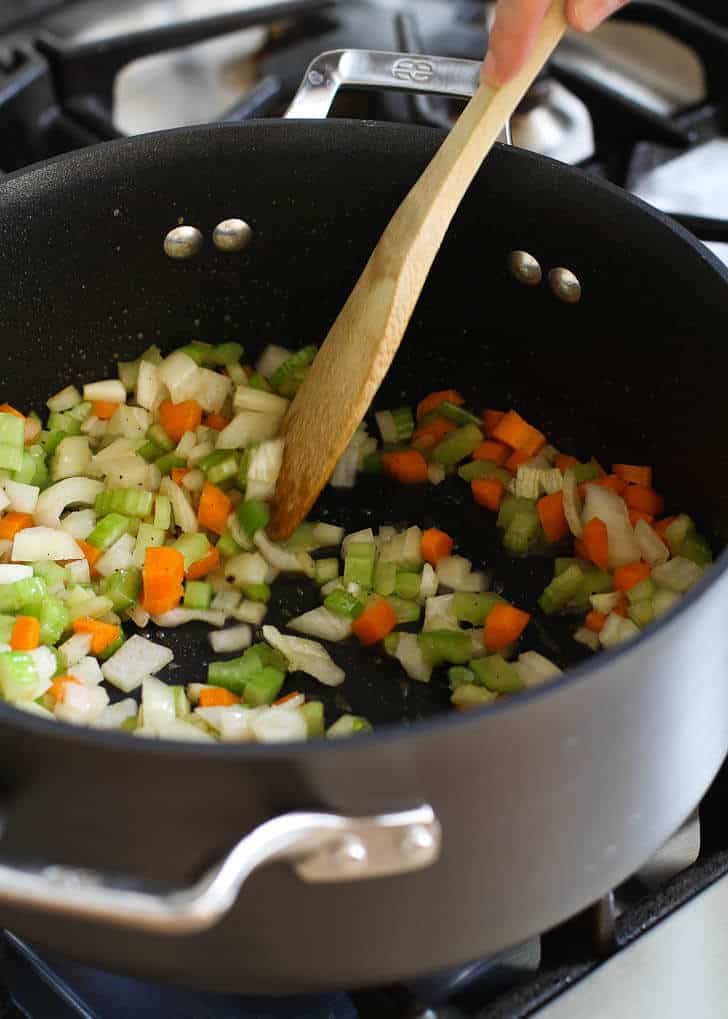 Then "deglaze" the pan with red wine. Adding the liquid to the hot pan will help to bring up all those browned bits on the bottom of the pan and those will result in a crazy flavorful sauce.
4) Add Short Ribs and Fresh Herbs
---
Place the short ribs back in the pan along with stock (use unsalted stock since it will reduce down as it cooks) and fresh herbs. I love fresh thyme, but rosemary or bay leaves would be great additions as well.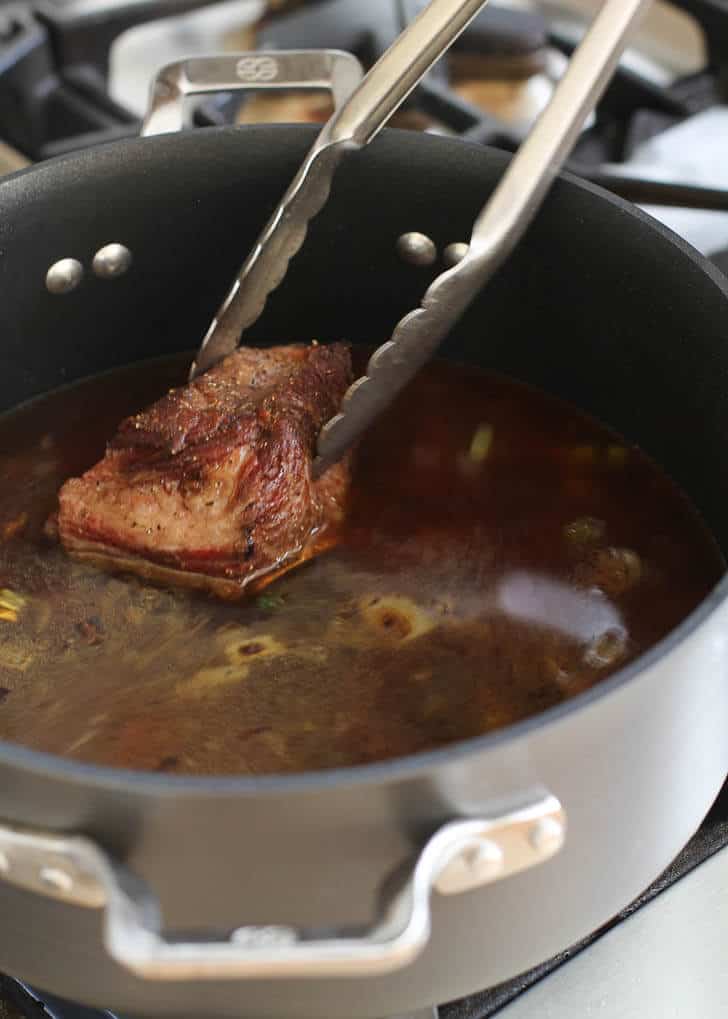 5) Braise Short Ribs in the Oven
---
And the hard work is done! Put the lid on the pan and transfer the dish to a 325 degree F oven. Set your kitchen timer for 2.5 hours and sit back to enjoy the delicious aromas that are about to fill your kitchen.
6) Rest Meat and Serve
---
When the short ribs are so tender that the meat falls off the bone, transfer the short ribs to a plate and let them rest (covered with foil to keep them warm) for 20 minutes. In that time you can make parmesan polenta or whip up a quick sauce using the steps in the recipe that follows.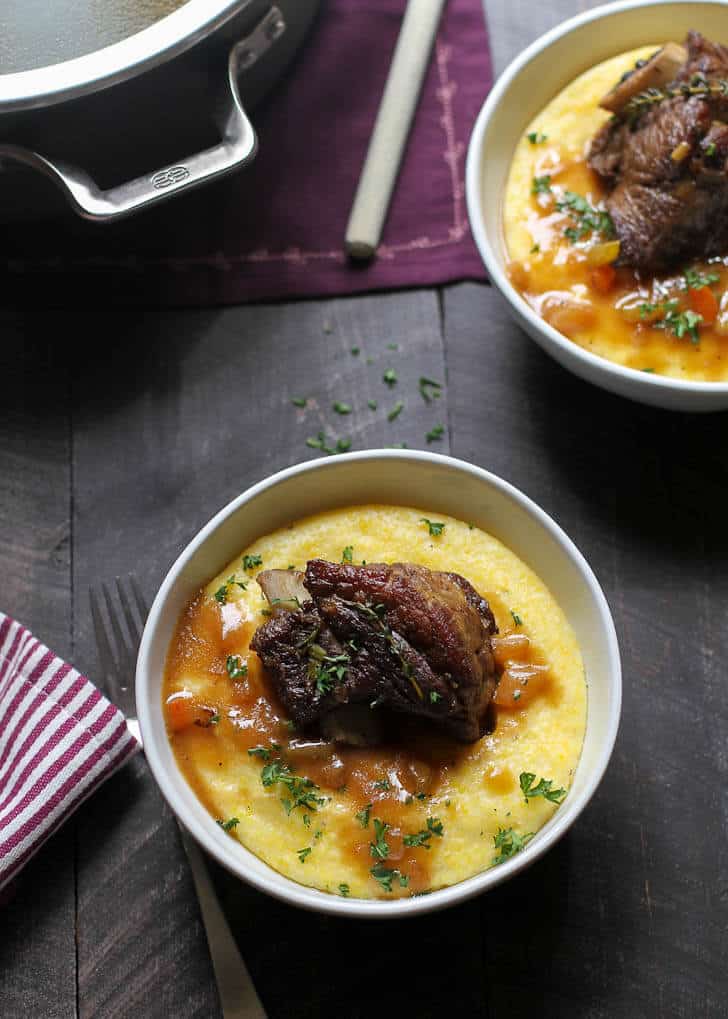 Time to start planning your next dinner party. Enjoy!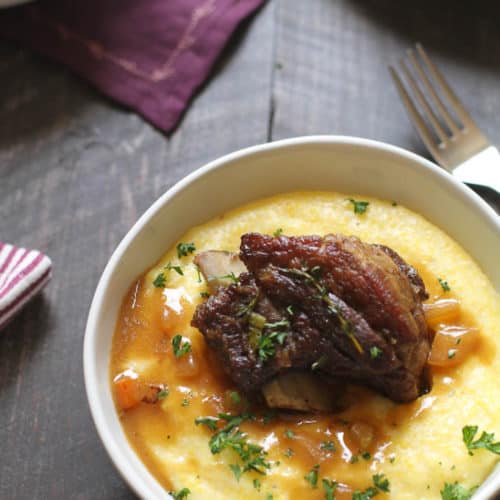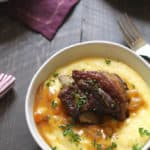 Print Recipe
Braised Red Wine Beef Short Ribs with Parmesan Polenta
The ultimate dish for entertaining, Braised Red Wine Short Ribs simmer in the oven for hours, leaving the kitchen smelling like a savory dream and giving you plenty of wiggle room to serve them whenever you're ready. Serves 4
Ingredients
Braised Short Ribs:
2

lbs

Bone-In Short Ribs (see note)

2

Tbsp

Cooking Oil

1

small Onion, chopped

3

ribs Celery, chopped

3

Carrots, chopped

1/2

cup

Red Wine (any variety)

4

cups

Unsalted Beef Stock

6

springs Thyme
Parmesan Polenta:
3

cups

Milk

2

cups

Water

1/2

tsp

Salt

1

cup

Polenta (or grits)

2

Tbsp

Butter

1/2

cup

grated Parmesan Cheese
Instructions
Preheat oven to 325 degrees F / 163 C.

Generously season the short ribs on all sides with salt and pepper.

Heat a large Dutch Oven over medium-high heat. Add oil. When oil begins to shimmer, add short ribs and brown on all sides, about 2 minutes per side. Transfer short ribs to a plate and return pan to heat.

Add onion, celery and carrots to hot pan. Saute to let the vegetables begin to soften and pick up the browned bits from the bottom of the pan, about 4 minutes. Add red wine and stir, scraping up any more browned bits that remain in the pan. Bring to a simmer and simmer for 2 minutes. Add stock and thyme sprigs. Add short ribs back to the pan. (Note: The short ribs should be mostly covered with liquid, with just the tops uncovered. Add a bit more stock or water if more than half of the short ribs are uncovered.)

Place the lid on the pan and transfer to the oven. Cook, covered, until the meat of the short ribs easily falls off the bone, 2.5 to 3 hours. Remove from oven and let rest for 20 minutes. Do either of the following two optional steps or jump down to make the polenta.

Optional Step 1: If you'd like to get a crisp exterior on the short ribs (which is a great complement to the tender, juicy interior, remove short ribs from their cooking liquid and transfer to a sheet pan. Turn on the oven's broiler. Place the sheet pan at least 6 inches under the heat source and broil just until crisp on the top, about 5 minutes (watch them closely so they don't burn).

Optional Step 2: If you'd like to make a pan sauce, run the cooking liquid through a strainer (discard any solids from the vegetables and meat) and return the liquid to the pan. Simmer until the pan sauce reduces significantly, about 10 minutes. If you'd like a thicker gravy-style sauce, whisk 2 Tbsp of flour with 1/4 cup hot water and add that to the simmering pan sauce.

While the meat rests, make the polenta by bringing milk, water and salt to a boil in a small saucepan. While whisking the liquid, slowly add polenta. Continue whisking until the polenta begins to thicken, about 3 minutes. Reduce heat to a low simmer and continue simmering until the polenta is thick but still creamy, about 20 minutes. Stir in butter and parmesan cheese until fully incorporated.

Spoon polenta into serving bowls. Top each serving with short ribs and cooking liquid. Enjoy!
Notes
Don't worry about using an exact weight on the short ribs. Because these are bone in, they may weigh a bit more or less than listed in the recipe. I usually aim to buy one large short rib or two small per person. If in doubt, buy a bit extra. You won't regret it.
Nutrition
Serving:
1
g
|
Calories:
656
kcal
|
Carbohydrates:
40
g
|
Protein:
24
g
|
Fat:
41
g
|
Saturated Fat:
16
g
|
Polyunsaturated Fat:
21
g
|
Cholesterol:
72
mg
|
Sodium:
382
mg
|
Fiber:
4
g
|
Sugar:
4
g
Need a dessert for these lovely braised short ribs? Try my Guinness Chocolate Cake.
SaveSave