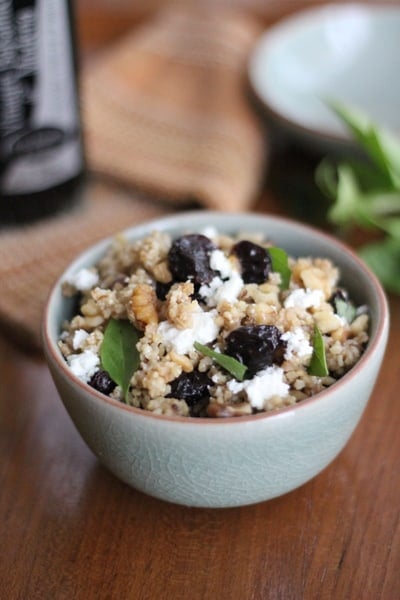 It's strange the things I can find in the grocery stores in Bangkok, and the things I can't. So ever since I came across the mother-load of Bob's Red Mill products at a local Villa Market, I've been experimenting with a variety of grains that are completely new to me. (Oddly enough, these products don't seem to cost any much here in Bangkok than they did at home in the US. I'm not sure how that's possible, but I'll take it.)
When I set out to make this salad (which by the way, is chock full of a few my absolute favorite ingredients), I had wheatberries in mind as the base. It seems that someone else is onto the Villa Market whole-grain connection, and they were completely sold out. Millet was in the cards for me.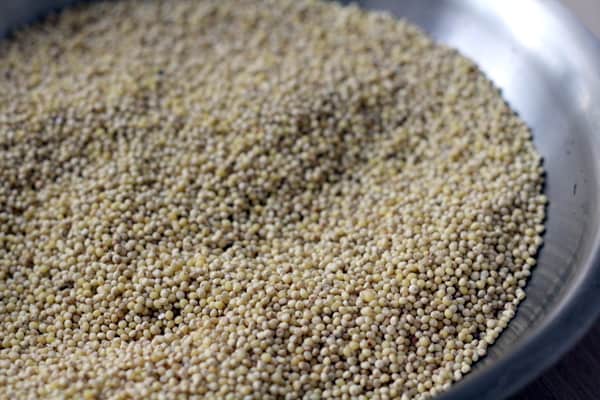 I had never cooked with millet, and I had to play around with it a bit. The first few times I made it, I overcooked it slightly, which resulted in texture that came close to grits. A little googling, and this great article from theKitchn, actually points to the many other uses of the grain for which a smoother texture is preferable. It is a great addition to baked goods but is also a very classic (and international) breakfast grain.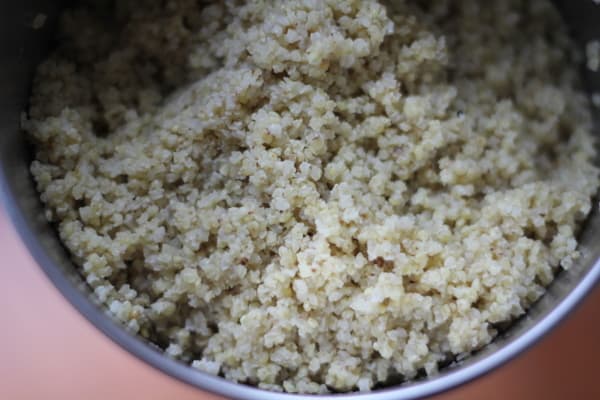 When cooked just until fluffy and tender, as in the image above (and using the method outlined in the recipe below), it can be loaded up with any number of extras. The nutty flavor of the millet seemed to pair perfectly with this combination, and it will surely be a salad I will come back to year-round.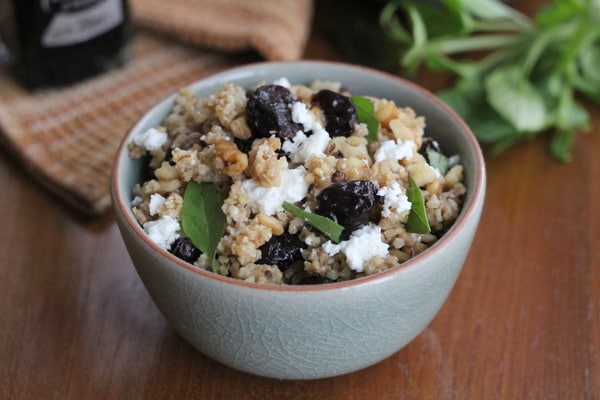 I have no idea when other bloggers squeeze in the time to test recipes and take photos, but for me, this blog writing habit (combined with an 8-5ish sort of job) means that I do lots of my cooking and photo-taking first thing in the morning. I had an awesome run yesterday before entering the kitchen at 7am, utterly famished, and dreaming of this salad.
Turns out that a healthy serving of Balsamic Millet with Cherries, Walnuts, and Goat Cheese makes as delightful a breakfast as just about any I could imagine.
_____________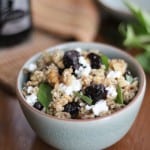 Print Recipe
Balsamic Millet with Cherries, Walnuts, and Goat Cheese
In this simple, hearty salad, millet is the perfect base to let sweet cherries, nutty walnuts, and creamy goat cheese shine.
Ingredients
1

tsp.

salt

1

cup

millet

¾

cup

walnut pieces (or about 1 cup walnut halves, roughly chopped)

¾

cup

dried cherries

1

and ½ Tbsp. balsamic vinegar

2

tsp.

olive oil

30

basil leaves

3

oz.

goat cheese, crumbled
Instructions
In a small saucepan, combine 2 cups of water and the salt. Bring to a boil. Meanwhile, place a dry skillet over medium heat. When the skillet is hot, add the millet, and toast, stirring frequently, until the millet gives off a nutty aroma (I think it starts to smell like popcorn). Pour the toasted millet into the boiling water. Reduce to a simmer and cover. Simmer, covered, until all of the water is absorbed, about 20 minutes. Remove the saucepan from the heat and allow to cool to room temperature.

Place a dry skillet back over medium heat. Add the walnut pieces to the skillet and toast, stirring frequently, until the walnuts become fragrant. In a large bowl combine the millet, walnut pieces, dried cherries, balsamic vinegar, and olive oil. Stir until evenly combined.

Just before serving, tear the basil leaves into pieces and sprinkle them over the salad. Add the goat cheese and fold gently to combine. Serve immediately.
Notes
Millet is a tender grain with a nutty flavor and texture that I find to somewhere in the realm of couscous or quinoa. Make sure you get millet that is labeled "hulled" which indicates that the outer coating of the grain has been removed. I use Bob's Red Mill.
Make Ahead: The dish can be refrigerated for up to 24 hours, preferably before the basil and goat cheese have been added. Just before serving, add an extra 1-2 teaspoons of balsamic vinegar (the millet will have absorbed much of it overnight), the basil and goat cheese.