These warm and crispy bean tostadas start by placing a layer of creamy refried beans on a baked or lightly fried tortilla, and then piling on toppings like crunchy lettuce, diced tomatoes, shredded cheese, and flavor-packed pico de gallo. This fun-to-assemble food is a hit with families because everyone can make their very own tasty tostada just the way they like it.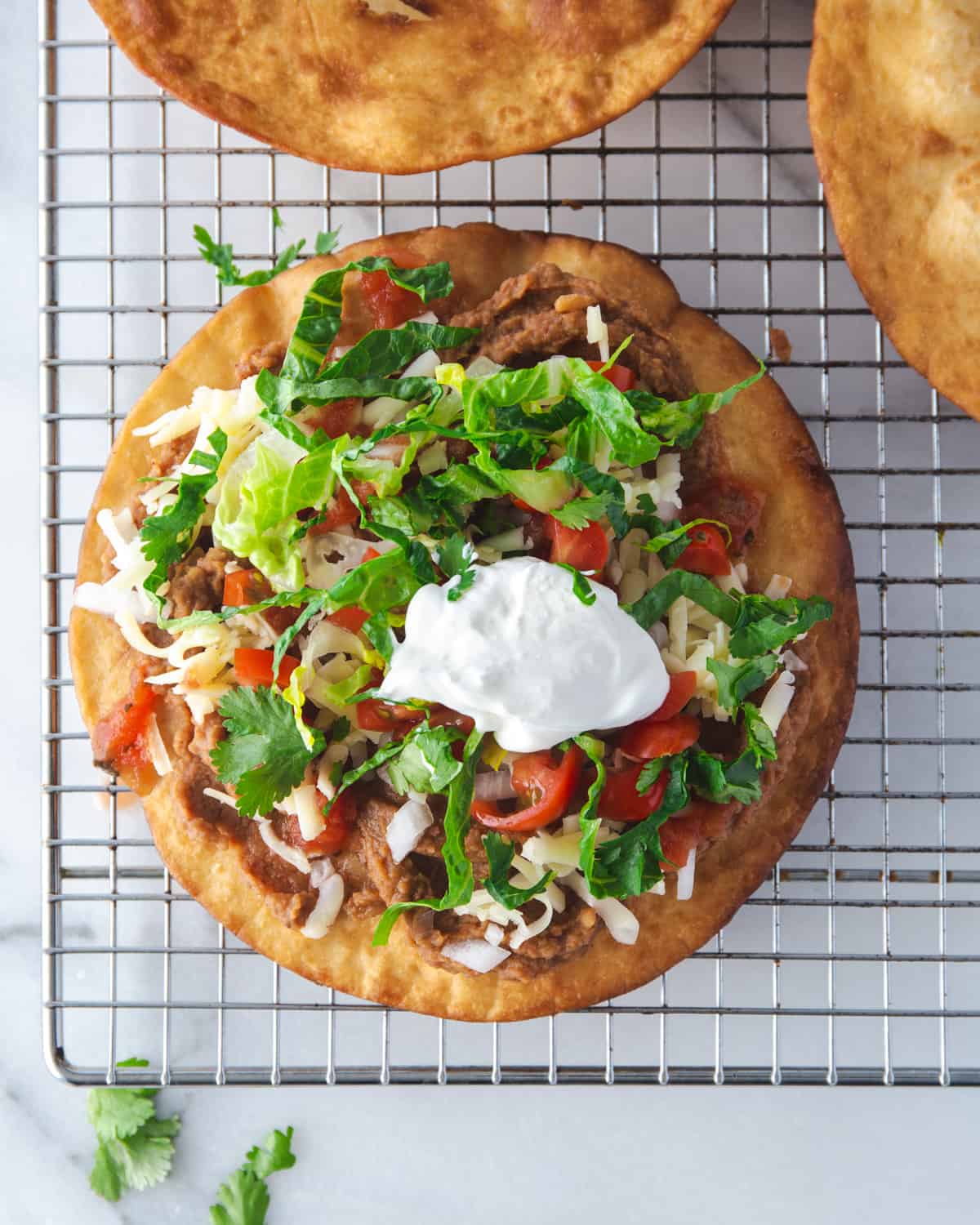 After you make this recipe for vegetarian tostadas at home, this easy meatless meal is guaranteed to be part of your weeknight dinner rotation. Besides their wonderful, taco-like flavor, tostadas have so many layers of texture. There's the warm and crispy tostada shell, the creamy beans, juicy tomatoes, crunchy lettuce, and melted cheese on top. From there you can keep piling on the flavors with a dollop of zippy guacamole, spicy salsa verde, or sour cream.
Save time by placing the toppings for the tostadas in small bowls earlier in the day, so the only thing you need to do when it's dinnertime is prepare the tortillas, and place the toppings on the table. You can buy tostada shells at the grocery store if you're really pressed for time, but homemade tostada shells take just a few minutes to make, and they are so warm, crispy, and delicious.
Tostadas are a favorite in homes around the world because they come together quickly, you can basically mix and match whatever toppings you like, and use corn or flour tortillas. In other words, when you make tostadas, everyone is happy!
What is a tostada?
Tostadas are a popular Mexican dish that uses a "toasted" flour or corn tortilla as its base, and is topped with a layer of beans, followed by traditional taco toppings like tomatoes, onions, lettuce, and shredded or cotija cheese. Ground meats, salsas, and guacamole can also be added.
Tostadas are known for their crispy golden brown shell, which comes from baking or frying the tortilla. When it comes to the tostada's shape, you can either leave the tortilla flat while it bakes, or form a bowl-like shape to hold all of the tasty toppings.
How to Make It
Cook the tortillas. Broil the tortillas in the oven or fry them on the stove. Both methods take between 2 and 4 minutes.
Heat the beans. Heat over medium heat, stirring occasionally. Prepare the tortillas while the beans cook.
Assemble. Grab your favorite toppings and assemble. Enjoy within a few hours of "toasting" for maximum crispiness.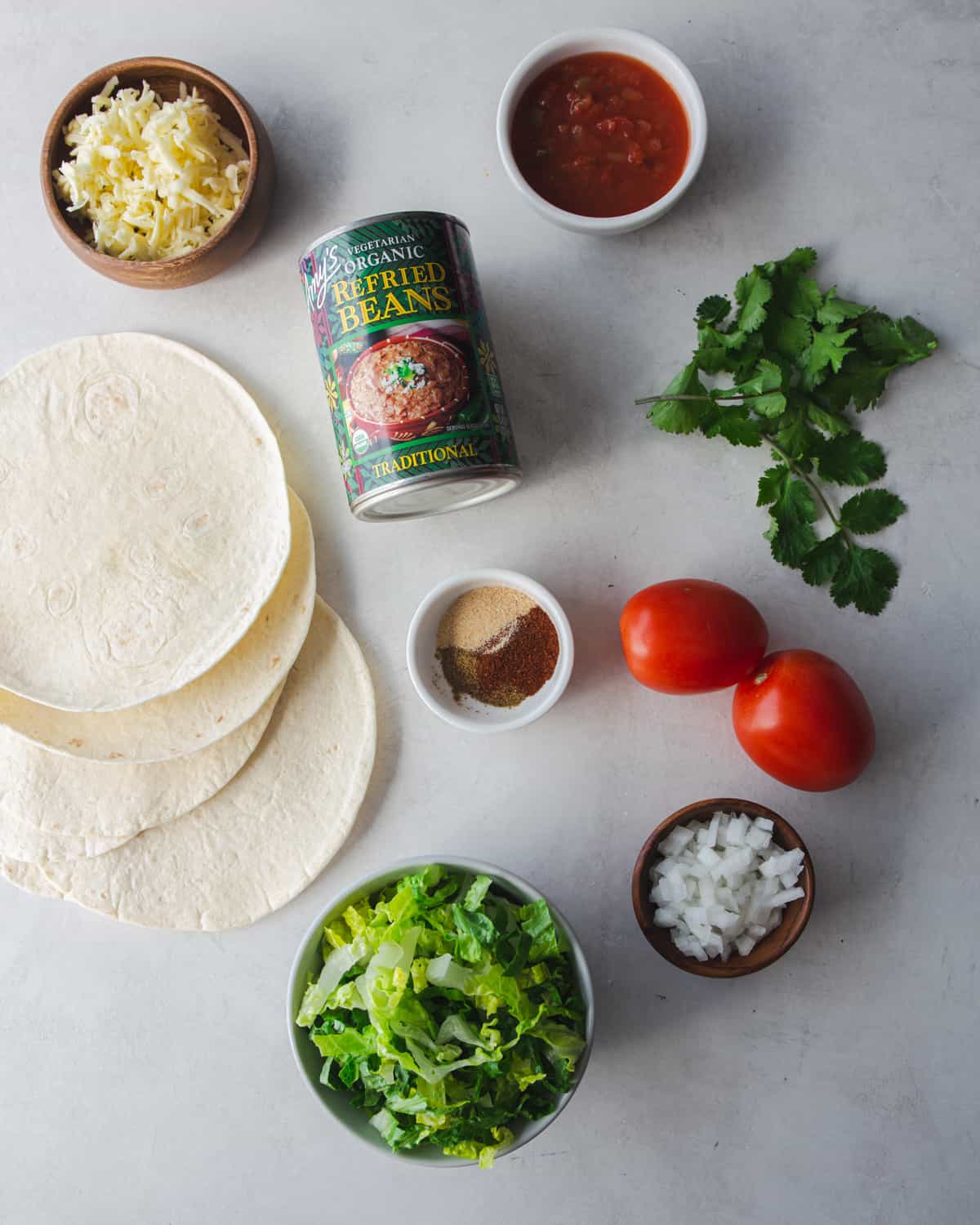 Ingredients
Cooking Oil – Avocado oil, vegetable oil, or grapeseed are good neutral cooking oils. Use the oil to achieve a crispy tortilla shell while baking or frying.
Flour Tortillas – Flour tortillas produce a slightly softer crisp when baking for frying, compared to corn tortillas.
Refried Beans – Refried beans serve as a stand-in for meat-based proteins in this recipe. The creamy beans also help all of the delicious toppings stay on top of the delicate, crispy tostada shell.
Chili Powder – For a hint of spicy Southwestern flavor.
Ground Cumin – The warmth of ground cumin goes hand-in-hand with the spiciness of chili powder.
Garlic Powder – The perfect accompaniment to chili powder and cumin. Be sure to use garlic powder, rather than garlic salt so the seasoning doesn't get too salty.
Optional Toppings:
Chopped Avocados or Guacamole – Whether you add chopped avocado, homemade guac or store bought guacamole, creamy avocados add so much texture to the tostada.
Minced Onions – For extra crunch and aromatic flavor.
Grated Cheese – Is cheese ever a bad idea? Try a shredded cheddar or Mexican cheese blend for optimal melting.
Sour Cream – The smooth, cooling flavors of sour cream balance the warmth of the chili powder and cumin.
Salsa – Try tomato-based pico de gallo or tomatillo-based salsa verde.
Shredded Lettuce – Crunchy iceberg lettuce is perfect on top of tostadas. You can also use shredded cabbage.
Cilantro – Fresh cilantro adds its bright, zippiness.
Chopped Tomatoes – Roma tomatoes are a good tostada tomato because they're easy to chop, but any tomato will work.
How to store
Once you bake or fry the tostadas, they will stay crisp for a few hours, so enjoy them while they are nice and warm. The beans and toppings can be stored in airtight containers in the fridge for 3 to 4 days. To keep everything fresh, store all of the toppings separately. If you make the guacamole from scratch, place the avocado pit in the sealed container with the guac to prevent it from browning.
To reheat
Reheat the beans in a small saucepan on a medium-low heat. Stir occasionally to prevent the beans from sticking to the bottom of the pan.
Tips
Refried beans can dry out pretty quickly if they are cooked on too high a heat. If the beans begin sticking to the bottom of the pan, add a little water.
For ultimate customization, place all of the toppings in separate bowls and allow everyone to mix and match their favorite items.
Variations
Change tortillas – Try a corn tortilla in place of a flour tortilla. Using a corn tortilla will also make this crispy bean tostada gluten-free.
Make it spicy – Cholula Original Hot Sauce and Tapatio Hot Sauce are staples in taquerias, and a drizzle on top of the tostada adds just the right amount of spiciness.
Use different beans – Black beans are packed with protein, and a good alternative to refried beans.
FAQs
Do tostadas contain meat?
Tostadas are 100% customizable, so you can make them vegetarian or vegan, or include meats like ground beef, chicken, or turkey. This recipe uses refried beans as a meat-alternative to keep it vegetarian.
What's the difference between a chalupa and a tostada?
Chalupas and tostadas are similar in that they both top a crispy fried tortilla with taco toppings like lettuce, tomatoes, and cheese, but the difference between the two comes down to the shape of the tortilla shell. Tostadas are traditionally flat, while chalupas are served in a shallow "bowl-like" shell.

In Mexico, the chalupa tortilla is almost always thin and crispy, but in the United States chalupas are popular in thicker, softly crisped flour tortillas. These thicker tortillas look like a bigger version of Mexican sopes or Navajo fry bread.
More Vegetarian Meals
Favorite Tools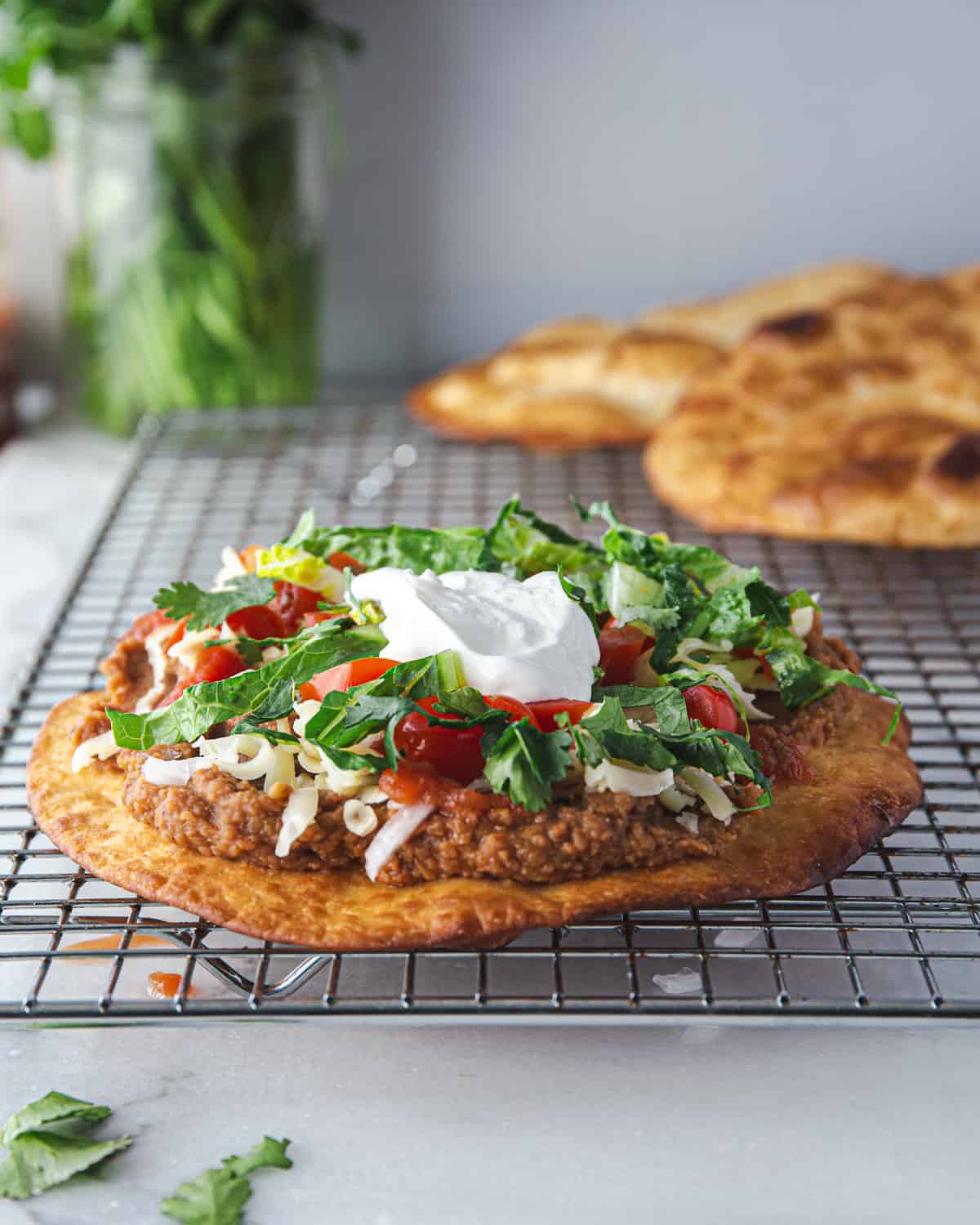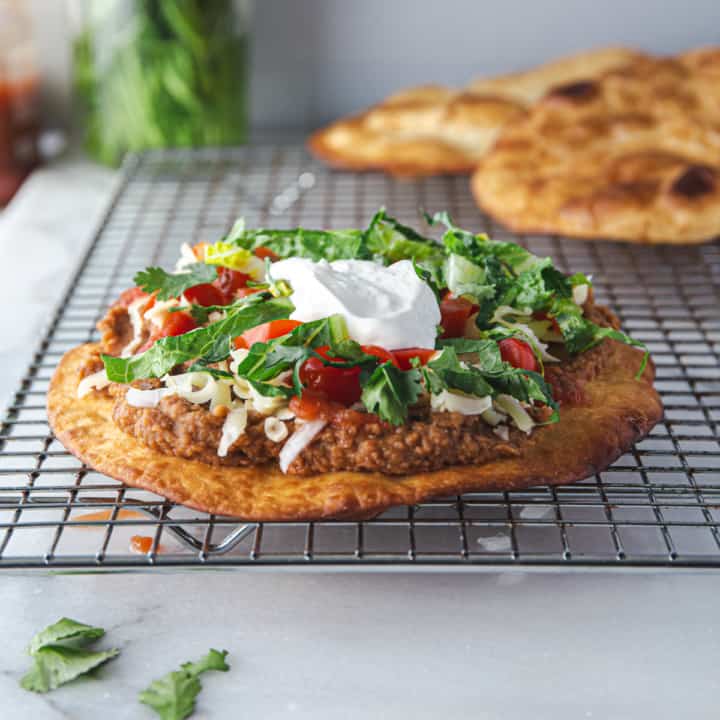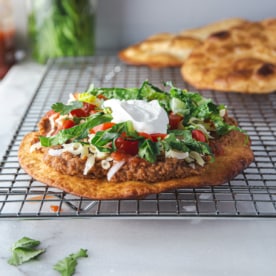 Vegetarian Tostada Recipe
Quick and crispy bean tostadas are layered with fresh, fun taco toppings, can be baked or fried, and are an easy vegetarian weeknight meal everyone will love.
Ingredients
cooking oil, only if frying the tortillas

(see note)

8

6-inch

corn or flour tortillas

1

15-ounce can

refried beans

1

teaspoon

chili powder

1/2

teaspoon

ground cumin

1/2

teaspoon

garlic powder

3

cups

shredded cheddar, monterey jack, or Mexican blend cheese
Optional Toppings:
chopped avocados or guacamole

minced onions

sour cream

salsa

shredded lettuce

cilantro

chopped tomatoes
Instructions
Cook the tortillas until crisp using one of the following two methods:

Bake: Preheat the oven to 400 degrees F. Spread the tortillas out in a single layer on a baking sheet. Bake, turning halfway through cooking, until crisp on both sides, about 2 to 3 minutes per side.

Fry: Pour a 1-inch layer of oil into a heavy-bottomed saucepan. Use a pan that is large enough in diameter to hold the tortillas. Heat the oil to 375 degrees F. Use a knife to poke a small hole through the center of each tortilla (this will prevent large bubbles from forming as they cook). Use tongs to gently lower one tortilla into the oil and cook it on both sides until golden brown and crisp, about 2 minutes per side. Continue until all of the tortillas are crisp, transferring them to a cooling rack or paper towel-lined plate as they finish cooking.

Next, combine the refried beans, chili powder, ground cumin, and garlic powder in a small saucepan over medium heat. Heat the beans, stirring occasionally, until warmed through.

Spread beans over the top of each of the tortillas and top them with shredded cheese.

Finish the tostadas with your favorite mix of toppings or set everything out on the table so that everyone can assemble their own.
Notes
Cooking Oil – Use any high-heat cooking oil with a neutral flavor. My favorites are avocado, grapeseed, or vegetable oil.
Nutrition
Calories:
533
kcal
|
Carbohydrates:
32
g
|
Protein:
25
g
|
Fat:
34
g
|
Saturated Fat:
18
g
|
Polyunsaturated Fat:
2
g
|
Monounsaturated Fat:
7
g
|
Cholesterol:
85
mg
|
Sodium:
1006
mg
|
Potassium:
159
mg
|
Fiber:
2
g
|
Sugar:
3
g
|
Vitamin A:
1001
IU
|
Vitamin C:
0.03
mg
|
Calcium:
691
mg
|
Iron:
3
mg
Nutrition information is automatically calculated, so should only be used as an approximation.