The crunch of the flour tortillas under a mix of toppings makes these Crispy Vegetarian Tostadas one of our all-time favorite dinners. This is one of those recipes that is barely a recipe. More of a technique, with endless adaptations. Adapt away!
On the first Friday of Lent I catch myself smiling at a favorite memory from the first year that Frank and I were dating. We had been dating for at least six months and often cooking together during the evenings when Lent arrived and (what I then thought of as) my will-eat-anything boyfriend developed a weekly routine of pondering over what he would eat on Friday.
I was surprised by his concern, but also charmed. Lent is a good time to think about making sacrifices and being appreciative, and Frank's awareness of doing without meat means that he has always thought sincerely and deeply about the meaning of this time of year.
In that early stage of dating, however, I remember that it was a dimension of this man that I found intriguing. I have never been terribly attached to eating meat (although I most certainly do eat meat these days). This is true for the way that Frank and I cook at home, but was also true of the way that I cooked back when we first started dating. Even though Frank frequently goes days at a time without eating a bit of meat, when Lent rolls around, he seems to want it...particularly on Fridays.
And though I sometimes half-heartedly try to remind him that so many of our favorite meals contain no meat at all, a part of me loves that these Fridays during Lent have such significance in our home.
If you are doing without meat on Fridays this Lenten season, this slightly indulgent, divinely crisp, make-your-own style of tostada dinner is just what you need.
Hopefully you'll still feel appreciative of all that you have. But I promise that while eating this dinner, you won't feel that you've sacrificed a thing.
More Vegetarian Meals
Favorite Tools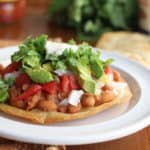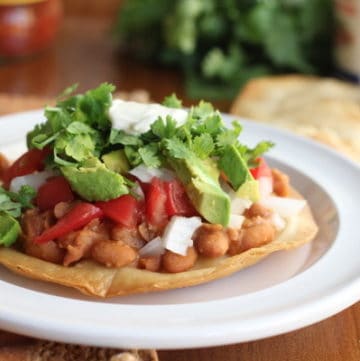 Print Recipe
Vegetarian Tostada Recipe
A crispy flat tortilla topped with seasoned refried beans and your favorite taco toppings make these a delicious and crowd-pleasing dinner.
Ingredients
Cooking Oil, for brushing or frying the tortillas

8

6-inch

flour tortillas

1

(15-ounce) can

refried beans

1

teaspoon

chili powder

½

teaspoon

ground cumin

½

teaspoon

garlic powder
Optional Toppings:
chopped avocados or guacamole

minced onions

grated cheese

sour cream

salsa

shredded lettuce

cilantro

chopped tomatoes
Instructions
Cook the tortillas until crisp using one of the following two methods:
Broil: Spread the tortillas out in a single layer on a baking sheet. Broil on both sides until crisp, 2-3 minutes total.
Fry: Pour a 1-inch layer of oil into a heavy-bottomed saucepan. Use a pan that is large enough in diameter to hold the tortillas. Heat the oil to 375 degrees F. Use a knife to poke a small hole through the center of each torrtilla (this will prevent large bubbles from forming as they cook). Use tongs to gently lower one tortilla into the oil and cook it on both sides until golden brown and crisp, about 2 minutes preside. Continue until all of the tortillas are crisp.
Next, heat the beans in a small saucepan over medium heat, stirring occasionally. Add a bit of water as needed, to maintain a creamy consistency. While the beans are warming up, prepare the tortillas.

Top each crispy tortilla with your favorite mix of toppings or set everything out on the table so that everyone can assemble their own. Once fried, the tortillas will stay crisp for a couple hours at room temperature.
Nutrition
Calories:
230
kcal
|
Carbohydrates:
37
g
|
Protein:
6
g
|
Fat:
6
g
|
Saturated Fat:
2
g
|
Polyunsaturated Fat:
2
g
|
Monounsaturated Fat:
1
g
|
Sodium:
555
mg
|
Potassium:
94
mg
|
Fiber:
3
g
|
Sugar:
3
g
|
Vitamin A:
0.4
IU
|
Calcium:
110
mg
|
Iron:
3
mg