Chicken Fajita Quinoa Bowls
Published Apr 27, 2017•Updated Jun 10, 2022
Chicken Fajita Quinoa Bowls are the sort of lunch that I look forward to all morning. Spiced chicken, blackened peppers and smoky salsa are piled on top of a bed of kale and quinoa.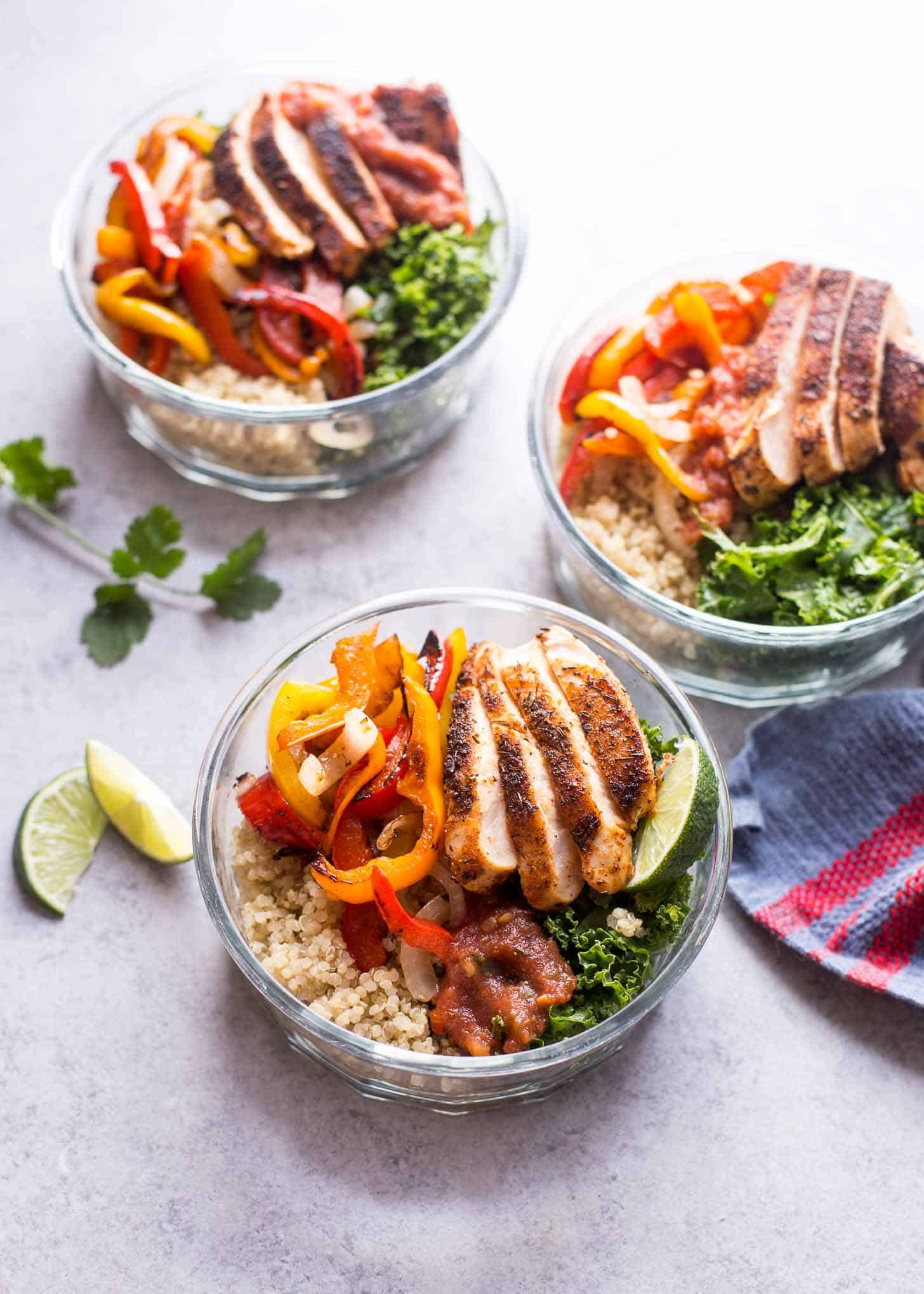 When my husband and I moved to our new neighborhood in Kansas City last year, a major draw was that the neighborhood is super bike-friendly. Frank and I decided that, even with two toddlers to drive around town, we would be a single-car household for as long as possible.
We've managed to stick to that decision for over year, largely because we can bike nearly everywhere. Not only do we love biking for fun but, unless the weather is really miserable, I bike to work three days a week. Biking to work has turned out to be an incredibly fun challenge. It makes my busy life feel more balanced (not to mention that I can feel my legs getting stronger with each and every hill).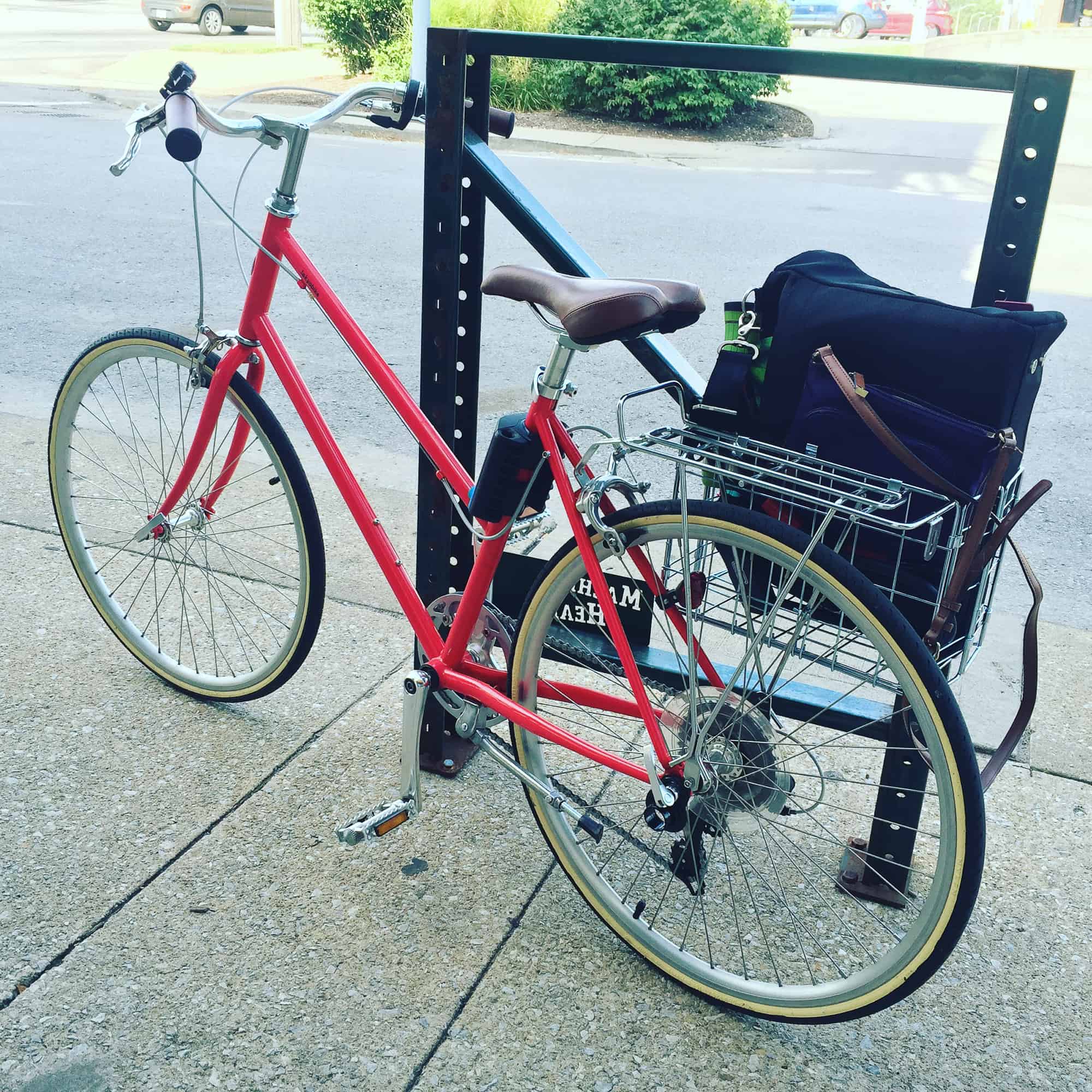 Even if I need to sit in front of a computer all day, I know that my commute will be a time to be outside. As a full-time recipe developer and food photographer, I bounce between my home and a shared office space about a mile from my house.
And because a full-time recipe developer has no excuse for not cooking, most every day, I pack my lunch.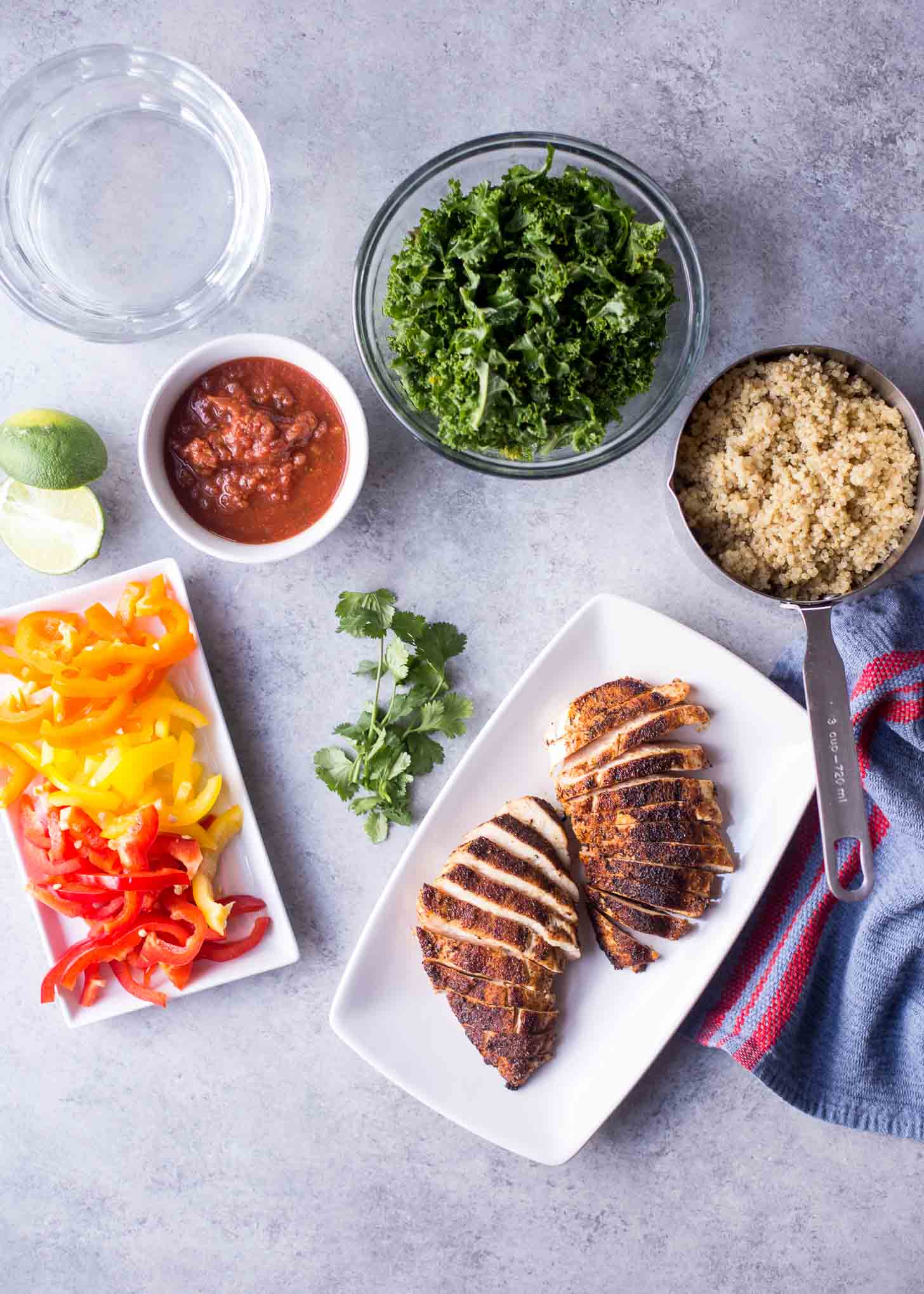 And those packed lunches? They'd better be good.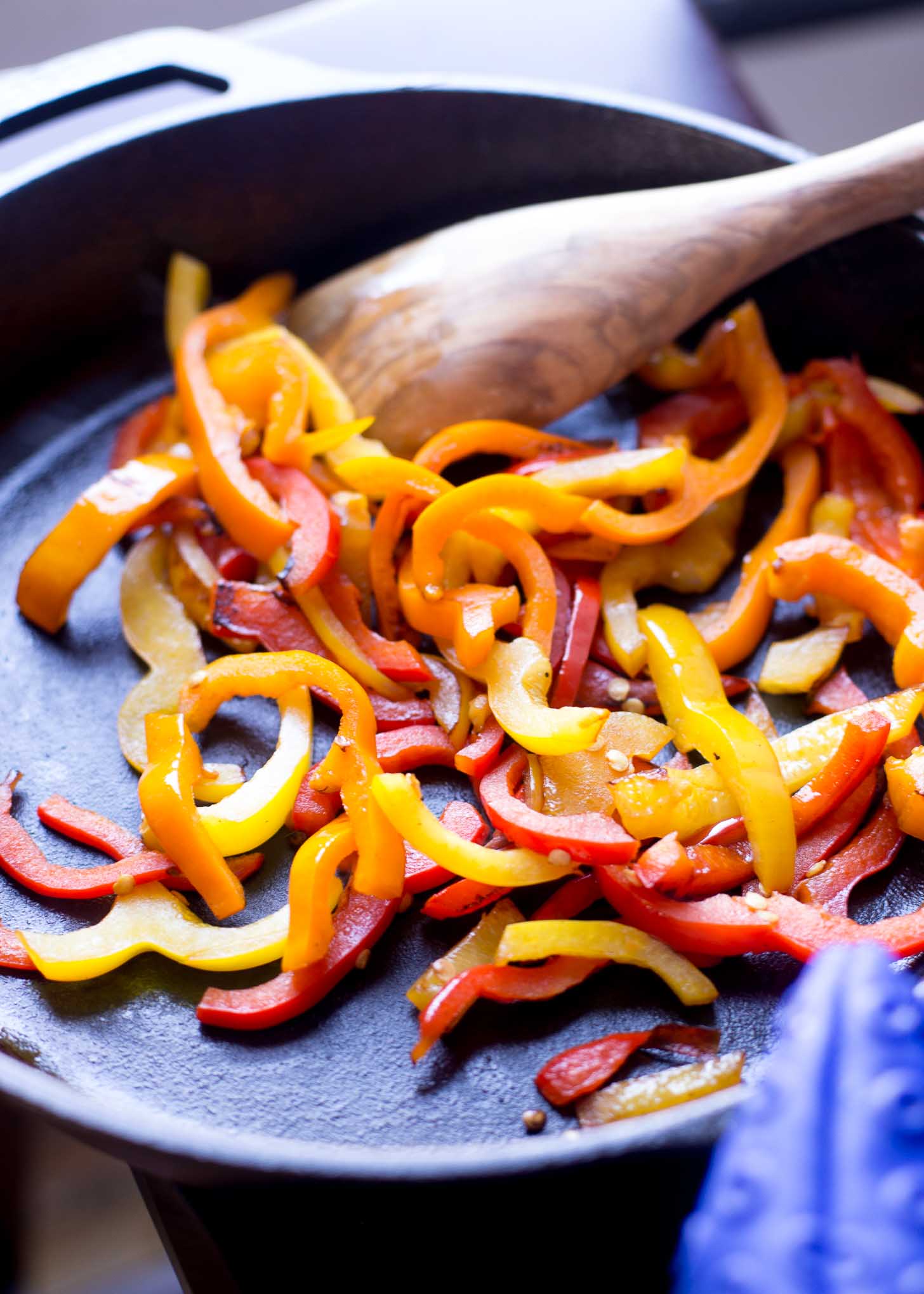 Make Ahead Lunches
For make-ahead lunches to be a success they should be three things:
Healthy and filling.
Travel well. (If they're going into a lunch box and on the back of a bike, the ingredients need to taste okay if tossed together in transit.)
Fun!
That last one is so important. Make-ahead lunches have to be tempting enough that they don't get passed over for a sushi roll, slice of pizza, or an awesome Indian food buffet (I've got one of those dangerously within walking distance of my office).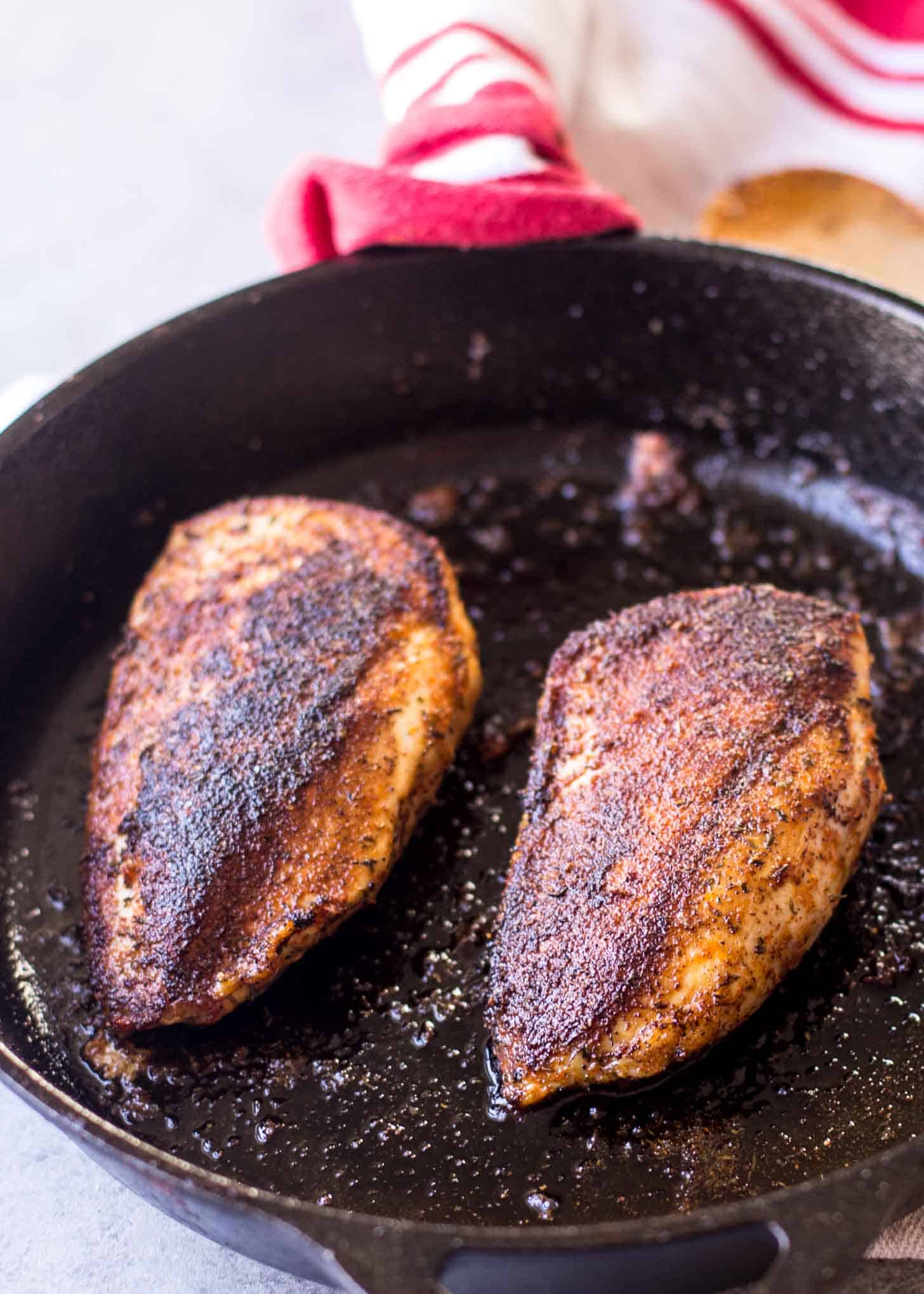 It just takes a little something extra to transform an ordinary lunch into something tempting and fun. A piece of dark chocolate and a flavored water always do the trick for me.
Chicken Fajita Quinoa Bowls
Chicken Fajita Quinoa Bowls are a lunch that is packed with protein, and when it's all tossed together with a squeeze of lime, the flavors really pop!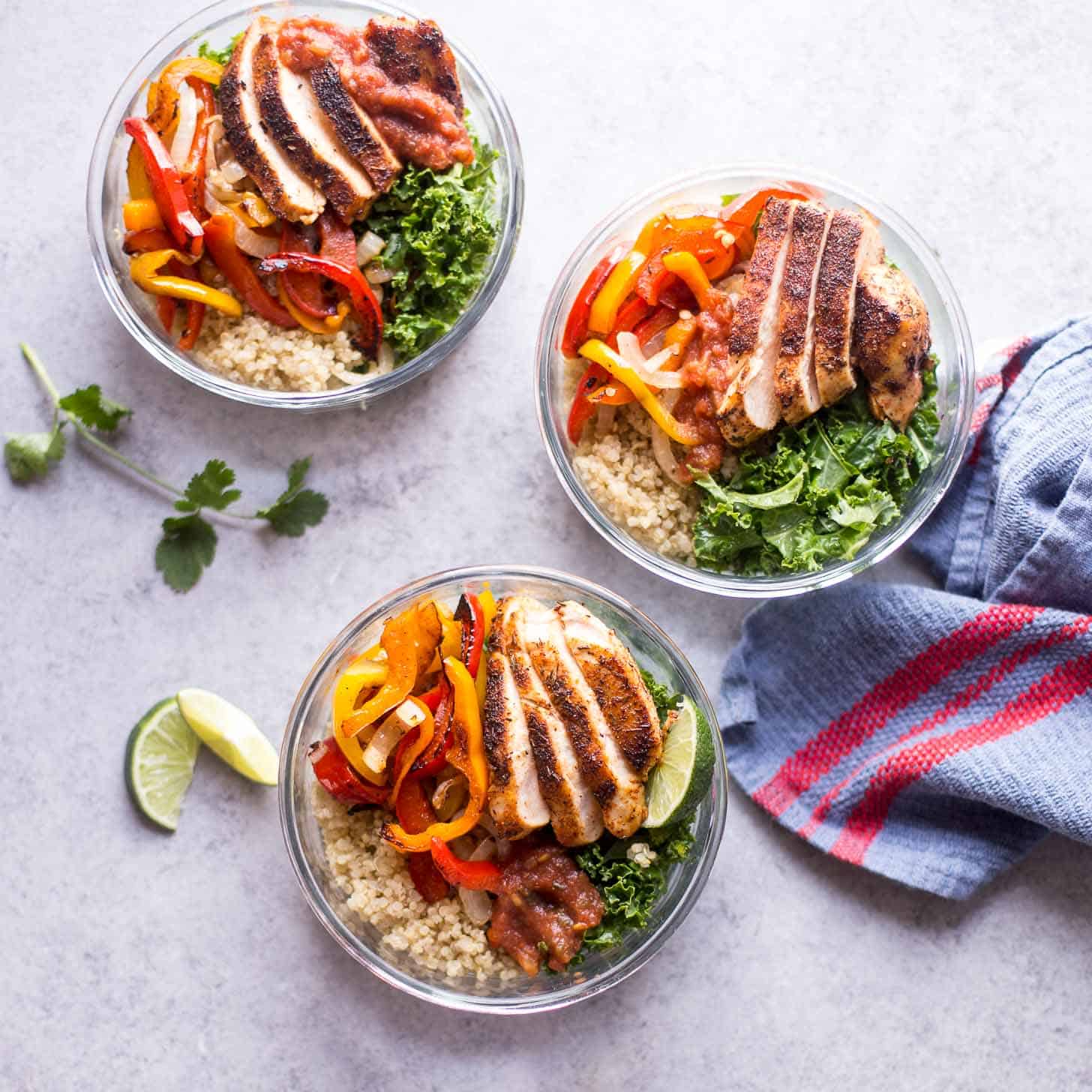 I love to ride my bike from my office to a nearby park, sit in the shade and take a few minutes to relax and enjoy.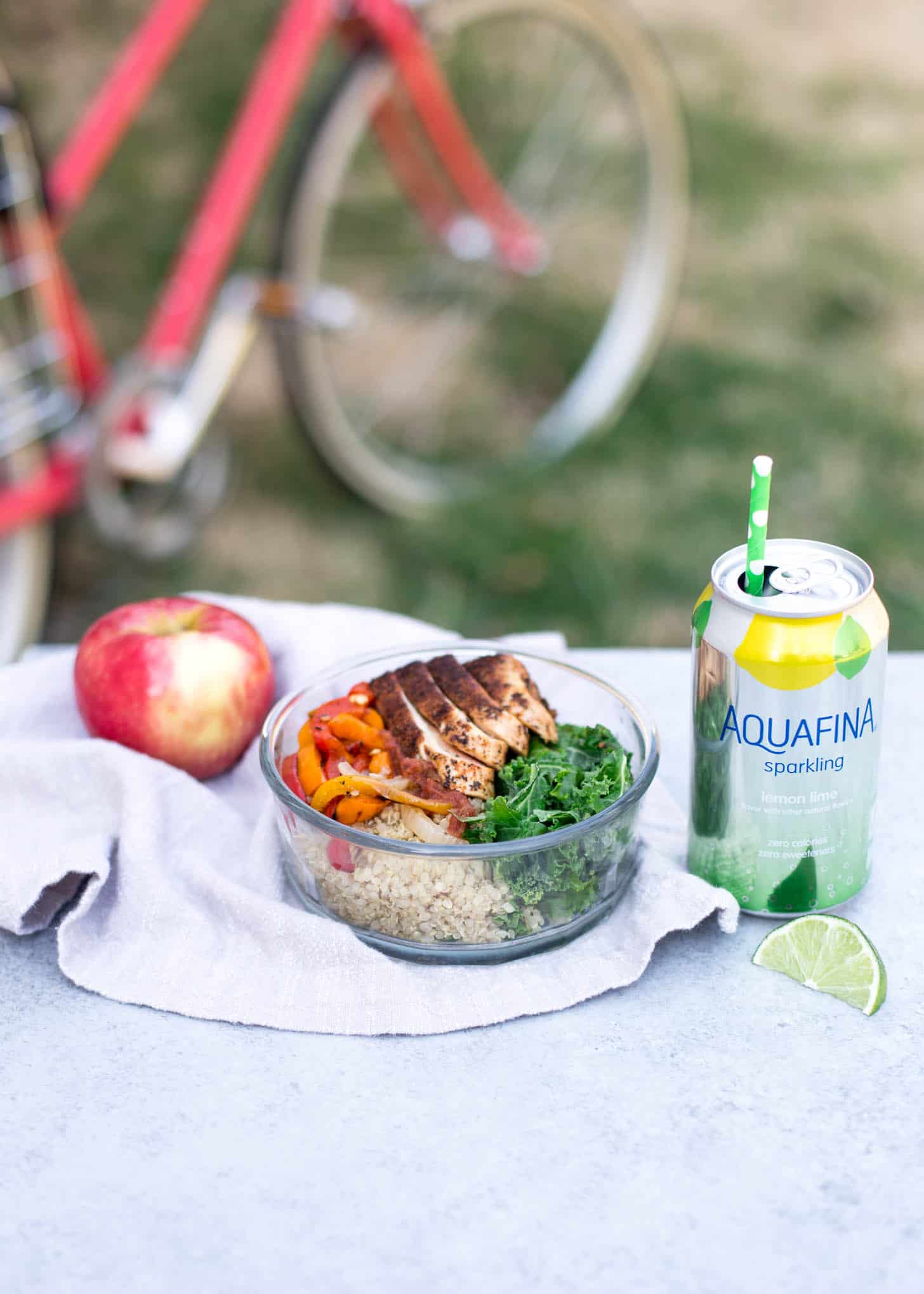 Here's hoping these moments continue. And that I've got many more miles ahead on my trusty pink bike.
More Fun Lunch Ideas
Favorite Tools
Lodge Cast Iron Skillet

– I use this 10.5-inch cast iron skillet nearly every day. To keep it seasoned, just be sure to dry it well and rub it with some oil before storing it (this will prevent rust and keep it seasoned).

Global Chef's Knife

– You only really need one chef's knife to use for everything and this is my favorite. I've had it for 7+ years. It's incredibly lightweight. If you, like me, are under 5'4″, the 6-inch is a perfect size (if you're taller, get the 8-inch).
I wrote a whole post on my favorite lunch boxes for adults and kids. You can see my favorites here!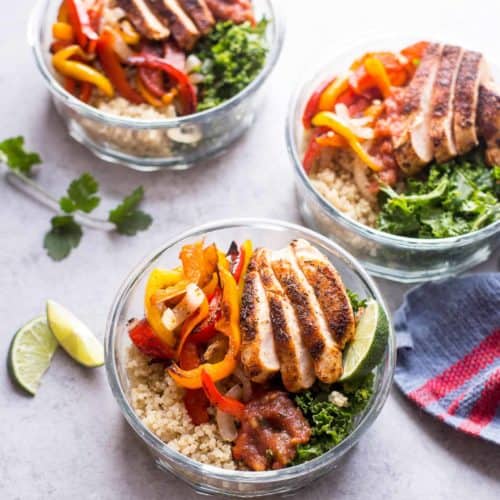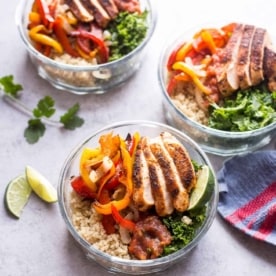 Chicken Fajita Quinoa Bowls Recipe
Chicken Fajita Quinoa Bowls, are fresh, flavorful and packed with nutrition to keep you fueled throughout your day. Best of all, these can be made ahead and customized to your liking!
Ingredients
¾

cup

Quinoa

1 ½

cups

Low-Sodium Chicken Stock

¾

pound

Boneless, Skinless Chicken Breasts

1

Tablespoon

Taco Seasoning

2

Tablespoons

Oil

2

Bell Peppers, thinly sliced

(I like to use a mix of colors)

½

Onions, thinly sliced

(optional)

3

cups

Kale, roughly chopped

½

cup

Salsa, any type

Lime wedges
Instructions
Rinse quinoa under cool water. In a medium saucepan, bring chicken stock to a boil and stir in quinoa. Reduce heat to low-medium and cover the pan. Simmer until all of the stock has been absorbed, 12-15 minutes. Set aside.

While quinoa cooks, toss chicken breasts in taco seasoning. Heat a skillet over medium-high heat. Add 1 Tbsp. oil and when oil begins to shimmer, sear chicken on both sides until cooked through, 3-4 minutes on each side. Transfer chicken to a cutting board and let it rest.

Return skillet to heat and add 1 Tbsp oil. Saute peppers and onions until tender and starting to blacken in spots, 3-4 minutes total. Season with a pinch of salt.

Slice chicken.

Divide quinoa between bowls (use bowls with lids if preparing these ahead for lunches). Top with kale and then peppers and sliced chicken. Spoon salsa on top and place a lime wedge on the side.

To store: Chicken Fajita Quinoa Bowls will keep in the refrigerator for up to 4 days.
Notes
Feel free to add other vegetables or incorporate your favorite taco-style toppings. I love to add a bit of grated cheese or a spoonful of sour cream if I'll have access to a refrigerator. Sliced avocados or guacamole are also great, but these are best if added just before serving.
Nutrition
Calories:
466
kcal
|
Carbohydrates:
44
g
|
Protein:
37
g
|
Fat:
17
g
|
Saturated Fat:
2
g
|
Cholesterol:
73
mg
|
Sodium:
571
mg
|
Potassium:
1407
mg
|
Fiber:
6
g
|
Sugar:
6
g
|
Vitamin A:
9497
IU
|
Vitamin C:
186
mg
|
Calcium:
154
mg
|
Iron:
4
mg
Nutrition information is automatically calculated, so should only be used as an approximation.