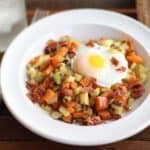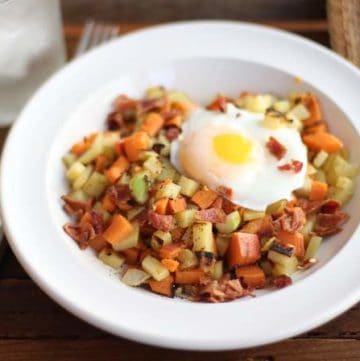 Print Recipe
Sweet Potato, Apple, and Bacon Hash
A vegetable hash tends to be a breakfast food, but it is a great dinner. There are few things as satisfying as throwing vegetables in a hot pan, stirring until they are crisp and golden, and topping them with a fried egg. However, the sweetness of the apples and the saltiness of the bacon are a perfect pair in this fall-themed hash.
8

strips bacon

1

onion, chopped

2

sweet potatoes (13oz/360g total), diced

2

russet potatoes (13oz/360g total), diced

1

granny smith apple (5.5oz/150g), diced

1/2

tsp

kosher salt

1/2

tsp

black pepper

4

eggs, fried or poached, for serving
Heat a large skillet (that has a tight-fitting lid) over medium heat. Add the bacon and cook on both sides until crisp. Transfer bacon to a cutting board to cool. In bacon grease in the still-hot pan, saute the onion until it begins to soften, about 3 minutes. Add the sweet potatoes and russet potatoes and stir to combine. Reduce the heat to low-medium and put the lid on the skillet. Allow the hash to cook, covered, until the potatoes become tender, about 10 minutes (if the potatoes are cut into larger pieces, they will need to cook for slightly longer).

Remove the lid from the skillet and turn the heat up to medium-high. Add the apples and cook the hash, stirring frequently, until the ingredients begin to brown, about 7-8 minutes. Season with salt and pepper.

Transfer the hash to four plates or bowls for serving. Chop the cooked bacon and sprinkle it evenly over the hash. Top each portion with an egg.