Sweet Potato, Apple, and Bacon Hash
Published Nov 08, 2012•Updated Apr 19, 2022
Sweet Potato, Apple, and Bacon Hash can be loaded full of vegetables and makes for a hearty, healthy one-pan dinner. There's a little chopping required up-front, but bringing it all together in a hot skillet really couldn't be easier.
Breakfast in Bangkok is endlessly fascinating. There isn't as much distinction between meals here as in other parts of the world, so this is the place to be if you want to let your growling stomach be your guide. Every morning I pass grilled meats, sliced fruit, stir-fried vegetables, sandwiches, salads sold in plastic bags, and loads of noodles and rice porridge.
Everything can be put in a plastic bag for easy transport to work on the back of a motorbike.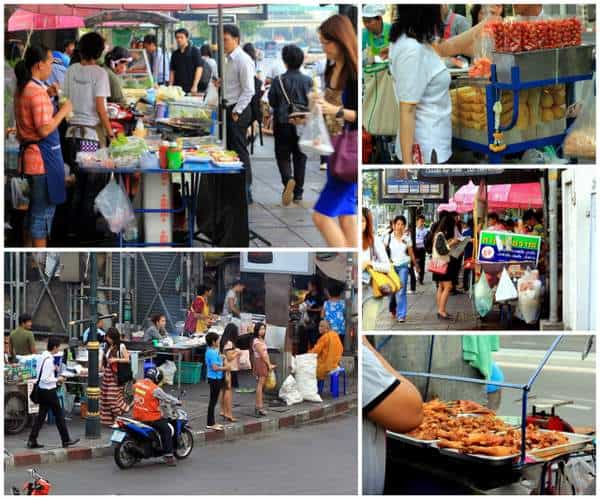 I've got a pretty standard breakfast routine, but this endless variety of breakfast foods is nevertheless appealing. I get hungry again just walking down our street first thing in the morning – the fragrance of all that cooking Thai food casts a serious spell.
Maybe it's all that variety every time of day (and the trick it plays on my brain to smell soy sauce in a wok first thing in the morning), but my quickest dinner solution lately tends to fall more readily into the breakfast category. A hash is one of the best breakfast/lunch/dinner/ways-to-use-whatever-is-in-the-fridge meals I can think of. Just a bunch of tasty ingredients cooked in a pan until they are tender on the inside and golden brown on the outside. Topped with an egg, it is one of those weeknight dinners that makes me feel like I accomplished something great without much effort at all.
Over the past few weeks, I've made a number of dinner hashes with mixed greens, carrots, onions, and squash from our CSA delivery, but when I saw the granny smith apple on our counter (Frank's been buying these by the bushel), I wanted it in the hash.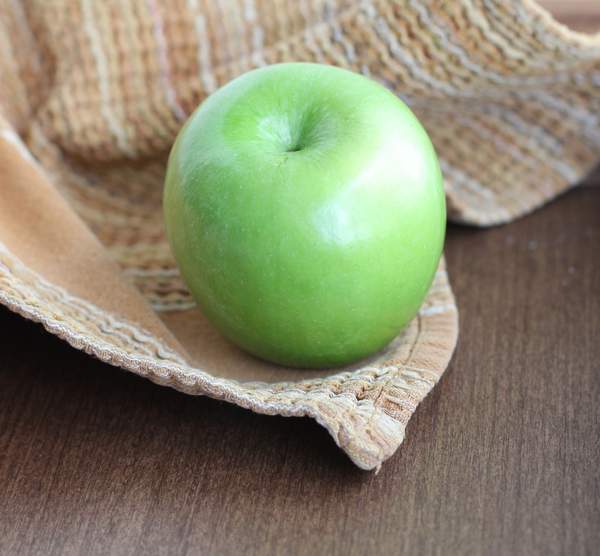 The way to round out a November hash that includes a tart apple seemed clear. I splurged on an orange sweet potato (ours are usually the Japanese white type…tasty, but different), and put a few strips of crisp bacon into the mix for good measure.
Not all breakfast or dinner hashes need a recipe, but this one's certainly worthy of one.
More Easy Breakfast Ideas
Favorite Tools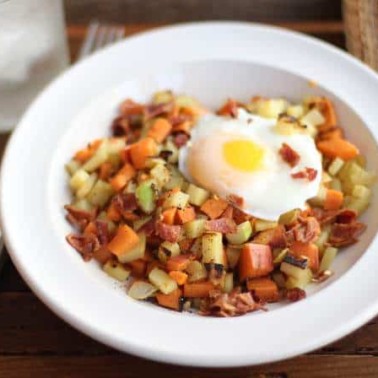 Sweet Potato, Apple, and Bacon Hash
A vegetable hash tends to be a breakfast food, but it is a great dinner. There are few things as satisfying as throwing vegetables in a hot pan, stirring until they are crisp and golden, and topping them with a fried egg. However, the sweetness of the apples and the saltiness of the bacon are a perfect pair in this fall-themed hash.
Ingredients
8

strips

Bacon

1

Onion, chopped

2

Sweet Potatoes, diced

(13oz/360g total)

2

Russet Potatoes, diced

(13oz/360g total)

1

Granny Smith Apple, diced

(5.5oz/150g)

1/2

tsp

Kosher Salt

1/2

tsp

Black Pepper

4

Eggs, fried or poached, for serving
Instructions
Heat a large skillet (that has a tight-fitting lid) over medium heat. Add the bacon and cook on both sides until crisp. Transfer bacon to a cutting board to cool. In bacon grease in the still-hot pan, saute the onion until it begins to soften, about 3 minutes. Add the sweet potatoes and russet potatoes and stir to combine. Reduce the heat to low-medium and put the lid on the skillet. Allow the hash to cook, covered, until the potatoes become tender, about 10 minutes (if the potatoes are cut into larger pieces, they will need to cook for slightly longer).

Remove the lid from the skillet and turn the heat up to medium-high. Add the apples and cook the hash, stirring frequently, until the ingredients begin to brown, about 7-8 minutes. Season with salt and pepper.

Transfer the hash to four plates or bowls for serving. Chop the cooked bacon and sprinkle it evenly over the hash. Top each portion with an egg.
Nutrition information is automatically calculated, so should only be used as an approximation.
*This post contains affiliate links*