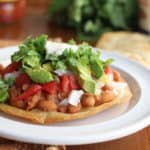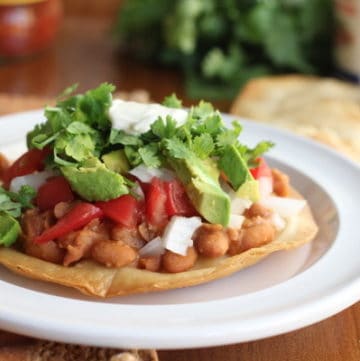 Print Recipe
Crispy Vegetarian Tostadas
We started making these crispy shells to "spice" up our Friday night meatless dinners during Lent, and have never looked back. The crunch of the flour tortillas under a mix of toppings makes this one of our all-time favorite dinners.
Tostada shells
Canola oil, for frying

10 6-

inch

flour tortillas
Toppings (choose any you like – chop and set these out before frying the tortillas)
2 15-

ounce

cans of refried beans

chopped avocados or guacamole

minced onions

grated Monterey jack cheese

sour cream

salsa

lettuce

cilantro

tomatoes

black olives
For the tortillas, pour canola oil into a high-walled saucepan to form a 1-inch layer of oil (use a pan that is large enough to accommodate a 6-inch tortilla with a couple of inches of space on all sides). Heat the oil over medium-high heat to 375 degrees F. (Note: I never actually use a thermometer for this recipe. When the oil begins to shimmer, I drop a small piece of tortilla into the pan to see if it is ready. When the tortilla sizzles and creates many tiny bubbles as soon as it hits the hot oil, it is the right temperature.) Using a sharp knife, poke a small hole in the center of each tortilla (this will prevent them from becoming puffy as they fry). Gently slide the tortilla into the hot oil and fry it until it becomes crisp and golden, about 1 minute. Using thongs, flip the tortilla and fry for 1 minute on the other side. Gently spread the hot tortillas on paper towels.

Heat the beans over medium heat in a small saucepan, stirring occasionally. Add a bit of water as needed, to maintain a creamy consistency. While the beans are warming up, prepare the tortillas.

Top each crispy tortilla with your favorite mix of toppings or set everything out on the table so that everyone can assemble their own. Once fried, the tortillas will stay crisp for a couple hours at room temperature.