There were two reasons I knew I had to make this yogurt-marinated chicken as quickly as possible. The first was that yogurt-marinated chicken is one of those random kitchen things that I have failed miserably at in the past.
I'm always trying to marinate chicken in yogurt and find that, no matter how I do it, it comes out tasting bland and…sort of…well…white. Let me save you the suspense and tell you that the recipe that follows is not that sort of yogurt-marinated chicken.
The second reason I knew that I had to make this recipe was that it was offered as part of Jenny Rosenstrach's charming admission about her fear of grilling in the July issue of Bon Appetit.
If you haven't seen the blog that she and her husband write together, I highly recommend it. It's full of insights into the reality of getting dinner on the table for a busy family of four. Those of you with children will likely relate. Those of you who do not have children may read it and think – jeez, I already have trouble getting dinner on the table and it's just me/us…how the heck will I ever feed these future children we will have? (Oh wait…maybe that's just me.)
No matter what your dinner situation may be, Jenny and Andy can always be counted on for easy, quick dinners. And they are clearly doing something right, because this chicken marinade, which includes green things that my husband would have refused to eat 20 years ago, is their children's favorite.
I concur. This chicken is tender and boasts flavor that would shine with a hit of heat from a grill. (I used a grill pan with great success…as you may remember, no outdoor grilling space around here.)
It would be delicious served with a simple salad, but would also be a star in this super easy dinner.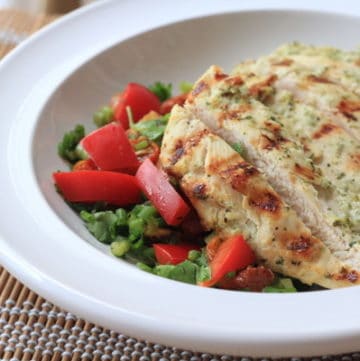 Print Recipe
Yogurt-Marinated Grilled Chicken
Ingredients
4

skinless, boneless chicken breasts (about 1.5 pounds)

1

cup

plain whole-milk yogurt

½

cup

coarsely chopped fresh cilantro leaves and stems

½

large onion, coarsely chopped

4

Tbsp.

olive oil plus more for brushing

3

garlic cloves, coarsely chopped

1

tablespoon

fresh lime juice

2

teaspoons

garam masala

1

teaspoon

kosher salt plus more for seasoning

1

teaspoon

freshly ground black pepper

1 1

" piece fresh ginger, peeled and chopped
Instructions
Working with one chicken breast at a time, put chicken between 2 sheets of waxed paper and pound to ½" thickness. Transfer chicken breasts to a resealable plastic bag.

Combine the remaining ingredients in a food processor and blend until smooth. Pour yogurt mixture over chicken, seal bag, and turn to coat. Marinate chicken in the refrigerator for at least 3 hours or overnight.

Build a medium fire in a charcoal grill, or heat a gas grill to medium-high (or heat a grill pan over medium-high heat). Brush grill grates with oil. Scrape excess marinade off chicken; season with salt. Grill chicken, turning once, until browned and cooked through, 3-4 minutes per side.