Use these easy step-by-step instructions to cook perfectly al dente pasta.
This recipe was tested in the 6-quart Instant Pot. (When this method was tested in an 8-quart Instant Pot the results were not consistent.)
Find the lowest recommended cook time on the pasta box or bag. (If a range is given, use the lowest number in the range. So if the range is 9 to 11 minutes, use 10 minutes. If only one time is given and it's odd, round down. So 7 minutes becomes 6.) Then use this chart to determine how long to pressure cook on high.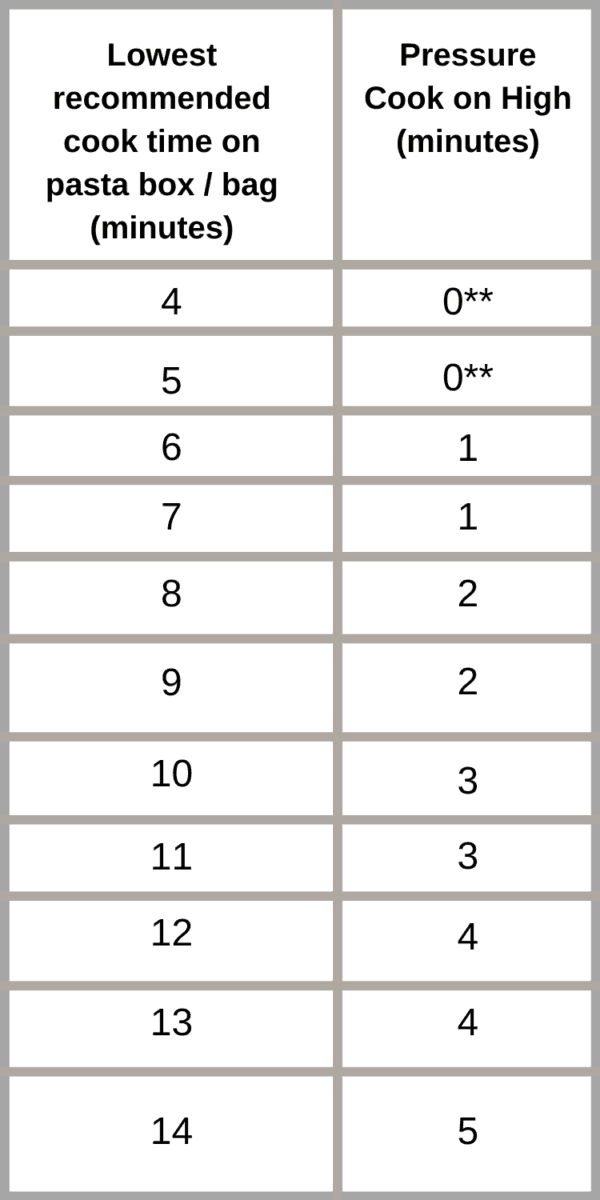 **0 is a real setting on the pressure cooker / instant pot. For small pasta shapes with a short recommended cook time, set the timer to zero minutes. The pressure cooker will fully pressurize but won't hold for any amount of time.
Spaghetti, Fettuccini, or Linguini - Long straight pasta shapes like these (and angel hair, bucatini, etc.) need to be treated a bit differently than other pasta shapes.
Break the pasta strands in half before adding them to the Instant Pot so that they can easily be submerged in water.

Pour enough water into the Instant Pot to completely cover the pasta (note: there is no set amount, but only add water until every strand of pasta is submerged). Add salt. 

Do not stir

before

cooking. (This will help prevent the pasta from sticking.) 

Pressure cook pasta according to the time on the chart. 
Leave pasta on natural release for 5 minutes and then release any remaining pressure.
After cooking, stir the pasta well to loosen any strands that are stuck together.
Drain well.