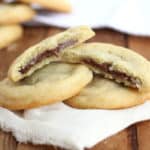 Print Recipe
Vanilla Cookies with Nutella Filling
These Nutella stuffed cookies are simple and use a soft cookie dough which requires just a few steps to grace its center with rich, creamy Nutella. Use my secret ingredient to ensure a gooey center long after they finish cooling. A delicious (and buttery) vanilla cookie worthy of all of us Nutella-loving bakers.
Line a small baking sheet with wax paper. In a small bowl, whisk together the nutella and coconut oil. Transfer the nutella to a small plastic bag. Cut off one corner of the plastic bag and gently squeeze the nutella out onto the wax paper into 24 evenly-sized chips. Place the baking sheet in the freezer until the nutella is firm, 30 minutes.

Preheat the oven to 350 degrees F.

Grease a baking sheet with butter or cooking spray. Beat the butter and sugar together until light and fluffy. Add the egg and vanilla and beat well. Add the flour, baking soda, and salt and stir with a wooden spoon until fully incorporated. Divide the dough into 24 even balls and flatten each into a disk. Remove the frozen nutella chips from the freezer. Working quickly, press each chip into one ball of dough and roll the dough into a ball around the nutella.

Place the cookie dough balls 3 inches apart on the prepared baking sheet. Bake, just until the edges start to turn slightly golden, 6-8 minutes (keep an eye on them towards the end - do NOT overbake these). Allow cookies to cool on the baking sheet for 5 minutes before transferring to a cooling rack.