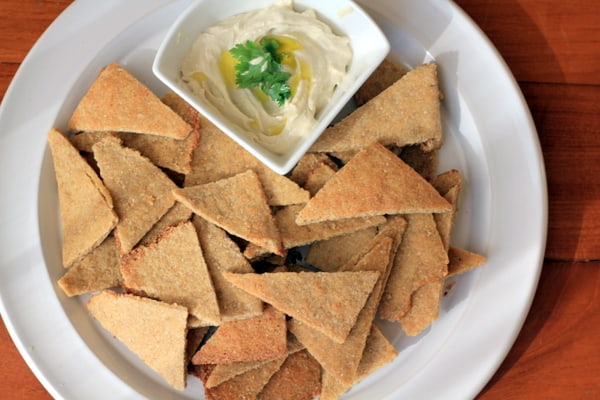 Before we moved to Bangkok, people told us that we would be able to find "everything" here. For the most part, they were right. Bangkok is a huge, modern city and they now import just about everything you can imagine. Our local grocery store even has some locally produced cheeses and an extensive selection of produce items that are not found in traditional Thai cooking.
There is one exception. Pita chips. Pita chips are nowhere to be found. This does not mean that aren't here somewhere – it is entirely possible that I just cannot find them. A typical trip to the grocery store for me involves a significant amount of time spent searching the shelves, trying to make sense of labels I don't recognize. I'm getting pretty good at figuring it all out, but my pita chip "finds" have resulted in one bag of deep fried tortilla chips and one bag of…pork rinds. Although, I have been joyously working my way through many dishes that are unfamiliar (such as the fabulous crispy chicken wrapped in pandan leaves, shown below, which was lunch over the weekend), it is always nice to return to the familiar at home.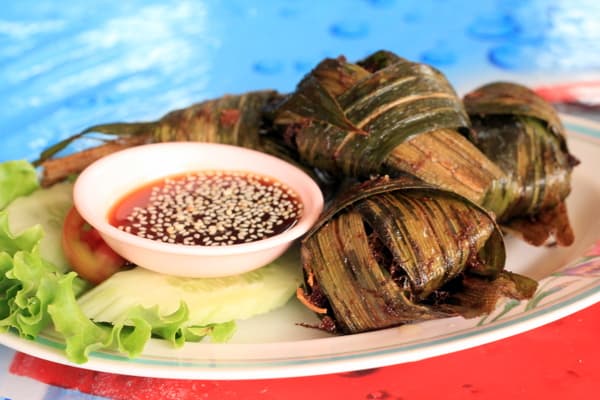 Over the past few weeks, I have made my own pita bread several times to great success. It is surprisingly easy and flexible enough to allow for using just about any type of flour I have on-hand. I prefer whole wheat flour in pita bread, but particularly in pita chips. This time around, I used a stone-ground whole wheat flour that had a texture like corn meal. This would have been too coarse and possibly a bit dry for pita bread, but made beautiful chips, that had depth and nice whole wheat flavor. See the note at the bottom of the recipe if you prefer to use regular whole wheat flour or all-purpose, both which work very well in this recipe.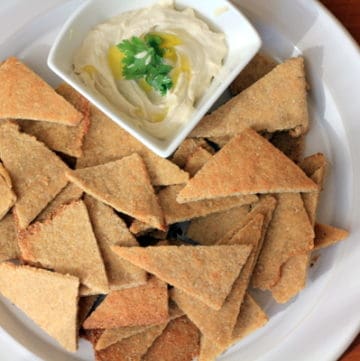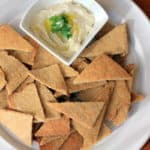 Print Recipe
Whole Wheat Pita Chips
Ingredients
2

tsp.

yeast

1

Tbsp.

honey

1

cup

water, room temperature (divided into ½ cup for yeast and ½ cup for dough)

3

cups

whole wheat flour

3

tsp.

salt

3

Tbsp.

olive oil (divided into 2 Tbsp. for dough, 1 Tbsp. for coating bowl)
To top the chips:
1

Tbsp.

olive oil

2

tsp.

salt
Instructions
Whisk together yeast, honey and ½ cup water in a small bowl. Allow to sit for 5 minutes.

In a large mixing bowl, combine flour and salt. Add yeast mixture and 2 Tbps. olive oil and stir to combine. Add remaining ½ cup water and stir continuously until dough begins to come together into a ball. (If dough is dry and does not come together, add up to an additional ¼ cup water.)

Turn dough out onto a lightly floured surface and knead until dough becomes elastic but still slightly sticky, about 7 minutes. Place dough in a large bowl, coated with 1 Tbsp. olive oil. Cover the bowl and allow dough to rise at room temperature, until doubled in size, about 2 hours.

Turn dough out onto counter and knead a few times to eliminate air bubbles created during rising. Divide dough into 6 even pieces and roll into balls. Allow dough balls to rest on the counter for 20 minutes, while oven is preheating.

Preheat oven to 450 degrees. Using your palms (or a rolling pin), flatten each ball of dough into a circle, around 8 inches in diameter. (The thinner you roll these out, the more crispy and thin your chips will be.) Place flattened dough circles baking sheets, insuring that they do not overlap. Bake until they puff up and begin to turn slightly golden, about 5 minutes. (Remove from oven immediately if edges turn dark brown.) Remove from oven and allow to cool.

Turn oven down to 350 degrees. To make the chips, slice each baked pita into 12 chips (wedges or squares). Toss the chips in 1 Tbsp. olive oil and 2 tsp. salt and arrange evenly on a baking sheet. Bake for another 15-20 minutes (turning chips with a spatula after 10 minutes so that bake evenly), until chips are brown and crisp on both sides. Allow again to cool completely on the counter, at least 1 hour. Serve with hummus or other dipping sauces. Store for up to a week in a air-tight container at room temperature.
Notes
Note on baking time: Keep an eye on the chips during the second bak in Step 6. Depending on the thickness of the chips, the time may vary. You want them to get very dry and crunchy without burning. Remember that they will continue to crisp up once they come out of the oven and are cooling on the counter.
Note on flour: You can easily use substitute regular whole wheat or all-purpose flour for the coarse-ground flour listed. If you opt for one of these finer-ground flours, add an additional ½ cup of water to the dough in Step 2.