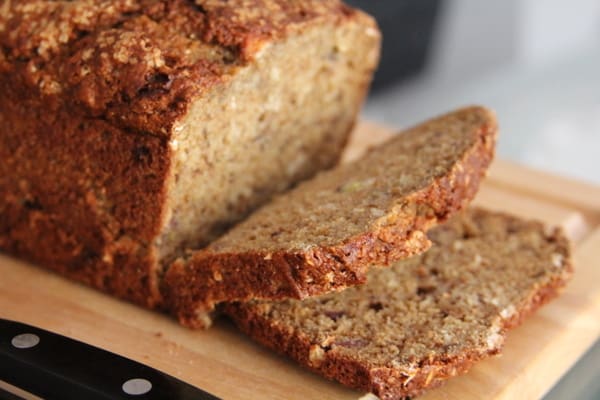 We're fast approaching a situation in which I should consider having an entire page of this blog devoted to cooking with bananas. Oddly enough, I never tire of baking with them. Every time I think I've found a favorite recipe featuring the fruit, I come across another that I love even more.
I talk about bananas with such frequency that I've started getting reader emails dedicated to the topic, including one curious reader who questioned if there really were as many varieties of bananas as I have mentioned seeing in Thailand (hi, Helen!). According to Bananas.org (quite a niche they've found for themselves), there may be 1,000 different types of bananas out there. At this rate, I may eventually have as many banana recipes as there are types of the fruit.
Hopefully you'll indulge me in yet another banana recipe. I guarantee this one is worth your time.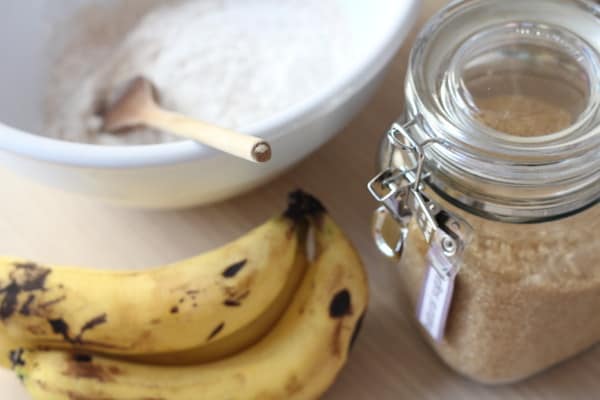 Most banana bread is more like cake, and I adore it. However, it's hard to justify having a banana "cake" sitting on our counter every week (which is the frequency with which I need to make banana bread in order to keep up with our constant supply of bananas).
I wanted to find a banana bread that I could feel good about making as often as I like. It would use only whole wheat flour, feature yogurt in place of butter, and would preferably come together in about as much time as it takes Frank to grind and brew our Saturday morning mugs of coffee. This little number fit the bill and exceeded my highest expectations.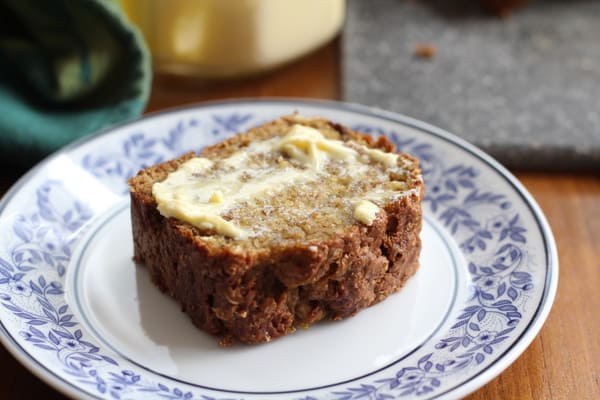 And even though this recipe is sweet and soft and indulgent without a bit of butter, it's definitely befitting of a quick smear of softened butter over the top.
I gave it a taste test (or four) just to be sure.
Note on the photos in this post: The pictures above show two different ways I bake this bread. Up top is the sliced bread after having been baked in a regular loaf pan. At the bottom is a thick slice of the bread that I baked in four mini loaf pans. The mini version is a bit more fun (and the extras freeze well), but the larger loaf is a crowd-pleaser.
________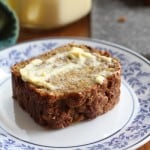 Print Recipe
Whole Wheat Banana Bread
Ingredients
1

and 1/2 cup whole wheat flour

1/2

cup

whole wheat pastry flour

1/2

teaspoon

salt

1

tablespoon

baking powder

1/2

cup

rolled oats (not quick-cooking)

3/4

cups

granulated sugar

350

g

mashed ripe bananas (about 3 large bananas)

1/2

cup

plain Greek yogurt

2

large eggs
Instructions
Preheat oven to 350 degrees F. Grease a loaf pan.

Into a medium mixing bowl, sift together the flours, salt, and baking powder. Stir in the oats and sugar. In a separate bowl, whisk together the bananas, yogurt, and eggs. Fold the dry ingredients into the liquids just until combined. Pour the batter into the prepared loaf pan.

Bake until a cake tester entered in the center comes out clean and the surface is golden brown, 45-50 minutes.

Allow to cool on a wire rack in the loaf pan for 10 minutes and then turn out onto the rack to cool slightly.