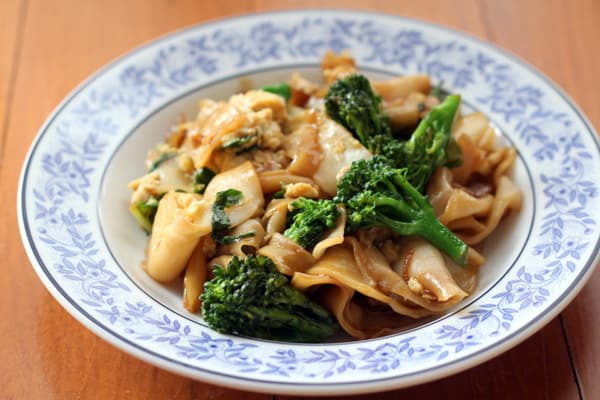 In Thailand, as you may know, there is big business in the health and beauty industry. On every corner there is a salon or spa or place to get a massage (both those that are family friendly and those that are…not). And because there is so much competition for this type of business, I've found that many of these spots have come up with their own unique ways to draw in customers. Several weeks ago I had my nails done at a spot where, for less than 10 dollars US, 4 women went to work, each taking one limb. They even had four bottles of nail polish of the same tint so that, in under 25 minutes of happy chatter in the midst of this efficient team, every nail on both my feet and hands were perfectly polished and smelling of floral lotion. That place had found its niche in speed.
Today I was out running errands and was told I would need to return to one of the shops 30 minutes later to pick up some things. I found myself wandering nearby, without a plan or the need to get anything else done when I stumbled upon a nail salon with big open windows and a nice (i.e. air-conditioned) interior. I asked if it would be possible to have a manicure done in 30 minutes, which got an affirmative nod. I was whisked away to a side room where, to my delight, I found row after row of Lazy Boy chairs with women comfortably seated while watching a movie on a giant screen in the front of the room. It was a fantastic idea, and felt like such a luxurious way to pass the time – watching a movie in a cozy chair while someone paints your nails.
After 30 minutes I had only one complaint, and it wasn't about my nails. The movie they were showing in the nail salon? The Incredible Hulk. Perhaps it's just me, but there has got to be a better movie choice out there for a bunch of women in a salon. A romantic comedy perhaps?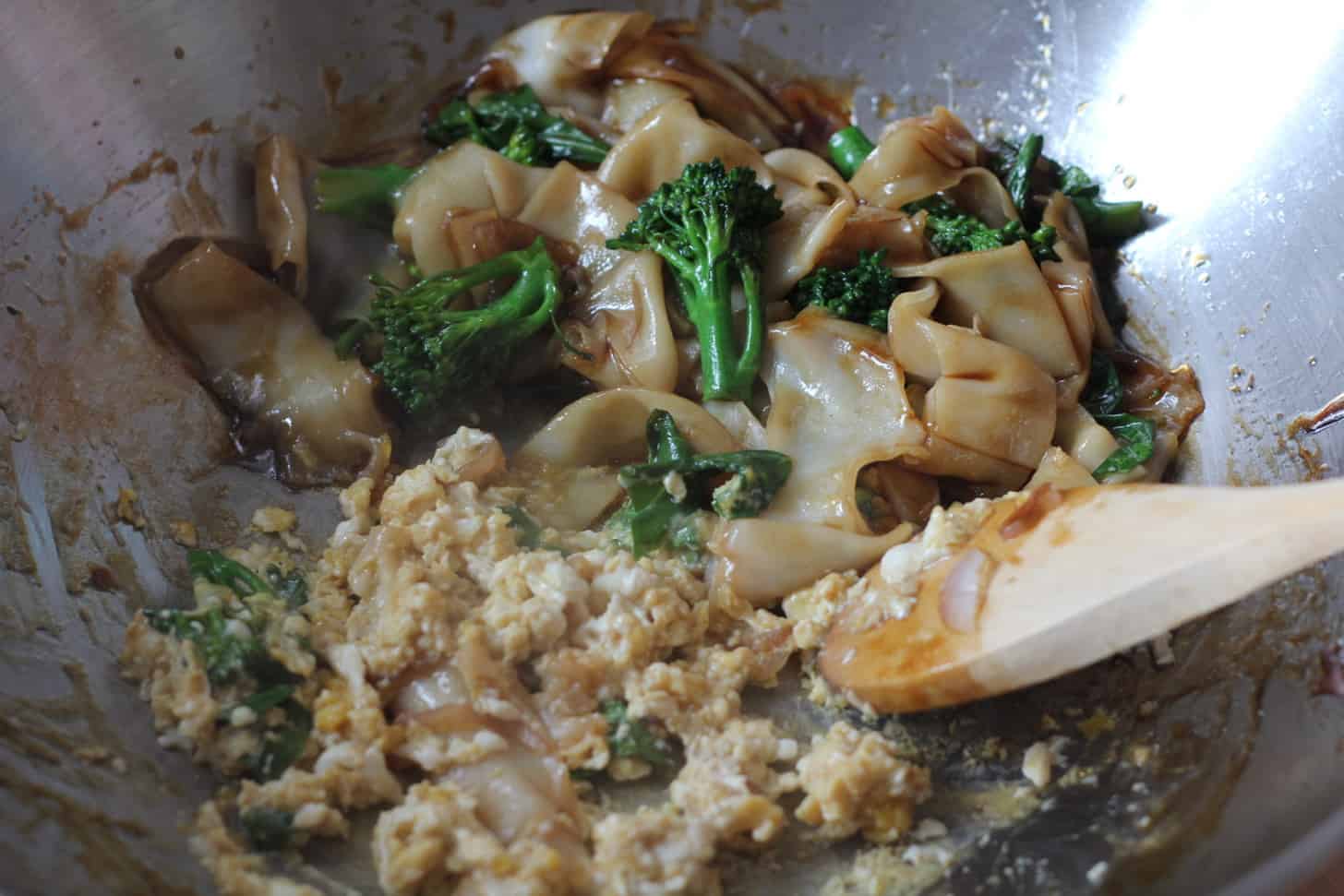 Needless to say I had plenty of "greens" today, first in the form of 30 minutes of the giant green man, and second, in this vegetarian lunch loaded with broccoli and kale.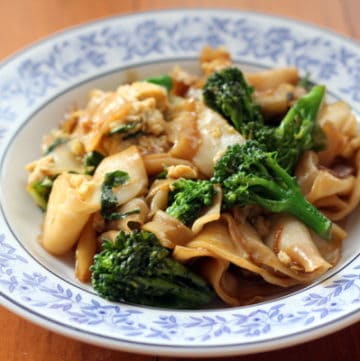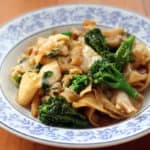 Print Recipe
Vegetarian Noodles with Broccoli and Kale
Servings:
1
(easily doubled)
Ingredients
2

Tbsp.

soy sauce

½

tsp.

rice vinegar

1

and ½ tsp. palm sugar (substitute granulated sugar if preferred)

½

tsp.

cornstarch

½

Tbps. vegetable oil

1

shallot, sliced (should measure around 2 Tbsp.)

1

cup, loosely packed, fresh wide rice noodles

¾

cup

broccoli florets, chopped into small pieces

10

Chinese kale leaves, cut into ½ inch slices

1

egg
Instructions
Combine the soy sauce, vinegar, sugar and cornstarch in a small bowl. Whisk vigorously to combine. Set aside.

Heat oil in a wok over medium high heat. When the oil begins to shimmer, add shallots and cook until they begin to soften, about 1 minute. Add broccoli and kale and cook, stirring occasionally, until kale cooks down and softens, about 1 minute. Pour liquids into wok and stir all ingredients to combine. Continue cooking until sauce thickens and begins to sizzle on the bottom of the pan. Add noodles, stirring to coat evenly in sauce. Push noodles to one side of the wok and add egg on other side. Scramble egg until just cooked through. Give the entire dish a good stir to evenly combine and serve immediately.
Notes
This dish can be easily doubled, but like most stir-fry recipes, I don't recommend making more than two servings at once. A crowded pan will not allow you to get the intense heat and quick cooking time that is ideal. Once the first ingredient goes into the pan, it should take about 6 minutes to finish the dish. (Too much longer and you risk ending up with mushy vegetables or noodles.) In the photos above, I used Chinese broccoli but regular broccoli would work just fine.