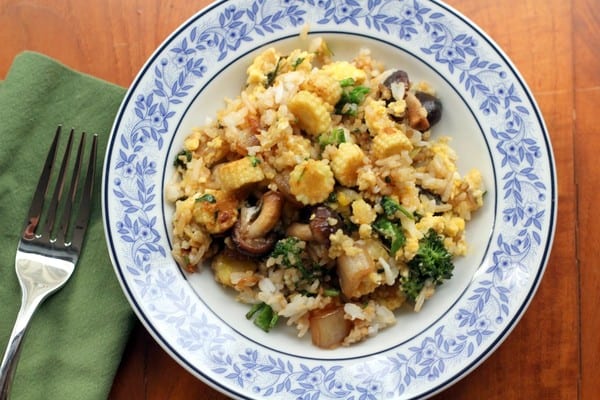 Fried rice is served in nearly every casual restaurant in Bangkok, plus out of steaming hot woks at street vendor stands. It's usually made with lots of pork or other protein, light on the vegetables and always topped with a fabulous fried egg. These fried rice creations are masterful, salty and satisfying. Of course, the street vendors produce hundreds of these a day. With the flip of a wrist, they make it look simple, but it's taken some practice to get the hang of it at home. It is important to note that the finished product is nothing like that flavorless fried rice that I remember having with Chinese take-out.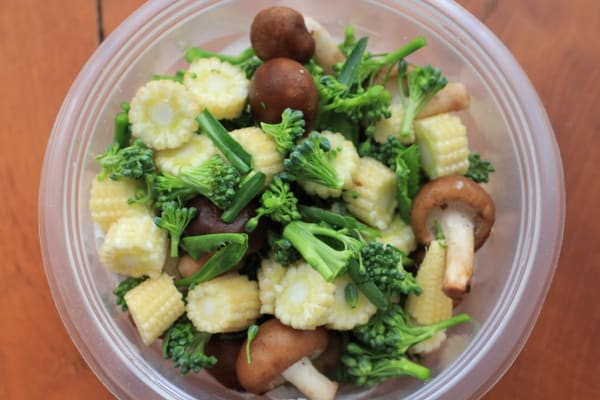 Before coming up with the following recipe, I tested a number of recipes I found online. Nearly all of them used far more oil than I felt was necessary and were much too heavy on the rice and light on the vegetables. This is my own version, which is very easy and corrects for those things. I used this beautiful veggie mix sold together in my local supermarket - mushrooms, Chinese broccoli and baby carrots. I just had to rinse and chop them before tossing them in the wok.
There are a few key to keep in mind that will help to produce :
1) Don't be afraid of the heat - get that wok nice, hot and steamy.
2) Don't overcrowd the pan - make 2 servings at a time at most.
3) Make sure that your vegetables and rice are very dry before adding them to the wok - this will prevent them from steaming and allow them to get crisp while still retaining a bright color.
Thai people value every grain of rice, and consider it to be in extremely poor taste to waste even a grain. Next time you find yourself with leftover rice, store it in the refrigerator to use for this recipe.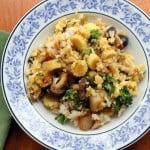 Print Recipe
Vegetable Fried Rice
Ingredients
1

tablespoon

vegetable oil

½

cup

onion, chopped

¼

cup, sliced scallions (white and green parts)

2

cups

vegetables of your choice, cut into even ½ inch pices (any combination will work -mushrooms, peppers, tomatoes, broccoli, etc.)

2

tablespoons

soy sauce

2

cups

cooked rice

2

large eggs, cracked into small bowl
Instructions
Prep all ingredients and set them beside the stove before beginning.

Heat oil in a large wok at high heat until just before the oil begins to smoke. (Turn on overhead fan if your stovetop has one.)

Add onion and scallion to oil, stirring to allow onion to soften and become translucent, about 2 minutes. (Oil should be steaming and sizzling loudly during this process. If not, turn up your heat.)

Add vegetables and stir-fry until soft and beginning to brown, about 2 minutes. Add soy sauce and stir until bubbling, about 1 minute.

Pour rice into the wok. Stir once to mix with vegetables and then allow rice to cook until beginning to crisp on the bottom, about 1 minute. While rice is cooking, stir it to break up large pieces and scrape up brown bits off the bottom of the pan.

Working quickly, push rice to sides of pan, forming a clear hole in the middle. Pour eggs into the whole and quickly scramble, about 1 minute.

Remove pan from heat, split rice into two portions and serve immediately.
Notes
You may need to adjust the cooking times depending on the heat of your pan. Be careful with this high heat, but remember that the high heat is key to getting the flavor brought out when the ingredients fry on the bottom of the pan. Do this once or twice, and cooking at this temperature becomes pretty comfortable.