As a child I was always mesmerized by the ease with which my mom could whip up a batch of chocolate pudding for dessert. I remember the sound of the whisk beating it into creamy submission just as vividly as I recall the smell of the chocolate and the taste of it still warm out of the pan. As a result, it was pre-Christmas nostalgia that brought me to today's simple sweet treat, and my selection for this month's Secret Recipe Club.
This month I found myself connected to Louise, who just welcomed a new little girl (congrats, Louise!) and yet has managed to keep on blogging, over at Lick That Spoon. Louise is total wiz when it comes to baking and desserts, so I have to admit that I was a bit intimidated when it came to selecting one of her delicious desserts to replicate for this blog. I was tempted by any number of her chocolate desserts as well as a gorgeous recent addition – Toasted Coconut Marshmallow Slice. Yum.
But in the end, the encouraging, straight-forward advice Louise gave for making vanilla egg custard won out. I've had some run-ins with grainy egg custards, so I crossed my fingers, rolled up my sleeves, and did some serious whisking for this one. I am happy to report that this recipe came out perfectly smooth and creamy. It is a classic that I am definitely adding to the dessert rotation…right next to that nostalgia-inducing chocolate pudding.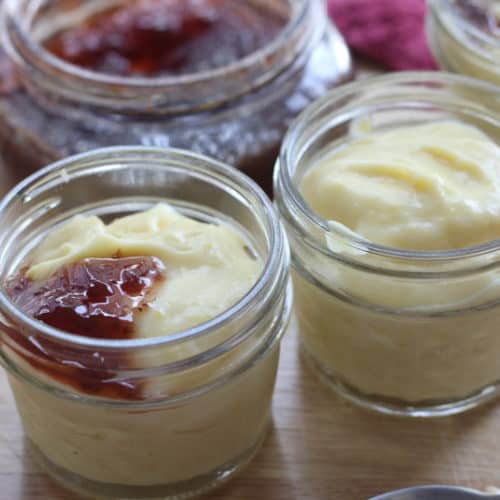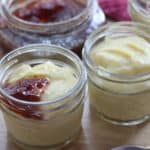 Print Recipe
Vanilla Egg Custard
Despite egg custard's reputation for being finicky, this simple method produces a thick, creamy dessert that is worth a few minutes of watchful stovetop cooking.
Ingredients
2

cups

milk

4

large egg yolks

6

tbsp.

sugar

3

tbsp.

cornflour

40

g

butter, at room temperature

1

tsp

vanilla essence

jam, for topping (optional)
Instructions
Before beginning, fill a large bowl with ice water. Place a smaller bowl inside the ice bath. This will be used to cool the custard when it is finished cooking.

Place milk in a small saucepan and bring to a boil. Meanwhile, in a separate saucepan, combine yolks, sugar and cornflour and whisk over a low heat.

When the milk begins to boil, add a few tablespoons into the yolk mixture and whisk. Gradually add the remaining milk to the yolk mixture and whisk vigorously over medium heat. Custard will thicken. Continue to whisk until boils, and remove from heat. Scrape the custard into the small bowl over the ice bath to stop the cooking process. When the custard is slightly cooled, add the butter in 3-4 installments, stirring until combined. Add essence, mix and pour into one bowl or 4 small ramekins (I used 4 oz. mason jars). Refrigerate for up to 2-3 days.

Serve with jam, for topping (I have yet to taste a jam flavor that doesn't go beautifully with this dessert).