Greetings friends. Although I am here in Bangkok, my heart is in Turkey. A reasonable person would not be thinking about international travel only a few short weeks after returning from a spectacular beach that is less than an hour away. So, call me unreasonable, but I'm wishing I could pack myself up and head to Istanbul.
I have been reading Lonely Planet's A Moveable Feast, a collection of essays about food, written by travel writers. It is lovely reading, since I can pick it up and read a great story on travel and food in under 10 minutes, making it less daunting than this other novel that I love but cannot seem to finish.
What strikes me most about what these writers have to say about food is that many of them reach a similar conclusion – that their most memorable meals are not the 5-star, multi-course affairs. Their most memorable meals, more often than not, are the simple ones. They are foods and dishes that are unpretentious, and allow the author to appreciate what accompanies the meal – wonderful people, beautiful surroundings, or uplifting conversation.
When I think about a trip I took to Istanbul years ago with a group of friends, the most vivid food memory I have is of breakfast. We stayed in a bright guest house with sky blue walls and airy white curtains that billowed in the cool spring breeze. In the morning we woke to the call to prayer, bouncing between mosques and drifting profoundly through the windows.
Our group of six, travelers who had been connected by mutual friends and who came together from all corners of Europe, would convene on the roof on those mornings, under brilliant blue sky. We would look out over the Aya Sofia and the multitude of morning activities on surrounding rooftops, as we sipped rich, dark coffee and munched on a salad of cucumber and tomato, crusty chunks of bread, and fresh hardboiled eggs. Every morning it was the same. But it is still the most distinct food memory I have of that trip. Every morning I remember waking up excited for the perfectly simple combination.
This pizza reminds me of the simple pleasures of the food I ate on that trip.
When F started making this Turkish-style pizza, just the scent of the spice mix had me back in Turkey. It is unlike anything I've ever had, warm, with a slight kick, and a hint of something exotic. Although we thought about trying a dough recipe that was specifically designed for the long, thin, oval pide served in Turkey, in the end we just used our standard pizza dough. Topped with chicken seasoned with a simple spice mix and a side of greek yogurt, I could close my eyes, take a bite of this, and picture myself to be back there.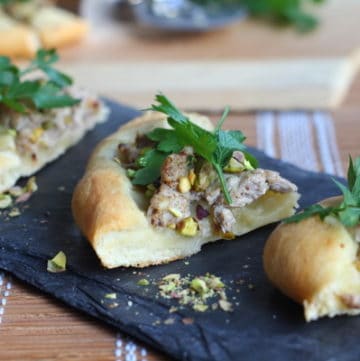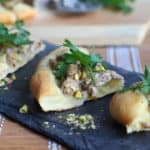 Print Recipe
Turkish-style Chicken and Pistachio Pizza
Ingredients
2

tsp.

allspice

¼

tsp.

ground cinnamon

¼

tsp.

paprika

¼

tsp.

black pepper

6

oz.

ground chicken

1

large shallot, minced

1

clove

garlic, minced

1

recipe of pizza dough (I use this one)

¼

cup

roughly chopped pistachios

1

large handful of flat parsley leaves

½

cup

Greek yogurt, for serving (optional)
Instructions
In a large bowl combine the allspice, cinnamon, paprika, and black pepper. Add chicken, shallot, and garlic and stir until well combined. Cover and refrigerate for at least 2 hours (up to 24).

Preheat the oven to 450 degrees. If using a pizza stone, place it in the oven as it heats up.

Stretch the pizza dough into rounds, drizzle with olive oil, and top with a thin portion of the seasoned chicken. Bake until the chicken is cooked through and the edges of the crust are golden brown, about 10-12 minutes. Remove the pizzas and immediately top with pistachios and parsley. Serve with Greek yogurt on the side.
Notes
Adapted quite a bit from Turquoise: A Chef's Travels in Turkey.
The recipe below lists the Greek yogurt as an optional addition, but I highly recommend it for the creamy, tart flavor it adds when a small spoonful is dropped on top of the pizza slices.