It's cool and rainy in Bangkok this morning – a strange sight this time of year. It is the sort of morning that lends itself to moving slowly and sipping tea in the kitchen rather than rushing out the door.
I was on the treadmill in our little gym downstairs, watching the storm creep its way across the sky and feeling particularly fortunate for this week that is coming to a close.
Frank and I have been busy with the best kinds of business all week. A colleague of his came through Bangkok on Tuesday, and we sat outside, nibbling Thai food, and catching up on people and activities back in Washington, DC. Wednesday we had date night out at a charming Italian spot on our street that we had nearly forgotten about but were thrilled to re-discover.
Last night we had good friends over for a belated Chinese New Year dinner and sat around our living room, sipping wine, leisurely munching on dinner, and catching up.
With the dark skies and rain, it will be a perfect close to the week to relax at home tonight and cook something together. Something, perhaps, that bubbles on the stove and smells like tomato and oregano. Something, perhaps, like turkey meatball subs.
I had a lightbulb moment talking to Frank's parents a couple weeks ago when his dad mentioned how delicious the previous night's meatballs were after spending a day in the fridge, soaking in that rich tomato sauce. My realization was that I have never made meatballs. Somehow it slipped by all these years.
Frank and I cooked these together, cajoling the tomato sauce into a gentle simmer, only after it painted the stovetop with bright spots of red. We hollowed out rolls and piled the meatballs and sauce into cozy little nooks. We topped them with cheese and gave them a turn in the oven. And what resulted was rich and satisfying and satisfyingly familiar.

These subs were beautiful the night we had them, but as promised by Franks's father…
…the meatballs themselves were even better the next day.
Happy Friday friends – I hope you are somewhere warm (and dry).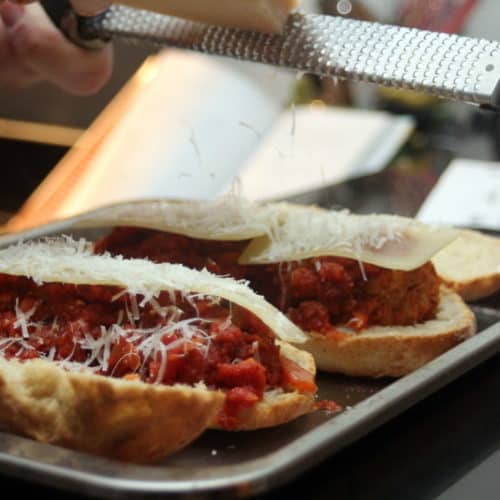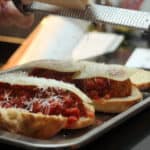 Print Recipe
Turkey Meatball Subs
There is something homey and comforting about sub sandwiches full of meatballs, classic red sauce, and a bit of melty cheese. These turkey meatballs by Giada De Laurentiis are a favorite for making the sandwiches in our house.
Ingredients
For the meatballs:
1/4

cup

plain dried breadcrumbs

1/4

cup

chopped Italian parsley

2

large eggs, lightly beaten

2

tablespoons

whole milk

3/4

cup

grated Romano cheese

3/4

teaspoon

salt

3/4

teaspoon

freshly ground black pepper

1

pound

ground turkey

1/4

cup

extra-virgin olive oil

5

cups

marinara sauce (store-bought or use the recipe below)
For the sandwiches:
4

sandwich rolls

olive oil, for brushing over rolls

8

slices

provolone cheese

fresh-grated parmesan cheese
Instructions
Turn on the oven's broiler. In a large bowl, stir together breadcrumbs, parsley, eggs, milk, 1/2 cup of the cheese, and 3/4 teaspoon of each salt and pepper. Add the turkey and gently stir to combine, being careful not to overwork the meat. Shape the meat mixture into bite-size balls.

In a large skillet, heat the oil over a medium-high flame. Working in batches, add the meatballs and cook without moving or turning the meatballs until brown on the bottom, about 3 minutes. Turn the meatballs over and brown the other side, about 3 minutes longer. Continue to cook until all the sides are golden brown. Add the Marinara Sauce and bring to a boil. Reduce the heat and simmer until the flavors blend, about 5 minutes.

Place sliced sandwich rolls, cut-side up on a large baking sheet. Brush them with olive oil. Top the rolls with meatballs and sauce. (If the meatballs threaten to roll off the bread, create a crater for them by gently tearing out some of the bread in the space where the meatballs will sit.) Place 2 slices of provolone on top of each sandwich and top with fresh-grated parmesan. Place under the broiler just until the cheese is melted, 2-3 minutes. Serve immediately.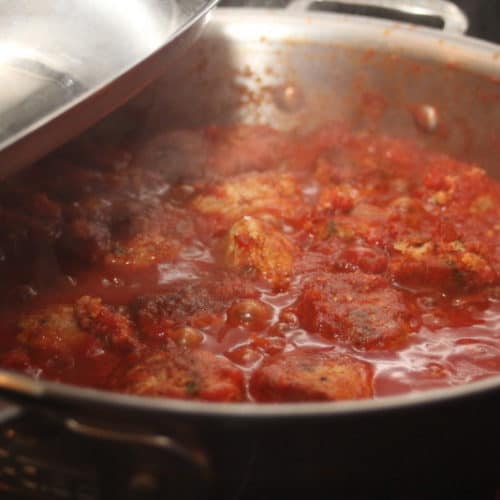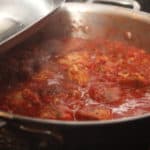 Print Recipe
Giada's Basic Tomato Sauce
Ingredients
1/2

cup

extra-virgin olive oil

2

small onions, finely chopped

2

garlic cloves, finely chopped

2

stalks celery, finely chopped

2

carrots, peeled and finely chopped

1/2

teaspoon

sea salt, plus more to taste

1/2

teaspoon

freshly ground black pepper, plus more to taste

2

(32 ounces each) cans crushed tomatoes

2

dried bay leaves
Instructions
In a large casserole pot, heat the oil over a medium-high flame. Add the onions and garlic and saute until the onions are translucent, about 10 minutes. Add the celery, carrots and 1/2 teaspoon of each salt and pepper.

Saute until all the vegetables are soft, about 10 minutes. Add the tomatoes and bay leaves, and simmer uncovered over low heat until the sauce thickens, about 1 hour. Remove and discard the bay leaf. Season the sauce with more salt and pepper to taste. (The sauce can be made 1 day ahead. Cool, then cover and refrigerate. Rewarm over medium heat before using.)