I started this blog in part because I wanted to remind myself what it feels like to write. I mean to really write. Not in the confining sort of way that desk-job writing always is, where everything is technical and edited into oblivion before it sees the light of day, but in a liberating sort of way. The free-flowing, stream-of-consciousness, sometimes doesn't make any sense sort of way….the way that is, you know, fun.
I also started a blog because I absolutely adore reading food blogs. It was an obsession that started when my friend Kristine sent me a few of her favorites one lazy summer afternoon. Since that time, my love of food blogs has been fueled by the likes of my Google Reader, Foodgawker, and now of course, Pinterest. These days I follow more blogs than I can possibly read, and still, it relaxes me to read them and brings me joy to discover a new one. Reading the words of others who find elegant ways to link their daily joys with the food they serve their families makes me feel connected, inspired, and downright warm and fuzzy.

And so, having just passed the one year anniversary of this little blog, I though it only fitting to link myself up with a few more kindred spirits out there (ie others who share an inexplicable obsession with photographing the things they cook). It was perfect timing for me to come across The Secret Recipe Club. I kept seeing the club's bloggers and the posts in which they sneakily make something from another member's blog each month and on a set date and time, write about the dish on their own blog. It's a monthly Secret Santa for food bloggers. I wanted in.
In November, my inaugural month as a participant in The Secret Recipe Club, I was assigned the lovely Mindy of The World in My Kitchen. Mindy's site is gorgeous and full of recipes that are completely approachable but have lots of international inspiration – right up my alley! She even started blogging when she and her husband lived overseas. (Sound familiar?)
I have to admit that I spent a good long while perusing Mindy's site and being tempted to make one of her French dishes before I came back to one of the first recipes that had caught my eye. I wanted to make something from her blog that was different than what I gravitate to on my own…because let's be honest, the last thing this blog needs is more quinoa or another dessert that combines chocolate and bananas.
And so, inspired to step a bit outside my comfort zone, I made Tortilla Española. And let me just say, this is a surefire go-to recipe. While this was cooking last weekend, we may or may not have been hovering over the oven, poised to cut slices of the golden, crisp tortilla. Thank you for the great recipe, Mindy!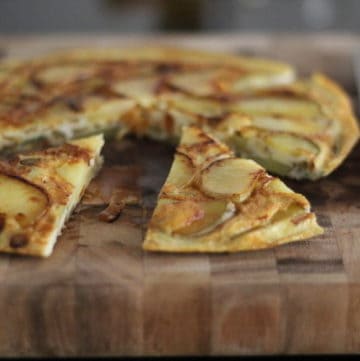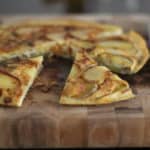 Print Recipe
Tortilla Española
An adaptable egg dish for any time of day.
Ingredients
Olive oil

2-3

large potatoes, thinly sliced

1

large onion, thinly sliced

4-6

eggs, beaten

salt and pepper, to taste
Instructions
In a medium-sized skillet (8-9" or as large as you can go while being able to cover the top), heat enough olive oil to cover the bottom of the pan over medium heat. Layer the potatoes and onion in the oil, seasoning each layer with salt and pepper as you go. Cook the potatoes and onions until soft, but not browned, about 10-15 minutes.Once the potato mixture is softened, drain a little of the oil out (leaving about a tablespoon in the pan) and pour in the eggs (enough to cover the potatoes). Let the eggs cook to set. Once the bottom is lightly browned and the middle starts setting, place your plate over the top of the skillet. Carefully flip the tortilla onto the plate and then slide it back into the pan, uncooked side down. Cook a little longer until the bottom is also lightly browned.

Slide the tortilla onto a clean plate and let cool. Tortillas are traditionally served at room temperature, so this can be made ahead (but no longer than a couple of hours as the potatoes will start to turn brown). Slice into triangles and serve with salad or if serving as an appetizer, cut into small, bite-sized squares.
Notes
I added a sprinkle of chopped cilantro to the pan just before I poured the eggs in, but I can imagine that any combination of chopped herbs would be a welcome addition to this easily adaptable recipe.
Recipe from The World In My Kitchen.