Salsa Quinoa
Published Mar 31, 2011•Updated Jun 18, 2020
Bangkok's elevated public transportation system is called the BTS.
I hate to say anything critical about the BTS (obviously I'm about to) because it is clean, efficient, and almost without fail, trains come by within 5 minutes of one another. But here's the thing. At rush hour, it's shockingly crowded. It puts the DC metro and even, dare I say it, the New York subway to shame.
At peak times in Bangkok, every stop of the BTS signals the beginning of a new round of large-scale, human Tetris.
We turn ourselves this way and turn ourselves that way and situate ourselves so that we can squeeze in just…one…more…person. All the while, Thai passengers manage to appear stoic, calm, and blissfully engaged in their smart phones, unaffected by the fact that their limbs are intertwined with total strangers'.
And I try, without success, to mimic them and keep my growling, grimacing, groaning to myself.
After all the twisting and turning, and squeezing together of shoulder blades to fit into 6-inches of free space while maintaining the personal space of others, a girl deserves something tasty. And while what I would really like is a brownie, or a cookie, or maybe something like this after all of my effort, instead I arrive home to have Salsa Quinoa.
The Salsa Quinoa, as it turns out, is delicious enough even to pull me out of my BTS funk…and is almost as good as having a brownie.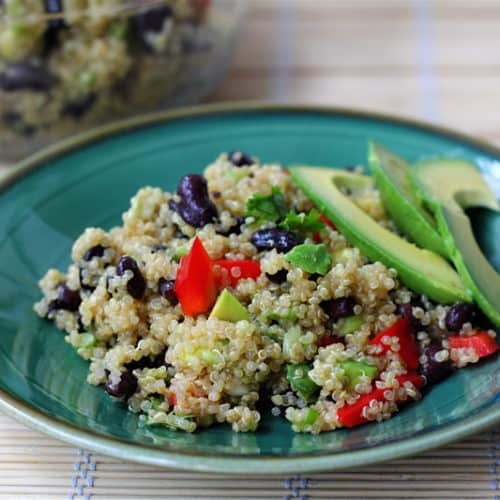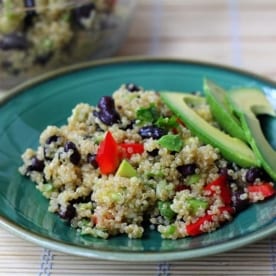 Ingredients
1

and 1/2 cups low-sodium vegetable or chicken broth

1

cup

quinoa

1

cup

black beans (rinsed and drained, if using canned beans)

1/2

cup

red bell pepper, finely chopped

2

Tbsp.

scallion, green and white parts, thinly sliced

2

Tbsp.

loosely packed fresh cilantro leaves

3

Tbsp.

no-pulp orange juice

2

Tbsp.

olive oil

juice from 1 small lime (about 2 Tbsp.)

2

tsp.

honey

2

tsp.

cumin

salt, to taste

1/2

of a ripe avocado, sliced and cut into small pieces
Instructions
Heat the broth in a medium pot over medium-high heat. Meanwhile, dry toast the quinoa in a separate pan, stirring constantly to prevent burning, until the quinoa becomes fragrant, about 5 minutes. When the broth begins to boil, pour in quinoa, reduce the heat to a low simmer and cover with a lid. Allow the broth and quinoa to simmer for 10 minutes. Remove from heat and leave covered for 5 minutes. Remove the lid and gently stir the quinoa with a spoon. Add black beans, bell pepper, scallion and cilantro to the quinoa and stir to combine.

In a small bowl, whisk together orange juice, olive oil, lime juice, honey and cumin. Pour liquids over quinoa and stir until evenly coated. Taste and add salt, if needed. (At this point the quinoa can be refrigerated for up to 24 hours.) Just before serving, add avocado and stir to combine. Serve quinoa at room temperature.
Nutrition information is automatically calculated, so should only be used as an approximation.