What you get for $2 US at a Bangkok food court...a view, a comfortable seat, amazing people watching, and seriously good food to fuel several hours of miscellaneous errand running in new shoes that you later discover (to your great disapointment) hurt your feet. But all of that seems less important when you are sitting in this modern yet comfortable food hall, staring out at a grey Bangkok day and enjoying an incredible plate of chicken rice.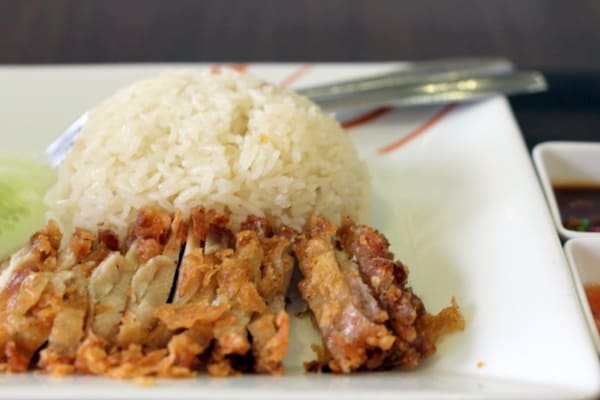 I've been running around this week with a number of random, yet time-consuming errands. I've barely been back to the apartment which has left me feeling a bit scattered, but meant that I got to take myself out for fun lunches most days. Fortunately, there is no place better than Bangkok for finding tasty food when you're on the run. Some great and reasonably priced sit-down lunch spots are in the city's shopping malls, where you can sample a surprising dish from a new corner of the globe with just a brief detour between picking up your dry cleaning and stopping at the bank.
Earlier this week I had chicken rice at one spot, complete with three tasty sauces and a bowl of simple, satisfying broth. Yesterday it was Vietnamese Summer Rolls with a glass of Lemongrass juice. These food courts, which are infinitely more appealing than those I remember eating in while hanging out at the mall as a teenager, are also hopelessly trendy. Today at one I overheard someone telling his companions about a pop-up restaurant he had just visited in Los Angeles. It was so hip that I had to escape back out into the crowds, but not until I picked up this little pineapple, coconut treat. Happy Friday!