A vegetarian one-bowl dinner reminiscent of the fragrant, rich soups served for lunch all over Thailand. This healthy dish uses soba noodles instead of typical Thai noodles and is loaded with flavor from mushrooms. Adjust the spice to suit your taste.
I am in awe of people who are able to efficiently keep up with of all the technology we have at our fingertips. It feels like there's always something new, but just maintaining the few accounts I have sometimes exhausts me. There are so many ways in which Twitter and Facebook and Pinterest and blogs and email and every other technology-based communication method out there help us to keep in touch with those we love, and enable us to be more engaged in what is happening in the world.
However, I'm starting to come around to the realization that it's best for me to find a place to draw the line. All that action starts to make my head hurt, and sends me spinning in so many directions that I can't keep things straight.
After yesterday's post, I've been feeling somehow more confident in my decision to draw a social media line. (Something about hitting "publish" on the blog makes me feel more accountable.)
It's not that I won't, perhaps, someday join the Twitter ranks, start blasting out my Facebook page, or Foodspotting every time I eat out. (I only just heard about that last thing…who am I kidding – I'll never keep up.)
But for the moment, the relative simplicity of this blog is too much fun for me to dare enter into territory that makes it feel like work. It's enough for me just to be able to share dishes like this one with so many bright components that I couldn't stop taking pictures. And I'll relish the fact that this blog sends me out on a near daily basis to explore what others are writing and eating, particularly when it leads me to Sprouted Kitchen's beautiful site and this dish with an aroma that will always be the epitome of Thailand in my mind.
This "noodle bowl" slides gracefully into the category of full, healthy meals that are contained in one eye-catching bowl. No need to serve anything with it, this is a perfect dinner all on its own. As with most things in life, it's not about doing more, but about doing with intention.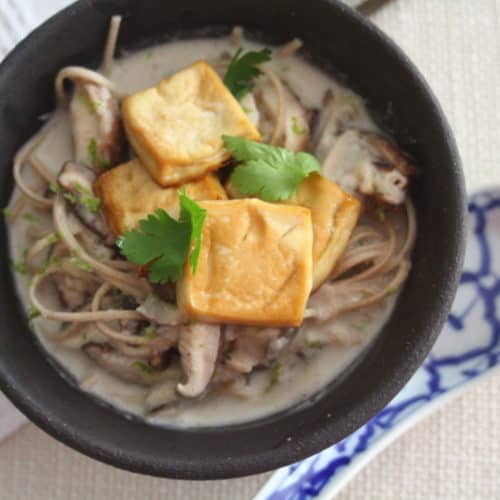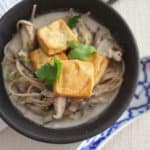 Print Recipe
Thai Soba Noodle Bowls
A vegetarian one-bowl dinner reminiscent of the fragrant, rich soups served for lunch all over Thailand. Adjust the spice to suit your taste!
Ingredients
1 14

oz.

pkg. Extra Firm Tofu

2

Tbsp.

low sodium soy sauce

2

tsp.

sesame oil

1

thai chili, sliced (omit this if you don't want the dish to be spicy)

3

stalks fresh lemongrass, inner bulbs, finely chopped

4

cloves

garlic, peeled

1

large shallot, peeled

¼

cup

peeled and chopped fresh ginger

1

Tbsp.

coconut oil (vegetable oil can be substituted)

2 ½

cups

coconut milk (about a can and a half)

1

heaping Tbsp. muscavado or dark brown sugar

1

Tbsp.

soy sauce (more if needed, to taste)

3

Tbsp.

natural smooth peanut butter

zest of two limes

juce of one lime

2

cups

roughly chopped mushrooms (I used small shitake)

9

oz.

soba noodles

Chopped Cilantro, for garnish
Instructions
Wrap the tofu in a few paper towels and set it on a plate to drain with another plate on top. Leave it for an hour or up to six.

Preheat the oven to 400 degrees. Cut the tofu into 2" cubes, and spread them on a baking sheet. Whisk together the soy sauce and sesame oil and brush the tops of the tofu cubes liberally. Bake for about 25 minutes until the edges are golden brown.

In a blender or food processor, combine the chiles, lemongrass, garlic, ginger, shallot and ¼ cup water and puree until smooth. In a large saucepan, heat the coconut oil. Add the lemongrass puree and cook over medium high heat, stirring, until fragrant, about two minutes. Whisk in the coconut milk, muscavado, tamari, peanut butter, lime zest and a cup of water. Simmer over low heat for about 15 minutes.

While the broth simmers, cook the soba noodles according to the directions on the package. Add the sliced mushrooms and lime juice to the soup. Taste and add additional soy sauce if you prefer it to be a bit more salty.

Divide the noodles and tofu between four bowls and laddle the broth on top. Garnish with fresh cilantro.