Last week Frank and I took a cooking class at the Baipai Cooking School. Should you come to Bangkok, you MUST take a class at this school. It was a great introduction to traditional Thai dishes and ingredients. For an American who has lived in this country only a short time, it also served as Thai Grocery Shopping 101.
Experimenting with ingredients we used during the class, I made this quick eggplant stir fry.
Although it looks a bit spicy in this final photo, I assure you that the final product was not at all. This will change, depending on the level of spice of the tThai chili sauce you use. The chili sauce selection at my local grocery in Bangkok is quite large. I anticipate that once I have more of a handle on the language (taking my first class this afternoon), I will be able to identify the indicators of spice on the labels. This recipe includes a rough estimate for the chili sauce – you should adjust to fit your preferred level of spice.
First, a quick peek at the ingredients…
Clockwise from the upper lefthand corner, these are:
Kaffir Lime – you can use regular limes for the juice in this recipe, but if you can find kaffir limes, they're more tangy and flavorful than the regular ones (not to mention that I love their beautiful bumpy greenness)
Fish Sauce – a bottle of good quality fish sauce costs about 50 cents in Bangkok…there are many types that are exported to the US (though likely not quite that cheap)
Thai Chili Sauce – the type used in this recipe should be a paste (more solid than liquid); as noted above, it comes in a variety of levels of spice
Lemongrass – use only the white and light green portion of the plant; cut the greenish stem off
Shallots
Mint Leaves
White Eggplants – I loved these tiny white eggplants, but you can use absolutely any kind (or any other vegetable you prefer); just be sure that they are cut into even, bite-size pieces before cooking and I recommend removing the skin if you use a large purple eggplant (I find the skin to be a bit bitter in this recipe)
Kaffir Lime Leaves – these are tough, but add incredible flavor; for this dish they'll need to be sliced VERY thin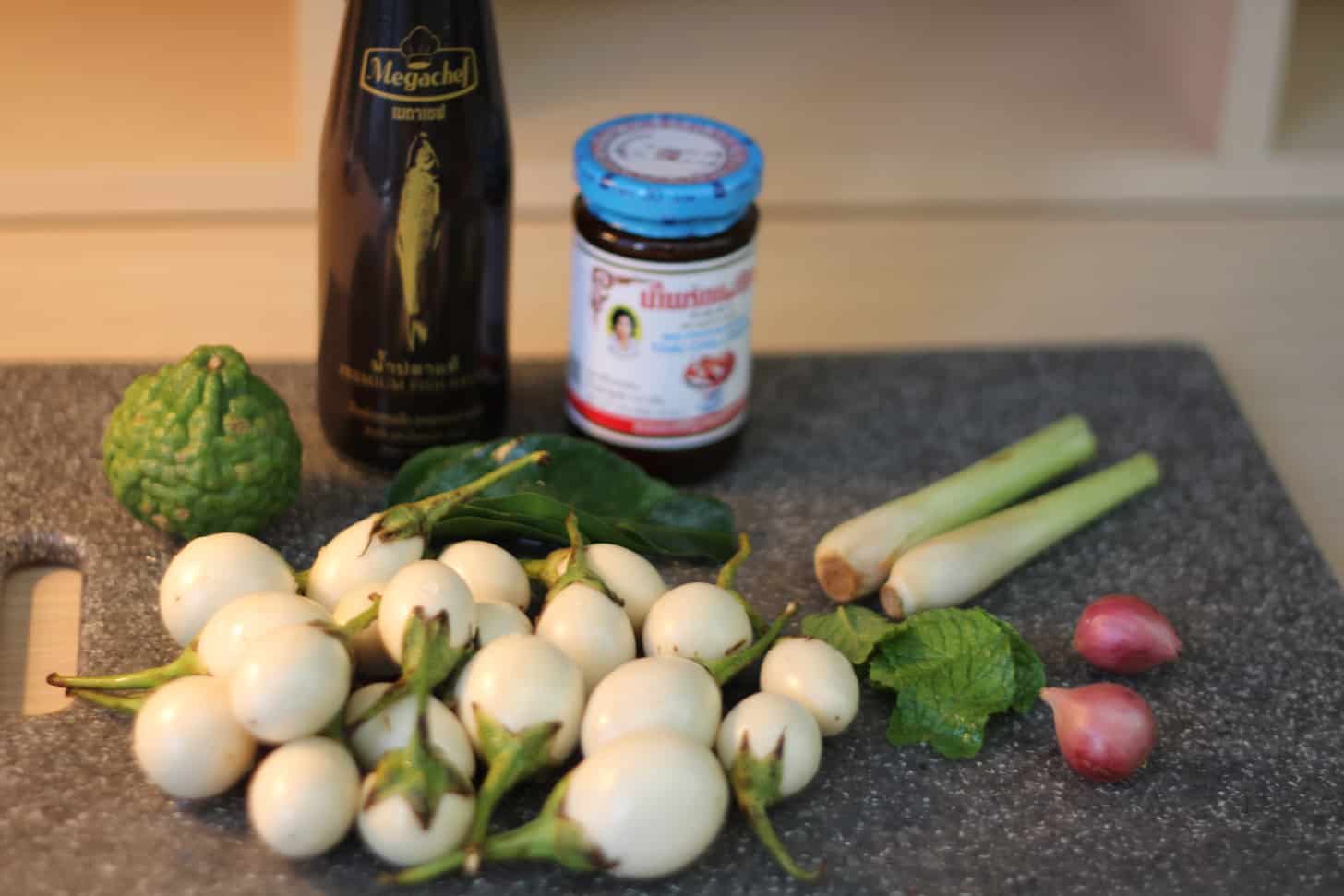 Here are the eggplants getting a quick bath before cooking.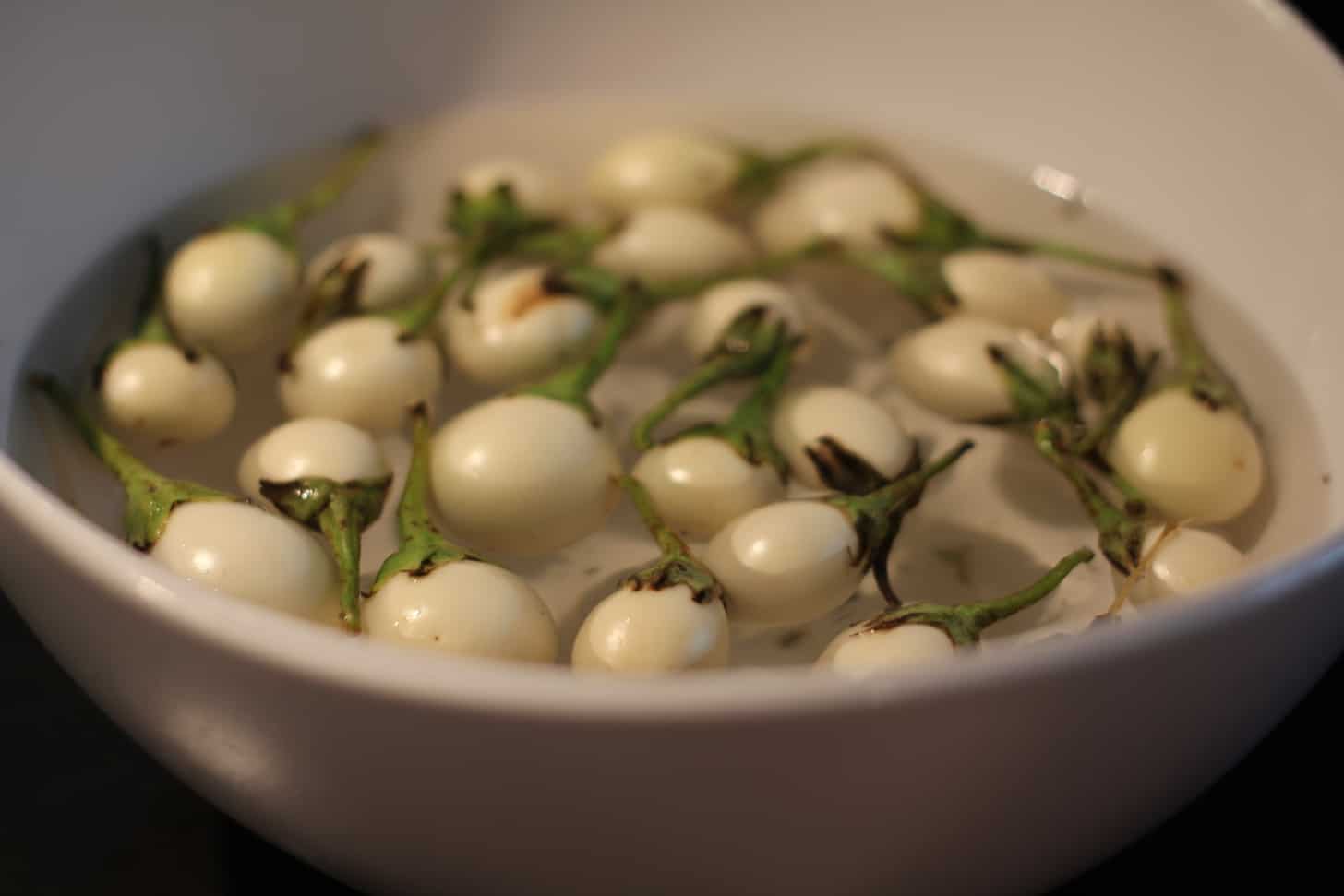 And here they are going straight into a hot wok with a tablespoon of oil.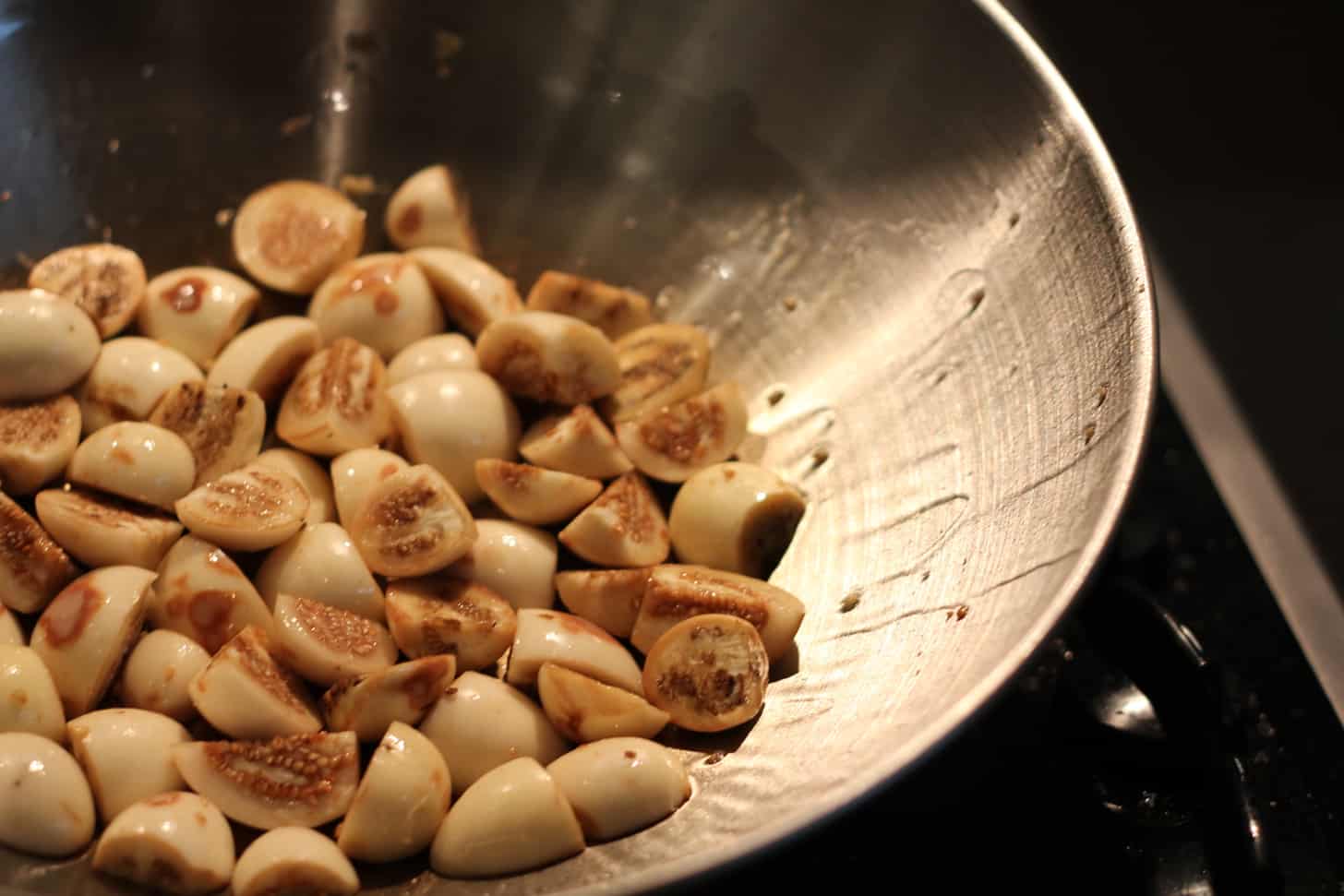 When they are finished, toss in the sauce and serve with rice or plain noodles. I used this Vermicelli, which comes twisted into little nests which are irresistible (maybe irresistible only to me).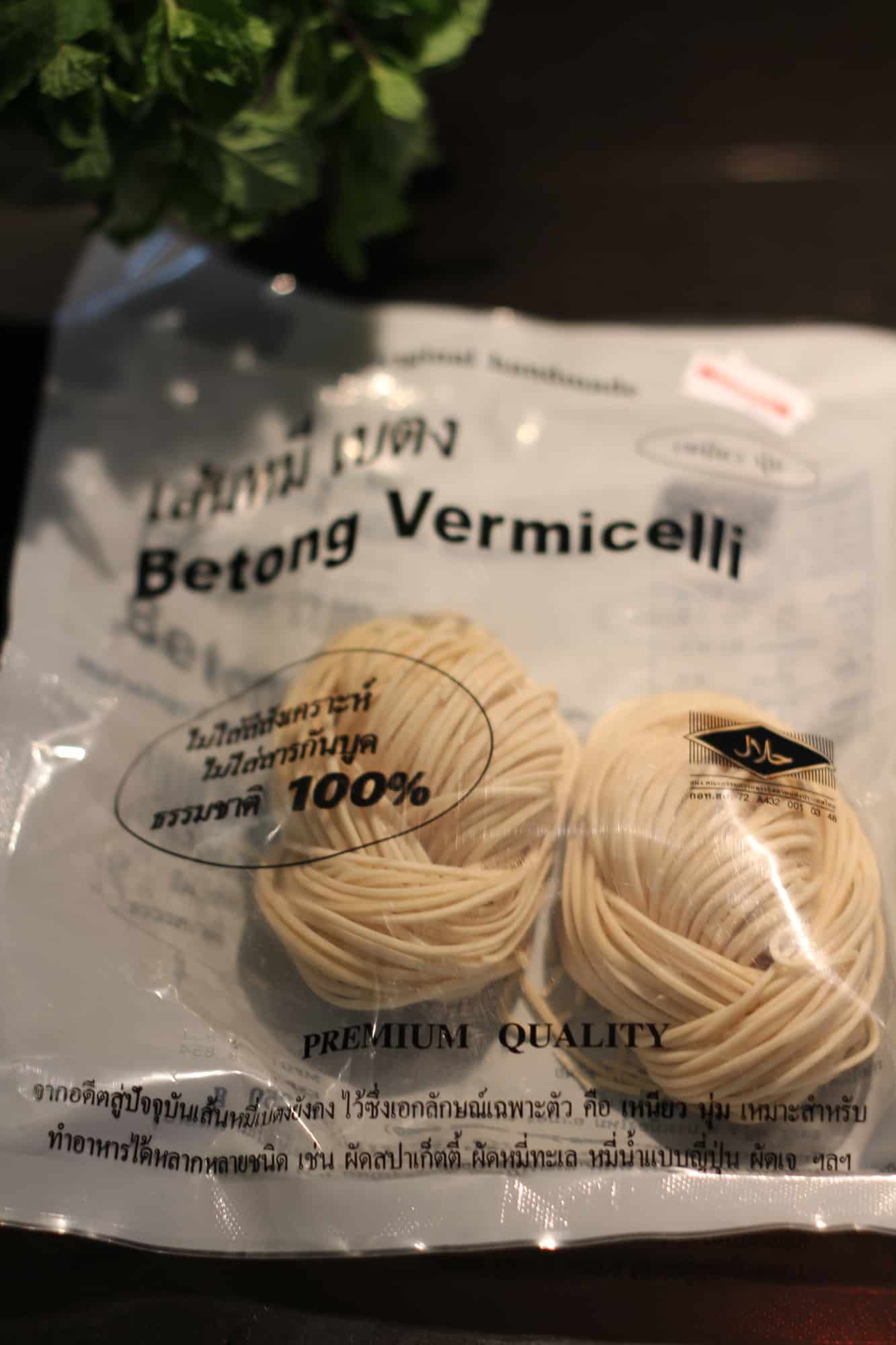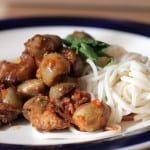 Print Recipe
Thai Chili Eggplant
Ingredients
3

cups

eggplant, cut into 1-inch pieces (skin removed if using large purple eggplant)

1

tablespoon

canola oil

2

small shallots

2

small stalks lemongrass (white and light green portion only)

10

mint leaves

6

small kaffir lime leaves

2

tablespoons

fish sauce

¼

cup

fresh squeezed kaffir (or regular) lime juice

4-6

tablespoons

thai chili sauce (adjust for preferred level of spice)
Instructions
Prepare the sauce. In a small bowl, mix fish sauce and lime juice. Add chili sauce (adjusting for spice) and mix to combine.

Thinly slice shallots, lemongrass, mint and kaffir lime leaves. Chop kaffir lime leaves a second time to insure that pieces are very small (if the pieces of lime leaves are too large, they will be tough and stringy in the finished product). Add all of the above to the chili sauce mixture and stir until combined. Set aside.

Heat oil in a large wok at medium-high heat. Add eggplants, tossing once or twice to coat in oil. Cook at medium-high until tender and cooked all the way through. Remove from heat.

Add sauce to eggplants, stirring until fully coated.

Serve warm over rice or noodles.