If you have been reading over the past week, you know that there has been no shortage of desserts around here. This week we'll be loading up on fruits and vegetables, and it will be a welcome break from the sugar overload.
We don't eat many salads since moving to Thailand. At least not "salads" in the way that I thought of them when we lived in the U.S. Thai salads come in all sorts of varieties, and they never involve lettuce.
The most well-known around these parts are spicy papaya salad (below) and minced salads like laab.
The longer I live here, the more I enjoy the combination of spicy, sweet, and tart that is the hallmark of a Thai salad. It has become a fall-back for me to take fruit and toss it in a vinaigrette like the one most salads are served in here.
Most salads in Thailand are tossed in some amount of fish sauce, which I know many of you are still hesitant about using. For that reason, I thought this might be a welcome alternative – an apple slaw that skips the fish sauce, but still has all the crunch and balance of flavors as some of my favorite Thai sorts.
I like this salad on its own, but I will most certainly be making it again to use on fish tacos. It would be the perfect "slaw" to put on fish tacos.
I like my "salads" with a kick of heat these days, but spice is optional.

______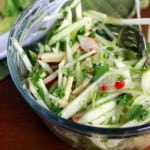 Print Recipe
Tangy Apple Slaw
Ingredients
2

Tbsp.

fresh lime juice (from about 2 small limes)

1

Tbsp.

sunflower or canola oil

2

tsp.

honey

½

tsp.

salt

3

apples, cored and cut into matchsticks (any variety will work, but I like to have at least one Granny Smith in there for tartness)

¼

cup

chopped cilantro

1

Tbsp.

finely minced fresh mint leaves

2

small spicy Thai chilis, thinly sliced (optional)
Instructions
In a small bowl, whisk together the lime juice, oil, honey and salt. In a large serving bowl toss together the apples, cilantro, mint, and chills (if using). Drizzle the dressing over the apples and gently toss it all together to combine. Serve immediately.