Sweet and Sour Tofu
Published Feb 23, 2011•Updated Nov 08, 2023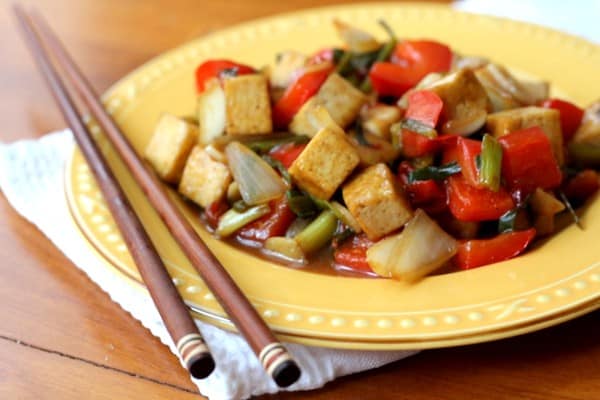 It is common to see a Chinese influence in the food of Thai restaurants and food vendors around Bangkok. I have to admit that I was thrilled to discover just how many of my favorite Chinese take-out dishes have food relations that are commonly found in casual restaurants all around town. Perhaps the greatest thing about these very familiar dishes, is that they are almost always adapted in some new and interesting way to use the ingredients on-hand or the cook's own preferences. I love the variety and the fact that, even if you order the same thing again and again, you are most certain to get something new and unique each time.
This is absolutely the case with sweet and sour dishes that are made with a variety of proteins and through a handful of cooking techniques. While I have had sweet and sour pork or chicken here that is deep fried like the old standby Chinese take-out kind I love so much, it is far more common to find this dish in Bangkok made in a much lighter manner. Often in Bangkok, this comes out with flavors that are surprisingly deep and complex, reminiscent of other popular Thai dishes.
In particular, my favorite sweet and sour concoctions in Thailand are made without any deep frying and are stir-fried quickly in a bit of oil. Often they are served with a sauce that has an added savory complexity and hit of smokiness that makes this infinitely more appealing to me than the one-note pineapple-sugar flavor of others. In addition, the sauce is not full of cornstarch or thickener, so it covers the vegetables while still leaving a perfect amount of sauce in the bottom of the plate. Why, you might ask, is leftover sauce in the bottom of the plate so desirable?
For dipping balls of sticky rice, of course!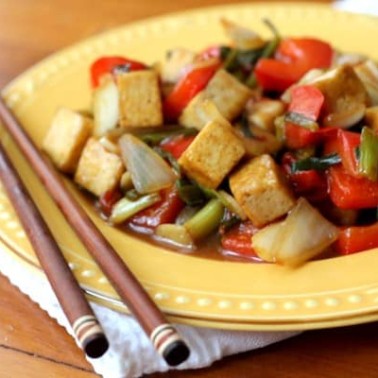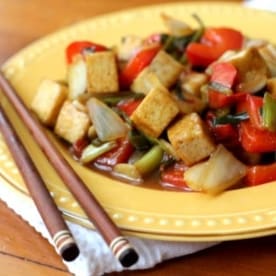 Ingredients
Sauce:

2

Tbsp.

finely minced red pepper (about 1/4 of a whole red pepper; set the remainder aside for the stir-fry)

3/4

cup

pineapple juice

3

Tbsp.

rice vinegar

1/4

tsp.

sesame oil

2

Tbsp.

soy sauce

2

tsp.

corn starch (mixed with 2 tsp. water until smooth)

1

Tbsp.

sugar

1/2

tsp.

white pepper

Stir-fry:

6

oz.

extra firm tofu, cut into cubes

2

cloves

garlic, thinly sliced

3/4

of a red pepper, cut into bite-size pieces

1/2

of an onion, chopped

4

green onions (green and white parts), cut into 1-inch pieces
Instructions
Combine all of the sauce ingredients in a small pan over medium-high heat. Bring to a boil and then reduce to a simmer so that the mixture continues to bubble quickly but does not boil over. Continue cooking, stirring frequently, until it cooks down and thickens. This should take between 6 and 8 minutes and should cook down to about 1/2 cup. Remove from heat and set aside.

Heat 1 Tbsp. vegetable oil in a wok or pan over medium-high heat. Add tofu to the pan and saute until tofu is golden brown, about 5 minutes. Add garlic and stir-fry just until garlic is fragrant and begins to soften, about 1 minute. Add red pepper and onion and saute until vegetables look damp and soften slightly, about 1 minute.

Pour 1/2 of the prepared sauce into the wok and stir the tofu and vegetables to coat. Add additional sauce until the bottom of the wok is covered in sauce but the vegetables are not concealed under a layer of liquid. (I find that I need to use only about 3/4 of the sauce to obtain this balance.) Continue to stir-fry for 3-4 minutes longer, allowing the sauce to bubble on the bottom of the pan and thicken around the vegetables. Add the green onions to the pan, stirring just until combined. Remove from heat and serve immediately (with or without rice on the side).
Notes
Don't hesitate to substitute meat for the tofu in this recipe - as you know, pork and chicken are the most common sweet and sour proteins.
Nutrition information is automatically calculated, so should only be used as an approximation.