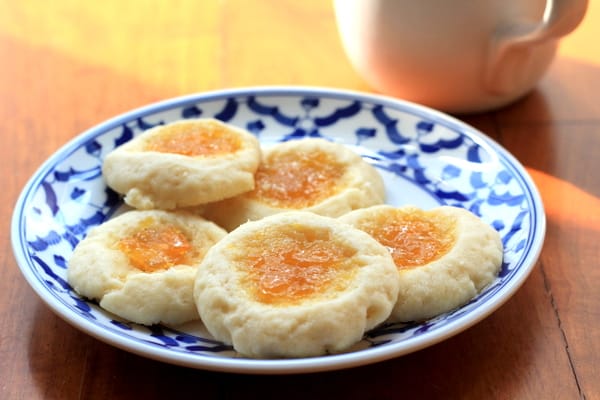 Press cookies (the simple buttery ones that come from a funny little dough gun) never wowed me. I love the flavor, but there's always something missing. However, add a little dollop of flavorful, fruity jam, and you have one of my favorite simple baked treats. These particular bites are "sunny" thanks to the addition of some tropical jams I made over the weekend.
(That's mango on the right and pineapple on the left.)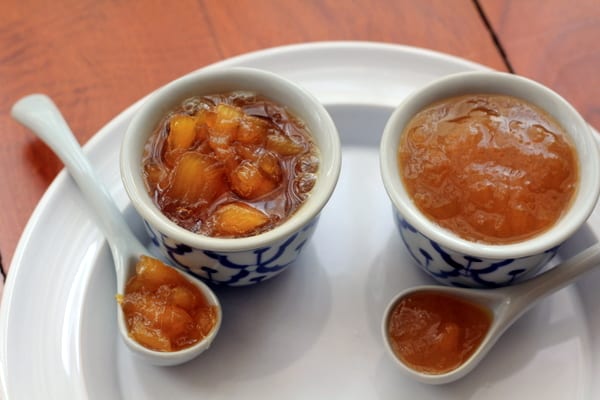 I started what I thought would be an easy undertaking with this well reviewed recipe from Epicurious. While I didn't dislike the result, it wasn't what I was looking for. I wanted a thumbprint cookie that was easier than this version that required pulsing almonds in a food processor. I also wanted something with a light, buttery flavor that highlighted the jam topping.
Leave it to Martha Stewart to come to the rescue. The second batch I made (using her recipe) was exactly this, and had only six ingredients (including jam and my addition of a bit of almond extract).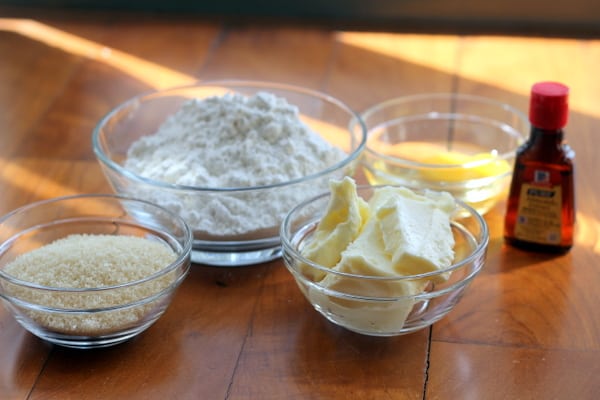 Thumbprint cookies are incredibly forgiving. I made this dough a couple days ago and just got around to baking them. The finished product was just what I was searching for – buttery with a hint of almond.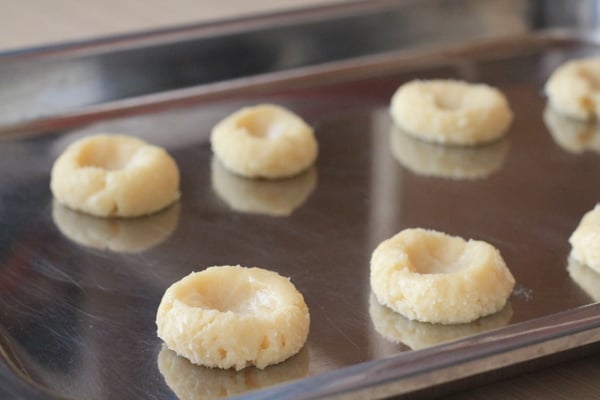 I hate to say this, because I was so excited about the mango and pineapple jam, but next time I'll go back to the tried and true berry jams for this recipe. Maybe I just need that classic almond/raspberry combination for these to taste the way I imagine them.
It's probably a good thing – I imagine that most of you out there are far more likely to have raspberry, blackberry or strawberry jam sitting around your pantry than a ripe mango or pineapple.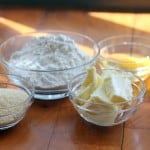 Print Recipe
Sunny Thumbprint Cookies
Ingredients
24

tablespoons

(3 sticks) unsalted butter, room temperature

1

cup

sugar

1

large egg

1/2

teaspoon

almond extract (optional)

3 1/4

cups

all-purpose flour

3/4

cup

jam (raspberry or blackberry are sure-fire choices)
Instructions
Preheat oven to 350.

In the bowl of a standing mixer, beat butter and sugar on high until smooth.

Combine egg and almond extract in a small bowl. Add egg mixture to mixer, and beat on high until fully combined.

With mixer on low, add flour. Mix until just combined.

Roll dough into small balls, using a tablespoon of dough for each ball. Place dough balls on baking sheet, about 1 1/2 inches apart.

Using your thumb, gently make a deep indentation into each dough ball. Spoon 1/4-1/2 teaspoon of jam into each indentation.

Bake until cookies begin to turn golden, 10-12 minutes. Cool on a wire rack and serve.
Notes
The dough can be frozen after step 5, above. To do this, form the dough into balls and place closely together on a small cookie sheet. Put the entire cookie sheet in the freezer until the dough is frozen solid. Drop the dough balls into a plastic bag (removing as much air as possible from the bag when sealing) and store in the freezer for up to a month. When you are ready to bake them, take out as many balls of dough as you want to bake and arrange 1 1/2 inches apart on a cookie sheet. Allow to defrost until the dough is still cold but you can easily form the indentations. Proceed with step 6 above.
Adapted from Martha Stewart's "Aunt Maggie's Jam Thumbprint Cookies," Everyday Food July/August 2007 .