One of the most surprising shifts in my adult tastes had to do with shredded coconut. I could be wrong, but I think this happens to lots of us. Kids almost universally hate coconut, but so many adults turn out to like it. I remember readily handing over Almond Joy and Mounds bars to my parents on Halloween in an act that was seemingly generous, but sneakily allowed me to protect my haul of the "good" candy.
At some point in my 20s, I was perusing candy bars at the airport as consolation for a delayed flight after a long work trip, and was stunned to find myself tempted by the sight of the coconut and chocolate candy bars that I once detested. In that moment I was pretty sure it was the ultimate sign of being a grown-up. Not only was I okay with shredded coconut, but I was craving it.
I've never gone back. And, with the leftover coconut milk from my coconut milk purchase debacle last week, I felt certain that this cupcake recipe was created with me and my adult tastes in mind. Pulsing almonds and coconut into chocolate batter – a stroke of genius, I'm certain. It produced a lovely balance of texture and a flavor that was definitely reminiscent of the perfectly sweet, moist, sugary delight of an Almond Joy candy bar. These cupcakes were more like a cakey brownie. (We ate these super moist mini cakes with forks.)
And like those candy bars I came across them in the airport snack shop years ago…I find myself tempted to eat more than one.
Oh, and word to the wise. When you realize, as I did, that the bowl you've used to whip the butter and sugar is far too small, do not continue mixing in the other ingredients.
Unless, of course, you want to spend the afternoon cleaning up cupcake batter from the undersides of your kitchen counters.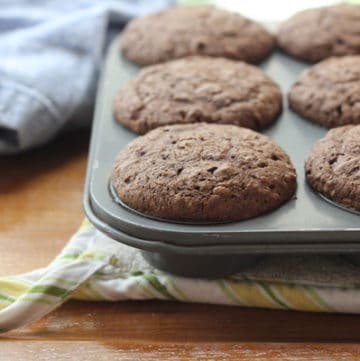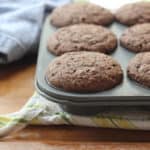 Print Recipe
"Almond Joy " Cupcakes with Whipped Cream Frosting
Ingredients
For the cupcakes:
½

cup

(50mL) blanched slivered almonds

1 ½

cups

(150g) sugar, divided

2

cups

(120g) lightly packed, sweetened shredded coconut

2 ¼

cups

(270g) all-purpose flour

½

cup

(60g) unsweetened cocoa powder

1

tablespoon

baking powder

1

teaspoon

baking soda

½

teaspoon

salt

2

ounces

(60g) unsweetened chocolate

1

cup

(2 sticks) unsalted butter, room temperature

4

large eggs, room temperature

1

(13 ½-ounce) can (400mL) unsweetened coconut milk

2

teaspoons

pure vanilla extract
For the icing:
½

cup

powdered sugar

⅛

cup

milk

1

cups

(125 ml) chilled whipping cream
Instructions
Preheat oven to 350°. Grease a muffin tin or line with paper muffin cups.

For the cupcakes: In food processor, pulse almonds and ½ cup (50mL) sugar until finely ground. Add shredded coconut and pulse twice to chop slightly. Transfer mixture to medium bowl and whisk in flour, cocoa, baking powder, baking soda, and salt.

In metal bowl set over pan of barely simmering water, melt chocolate, stirring until smooth. Remove from heat and set aside.

Using electric mixer, beat butter and remaining 1 cup (100g) sugar at high speed until fluffy, about 5 minutes. Beat in eggs 1 at a time, beating well after each addition. Add melted chocolate and beat at moderate speed until incorporated. Add ½ of flour mixture and mix at low speed until nearly smooth. Add coconut milk and vanilla and mix at low speed until blended. Add remaining flour mixture and mix at low speed until smooth.

Spoon batter into prepared muffin cups, filling almost to top. Bake until tester inserted in center of 1 cake comes out clean, about 25 minutes. Cool in pans on racks.

For the icing: Whisk powdered sugar and milk large bowl until smooth. Cover and refrigerate until well chilled, about 1 hour. Using electric mixer, gradually beat cream into sugar mixture. Continue beating until stiff peaks form, about 5 minutes.

When cupcakes are completely cool, top with icing.
Notes
Recipe by recipe by Tracey Seaman, posted on Epicurious March 2007.
The original recipe calls for the iced cupcakes to be dipped in additional shredded, sweetened coconut. This was a bit too much for my taste, but if coconut is your thing, it would be a nice finishing touch.