You know, I make a lot of stir-fries. The truth is that I never get tired of them. They come together super fast and are endlessly variable.
Not to mention that I sort of feel like a Food Network star as I toss things around in a hot wok while chatting with F about the day.
Although most of my stir-fry creations wouldn't even be worthy of noting here since they involve me throwing the leftover contents of the refrigerator and some soy sauce into a wok, tossing it around, and serving it over rice. They're always good, but I wouldn't go out of my way to share them with you. No, I'd rather save this space to bring you wok recipes that I deem to be much more fun, like curries with coconut milk and mango and fried rice loaded with bacon and a fried egg.
This vegetarian stir-fry was much too good to overlook, though. The sauce, made rich with hoisin sauce, coats the eggplant, tofu, peppers, and onion and gives every bite a hint of sweetness and vinegar. It's just as easy as my no-recipe soy-sauce stir-fries but has a lot more personality.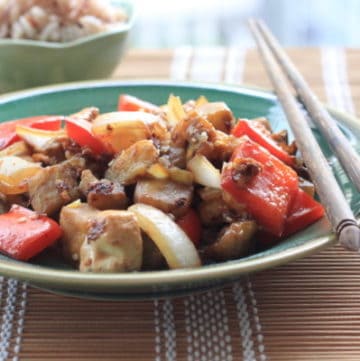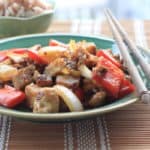 Print Recipe
Hoisin Tofu with Eggplant and Peppers
Ingredients
For the Sauce:
1

Tbsp.

rice vinegar

3

Tbsp.

soy sauce

2

Tbsp.

hoisin sauce

1

clove

minced garlic

2

tsp.

white sesame seeds

1

tsp.

corn starch
For the Stir-fry:
1/2

pound

eggplant, peeled, and cut into bite-size pieces (about 2 cups)

12

oz.

extra-firm tofu, cut into even bite-size cubes

2

Tbsp.

vegetable oil

1/2

a whole onion, chopped

1/2

a red pepper, chopped
Instructions
Prepare eggplant and tofu. About 30 minutes before cooking, place eggplant in a small colander over a bowl and sprinkle with salt to remove excess moisture. Place cubed tofu on paper towels to allow moisture to drain.

Make sauce. Whisk together the rice vinegar, soy sauce, hoisin sauce, garlic, sesame seeds, and cornstarch until the cornstarch is disolved.

Stir-fry. Heat vegetable oil in a wok over medium-high heat. Add eggplant and tofu and cook (be gentle as these moisture-rich ingredients will sputter and spit in the oil), stirring frequently, until eggplant becomes tender and tofu begins to brown, about 5 minutes. Add red pepper and onion to the pan, stirring until onion softens, about 2 minutes. Add sauce, stirring occasionally, until sauce begins to thicken.

Serve immediately.
Notes
Chicken can be substituted for the tofu. Treat the raw, chicken, cut into small pieces the same way you treat the tofu, tossing it into the pan with the eggplant and cooking until it is just cooked through before moving on.