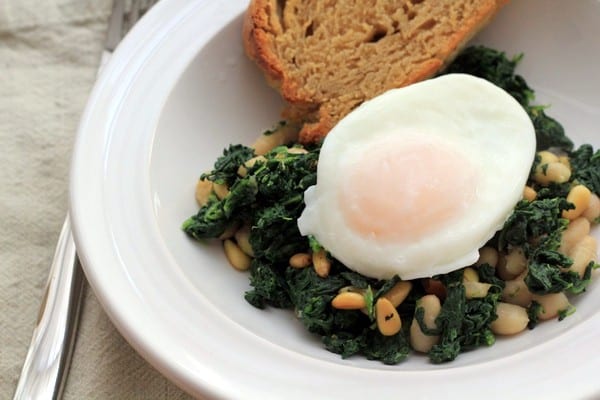 I found a fantastic yoga studio here in Bangkok and have thrown myself back into yoga after what has likely been (yikes) a year-long hiatus. My body is both thanking and punishing me all at the same time. It was around 7:45 this morning, when the instructor had us kick one leg leg up from downdog, rotate it around to the floor (crossing over the other leg in the process), while reaching the arm on the same side of the body up, over the back and then reaching it down towards the floor that I got to wondering why I didn't at least do a few sun salutations over the past year. I simultaneously had the very un-zen thought that my yoga teacher was playing a trick on us and having us do a round of Twister in the midst of our practice.
I did, ultimately, survive the class this morning and am hoping that eventually the flexibility will return to my limbs. All that yoga-ing has had me craving vegetable and protein rich dinners. For which this recipe is a great fit.
In our house, we look for every opportunity to add an egg to dinner. For both my husband and I, a fresh egg (poached or over-easy, please) puts any meal over the top. To that end, we keep a whole list of recipes on hand that are well-suited for topping with an egg. A great poached egg is easier to make than I used to think. It starts by gently pouring the egg into a pot of barely simmering water. You will notice in the recipe below I recommend adding vinegar to the water. While I wrote this step off for a long time after seeing it in a number of recipes, I really do notice a difference when I use this trick. The vinegar seems to help to keep the eggs in one piece and to help the whites to cook through.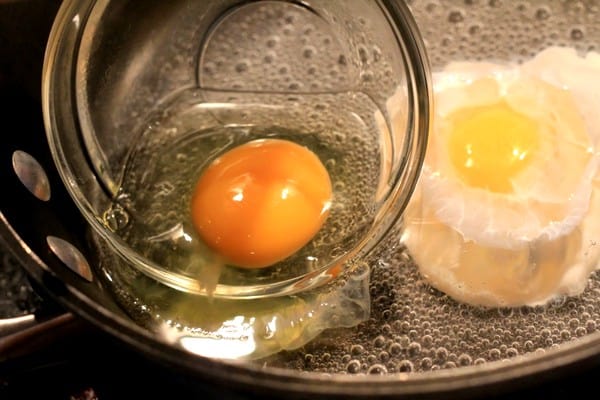 Here are the eggs after about a minute.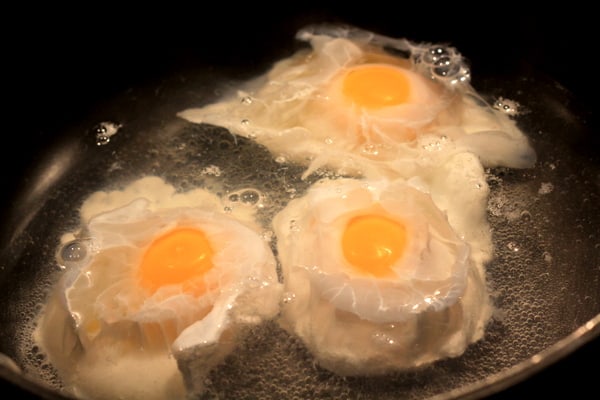 Here is what they look like after cooking the 4 minutes that I find is just right to keep the yolks nice and runny and get those whites totally cooked.
I may or may not have had a tasty poached egg over toast for breakfast the very same day that I made this spinach dish for dinner. Two rounds of poaching in one day – believe it.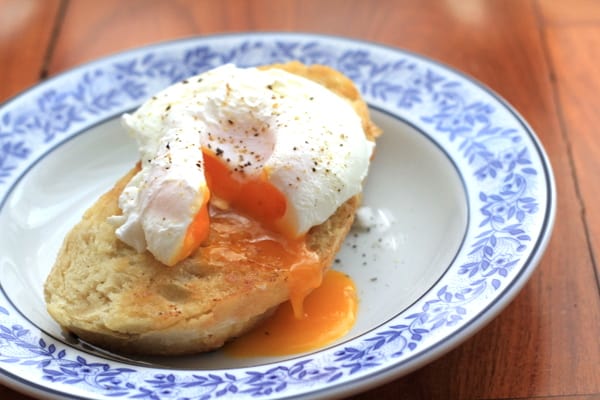 This dish below is an example of how one little egg can make the right recipe go from great to fantastic. I love this dish because it uses only a few ingredients, all of which can be prepped the day before and then cooked in under 20 minutes. The lemon and basil are subtle, but important, so don't skip them. While fresh spinach is the best, frozen works fine as well. Just make sure that the frozen is rinsed and drained well before you toss it in the pan and whether using fresh or frozen, chop the spinach with a knife to eliminate any large pieces of stem in the final dish.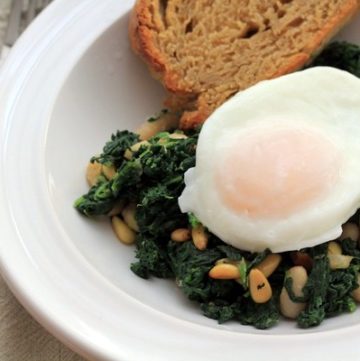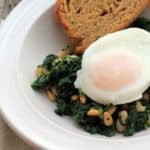 Print Recipe
Spinach with White Beans and Pine Nuts
Ingredients
1

Tbsp.

white vinegar (for poaching eggs)

½

Tbsp.

olive oil

2

Tbsp.

pine nuts

1

clove

garlic, thinly sliced

1 15-

oz

can of white cannelloni beans, rinsed and drained well

1

lb.

spinach (fresh or frozen), roughly chopped

2

Tbsp.

fresh basil, chopped

1

Tbsp.

lemon zest

salt and pepper, to taste

2

large eggs

several slices of fresh bread, for serving (if desired)
Instructions
Start by getting the water heated for the poached eggs. To do this, pour the white vinegar into a medium saucepan filled to about 4 inches deep with water. Put the pan over medium-high heat, allowing it to come to a boil while you prepare the spinach.

In a skillet, heat olive oil over medium heat. Add pine nuts and garlic and sauté until both begin to turn golden and fragrant, about 3 minutes. Add beans and saute again until any liquid has cooked off, about 2 minutes. Add spinach and sauté, stirring frequently until soft and heated through. (If using fresh spinach this may take 5 minutes or more as the spinach will need to cook all the way down to become wilted. With both fresh or frozen, it is important to continue to cook the spinach until the liquid has cooked off and there is very little moisture in the pan.)

Remove the spinach from the heat and stir in basil, zest and salt and pepper. Cover the pan to keep spinach warm while preparing the eggs.

Crack each egg into its own small bowl. Turn the heat under the boiling water down so that the water stays at a low simmer (only very small bubbles should rise from the bottom of the pan). Gently turn each egg out into the water. Allow eggs to poach until whites are firm but yolks are still wet. I find this takes exactly 4 minutes, but increase the time if the whites are not cooked all the way. Remove each egg with a slotted spoon, tapping the handle of the spoon gently on the side of the pan to drain the water off the egg.

Place a portion of spinach on each plate and top each with one egg. Serve warm, with slices of warm, fresh bread.
Notes
adapted from Fine Cooking, April/May 2010 (pg. 24)