Saturday night we had a pizza feast. I need no excuse at all to center an entire evening around a double batch of my favorite dough and the free-form pizzas that emerge from it. However, this week I had a hidden agenda. A plan for the leftover dough.
I have been itching to find myself with a pizza's worth of extra dough ever since I saw this beautifully-photographed suggestion by White On Rice Couple to use it for making spicy garlic knots. Leftover pizza dough does not go to waste in this house. I roll it out on parchment paper and freeze it flat. On lazy Friday nights we pull out those prepared crusts, throw on some toppings and slide them on the pizza stone for world's easiest dinner. But these garlic knots give a second life to the pizza dough – a spicy, buttery, herby, hint-of-garlic second life.
No longer is our fresh, tasty, leftover dough destined for the freezer. I see many leftover-pizza-dough spicy garlic knots in our future.
_______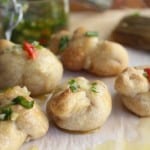 Print Recipe
Spicy Garlic Knots from Leftover Pizza Dough
Ingredients
leftover pizza dough

a few tablespoons of flour for dusting

⅛

c

(30ml) Olive Oil

¼

c

(60g) unsalted Butter

4

cloves

Garlic, crushed

2

t

(20g) finely minced Thai Chilis, to taste

2

t

(10ml) Sriracha sauce

1

Tbsp.

finely chopped cilantro

sea salt to taste
Instructions
Put a pizza stone in the oven (these could also be baked on a baking sheet lined with parchment paper). Preheat oven to 400° F. If pizza dough has been refrigerated, remove it and allow to rest at room temperature for 20 minutes. Set out a piece of parchment paper for baking the knots.

Lightly coat your hands with flour to prevent the dough from sticking. Working with a golf-ball sized piece of pizza dough, roll the dough out until it is about 5 inches long. Cross the ends of the dough and tie it into a knot. (This took me a few tries to get right, as evidenced by my uneven "knots" in the image above.) Place the knots about 2 inches apart on parchment paper. Allow to rest at room temperature for 20 minutes. Bake until golden brown but still soft, 10-12 minutes.

While knots are baking, make the garlic coating. In a small saucepan, bring the olive oil, butter, garlic, and chills to a light simmer over medium heat. Simmer gently until fragrant, about 5 minutes. Remove from heat and stir in Siracha and cilantro.

Immediately after removing the knots from the oven, brush them generously with the garlic coating. Sprinkle with sea salt. Serve immediately.
Notes
Recipe adapted slightly using "Spicy Garlic Coating" from White On Rice Couple
Note: The recipe makes about ⅓ cup of garlic coating, but the number of knots created depends entirely on how much dough you begin with (pizza dough recipe I used below). I found it worthwhile to make an entire batch of the coating even though I only had dough for a few knots - it will keep in the refrigerator for at least a week and will be delicious tossed with rice noodles or brushed on roasted chicken or fish.