I have a problem. Fortunately, it's quite minor. It involves bacon.
Over the past few weeks, I've been irresistibly curious about making spaghetti carbonara. It began with Valentine's Day dinner this year, in which I had a really wonderful, light but creamy spaghetti carbonara at an Italian spot in my neighborhood. That's right, I am telling you that there is a place in Bangkok, Thailand that made me swoon over spaghetti carbonara. (I'll beg forgiveness from the the pad see ew joint on the corner next time I go out.)
I considered it to be all the more telling when I was catching up on my reading at Jenna's lovely blog – Eat, Live, Run and came across her post on this very dish, adapted to serve one. The stars aligned and today turned out to be the perfect day to make carbonara for dinner. I kid not – it is 60 degrees and rainy in Bangkok tonight – SIXTY DEGREES! This is the kind of weather that sends Bangkok residents to their closets for the scarves and wool hats. (Yours truly continues to attest that 60 degrees is not cold, and ignores the looks as she goes about her daily activities in her yoga tank and shorts.)
My problem is that it turns out that spaghetti carbonara is so easy to make that I could have it, literally, every night. Unfortunately (or fortunately, depending on how you look at it), I try not to make a habit of having eggs and bacon in dinner too terribly often.
The real shocker in all of this is that it took me this long to discover that my two favorite breakfast elements can be so easily thrown together in this surprisingly simple and satisfying way.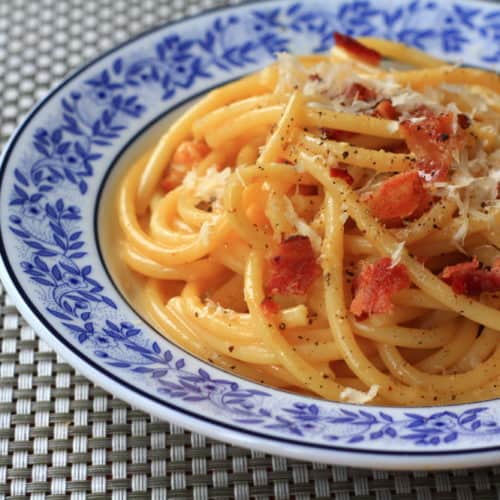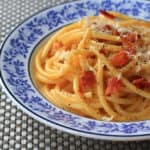 Print Recipe
Spaghetti Carbonara
Ingredients
4

oz

(120g) dry spaghetti

1

strip bacon

1

clove

garlic, peeled and lightly crushed

1

large egg, beaten

½

cup

(25g) fresh grated Parmesan, divided in half

liberal dose of fresh ground black pepper

salt, to taste
Instructions
Bring a large pot of water to a boil. Meanwhile, cook the bacon in a large skillet. Remove bacon and set on a paper towel to cool. Reduce heat and gently saute the garlic clove in bacon grease until aromatic. Remove garlic and discard. (This gives the carbonara a subtle garlic flavor. If you prefer more garlic, mince the garlic before sauteing and don't remove it.) Remove the pan from the heat and allow to cool (you'll mix the pasta in this pan in a few minutes).

Add the spaghetti to the boiling water and cook until al dente. Crack the egg in a small bowl and and whisk it with half of the Parmesan cheese. Working quickly, strain the pasta. Add the pasta and the egg mixture to the pan used to cook the bacon and whisk, whisk, whisk them together for about 20 seconds. Sprinkle pasta with crumbled bacon, the remaining Parmesan and pepper and salt. Serve immediately.
Notes
So that the egg cooks, the spaghetti must be hot when they're combined. On the flip side, the pan in which they are mixed has to have cooled enough to not scramble the egg. (It's a balancing act.)