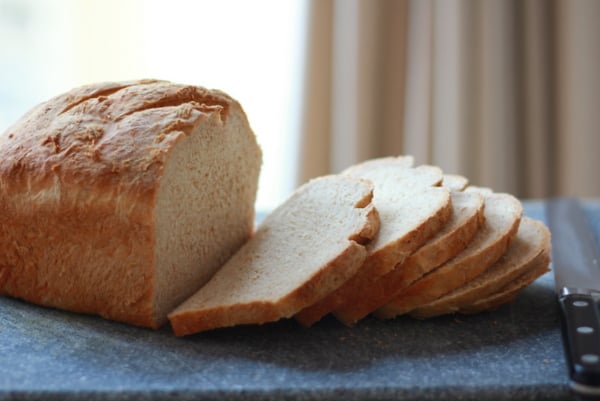 It's been an amazing week. A week full of stories from home and laughter around the kitchen counter and being heavily schooled in what is cool and what is not ("not cool" pretty much summing up most of my music collection).
My family is here, and my three teenage/young adultish sisters have set up shop in the living room and are there rubbing the sleep from their eyes and rolling around on air mattresses every morning as I leave for work. It is a happy, comforting sight. I may never let them leave.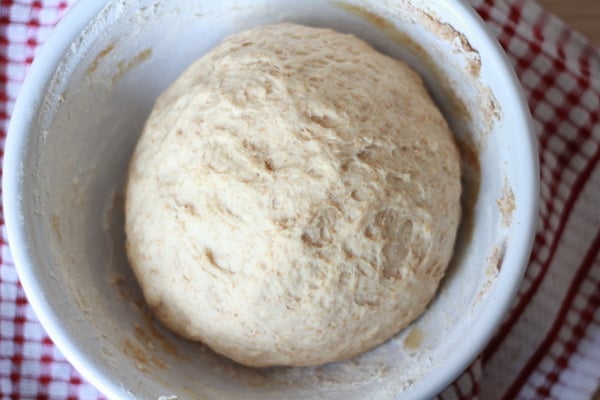 Having three growing and endlessly energetic girls around is also a reminder of just how much growing people need to eat. Someone is always hungry and anything in the kitchen will be devoured in no time flat. We went through three loaves of banana bread within hours of their arrival.
But as much as I love banana bread, a staple for a good sandwich bread is a staple for a house full of people. In a pinch, a slice of good bread with swoosh of peanut butter will keep most of us happy until dinner is on the table. (Except, of course, if you are my sister Veronica. She abhors the peanuty stuff. The other thing about all 7 of us in one apartment? 7 opinions and food preferences to juggle.)
I love the challenge and the chance to feed more people than just the two of us. It's also always nice to cook for palates other than ours. This bread was one that benefitted being taste-tested by someone besides myself.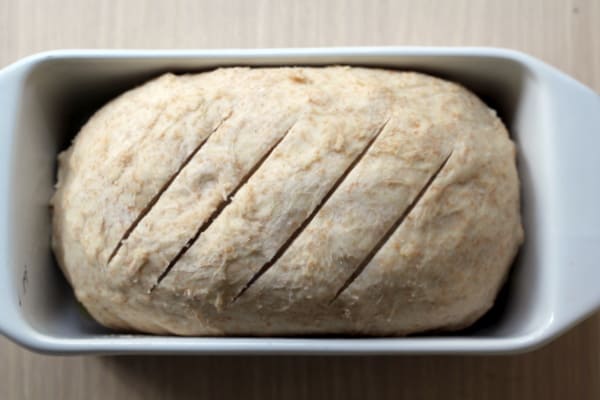 In my memory, when I finally stumbled on this balance of all-purpose and whole wheat flour a couple weeks ago, the bread was soft and light. The whole wheat was subtle and it had a hint of sweetness. When I made this again this week, it was even better than I remembered. It's light but substantial and practically begging to be piled high with toppings (although my personal favorite on this bread has been tuna salad...a sandwich variety of choice for both Frank and I and my visiting family).
It's also fantastic toasted with butter and slathered with jam.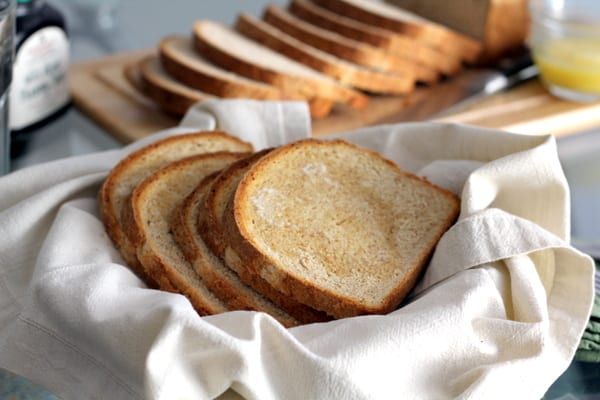 When it comes to the bit of extra cooking I'm doing this week, I'm loving it. But the dishes...thank goodness I've got helpful familial hands (and a housekeeper every couple days). We're flying through dishes in our little kitchen this week like you wouldn't believe!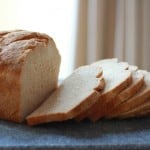 Print Recipe
Soft Wheat Sandwich Bread
Ingredients
14

oz

bread flour (plus extra for kneading)

4

oz

whole wheat flour

2

teaspoons

salt

3

tablespoons

powdered milk

1

and ½ teaspoon instant yeast

2

tablespoons

unsalted butter, at room temperature

1

and ½ tablespoon honey

1

and ¼ cup water, at room temperature
Instructions
Stir together both flours, salt, powdered milk, and yeast in a 4-quart mixing bowl (or in the bowl of an electric mixer). Add the butter, honey, and water. Stir (or mix on low speed with the paddle attachment) until the ingredients form a ball. If there is still flour in the bottom of the bowl, dribble in additional water.

Sprinkle the counter with flour and turn the dough out onto the counter. Knead the dough for a full 10 minutes (it's good for those arms!), until the dough forms a smooth, elastic ball. Add additional bread flour, a bit at a time, only if needed to prevent the dough from sticking firmly to the counter. (The dough should be slightly sticky, so resist adding additional flour if in doubt. Adding too much flour may make the final loaf tough, so err on the side of not enough flour rather than too much.) Transfer the dough to a lightly oiled bowl and allow it to rise, uncovered, until doubled in size, about 90 minutes (my kitchen is hot, so this took only about 60 minutes).

Lightly grease a loaf pan with oil. Turn the risen dough out on a lightly floured counter and press into a rectangle about 6x8 inches. Roll the dough up from the short side into a loaf. Pinch the final seam closed and tuck the dough into the prepared loaf pan. Allow to rise, uncovered, until the dough fills the pan and rises slightly over the top of the pan, about 60 minutes. (Again, in my hot kitchen this took only 45 minutes).

Preheat the oven to 350 degrees F about 15 minutes before the dough has finished rising. Using a knife, cut diagnoal slices across the loaf (this is optional, I do it purely for aesthetics). Bake the loaf on the middle rack of the oven for 30 minutes and then rotate the loaf 180 degrees. Bake for another 15-30 minutes until it is a deep golden brown on top and registers 190 degrees F. in the center. Turn the loaf immediately out onto a wire rack and allow it to cool for at least an hour before cutting it into slices and serving.
____