Soba Noodles with Eggplant and Mango
Published May 24, 2012•Updated Apr 19, 2022

Often I eat something and think that it is good. But much less frequently I eat something that is not only good, but surprising. This dish is both, and the first time I tasted it, it was both these qualities that kept me going back for more. (And kept me thinking about it for days and weeks afterwards.)
You've already heard me wax sentimental about the magnificent Glenburn, where we stayed on our recent trip to India. I'll try to refrain from going down that path again (although I make no promises). On our last day at Glenburn, I made a list of all of the amazing things we ate while we were there. Lunches were my favorite, consisting mostly of vegetable-based salads in a seemingly endless variety. Each and every one was creative and delicious. I took crazy looking notes on every single thing I tasted on the blank pages at the back of my book (which I ripped out before leaving the book in Glenburn's lending library).
One night at dinner, seated next to the woman who managed the kitchen at Glenburn, I mentioned how interesting and wonderful I had found the food.
Anything in particular? She asked.
Many things, I responded. But one really stands out. The noodles with mango and eggplant. It just had something…
Sesame oil. But I can't take the credit. That's all Yotam Ottolenghi.
Of course. As if I need another sign. I ordered Ottolenghi's book, Plenty: Vibrant Recipes from London's Ottolenghi
, immediately upon arriving back in Bangkok. I am certain that this book, which has done laps around the internet since its release in 2011, will be nothing short of amazing, if this one dish is any indication.
That last dinner in Glenburn continued, as they all did – well into the evening, with laughter, great food, servers in crisp white suits pouring great wine, and cool mountain air drifting in through the doors and windows. But I carried the secret of the Soba Noodles with Eggplant and Mango with me.
When I made this back here in Bangkok, the taste brought me back to Glenburn. And as this will surely become a regular in our kitchen, I hope it continues to transport me for years to come.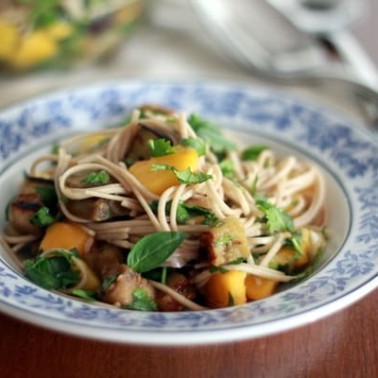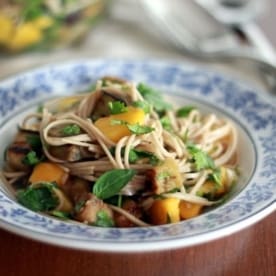 Soba Noodles with Eggplant and Mango
A surprising combination of flavors makes this a memorable dish from the first bite - sweet from the mango and savory from the eggplant. A beautiful pasta for hot summer nights or for a simple weeknight dinner any night of the year. The leftovers only get better in the refrigerator, so I highly recommend making enough for lunch leftovers.
Ingredients
1/2

cup

rice vinegar

1

tablespoon

sugar

1/2

teaspoon

salt

1

garlic clove, crushed

1/2

fresh red chile, finely chopped

1

teaspoon

toasted sesame oil

Grated zest and juice of small 1 lime

1

cup

sunflower oil

2

eggplants, cut into 3/4-inch dice (this was about 3 cups in my case, but if the eggplant you buy is large, 1 will probably be plenty)

9

ounces

soba noodles

1

large ripe mango, cut into 3/8-inch dice or into 1/4-inch-thick strips

1 2/3

cup

basil leaves (if you can get some Thai basil, but much less of it)

2 1/2

cups

cilantro leaves, chopped

1/2

red onion, very thinly sliced
Instructions
In a small saucepan gently warm the vinegar, sugar and salt for up to 1 minute, just until the sugar dissolves. Remove from the heat and add the garlic, chile, and sesame oil. Allow to cool, then add the lime zest and juice.

Heat up the sunflower oil in a large pan and shallow-fry the eggplant in three or four batches. Once golden brown remove to a colander, sprinkle liberally with salt and leave there to drain.

Cook the noodles in plenty of boiling salted water, stirring occasionally. They should take 5 to 8 minutes to become tender but still al dente. Drain and rinse well under running cold water. Shake off as much of the excess water as possible, then leave to dry on a dish towel.

In a mixing bowl toss the noodles with the dressing, mango, eggplant, half of the herbs and the onion. You can now leave this aside for 1 to 2 hours. When ready to serve add the rest of the herbs and mix well, then pile on a plate or in a bowl.
Nutrition information is automatically calculated, so should only be used as an approximation.