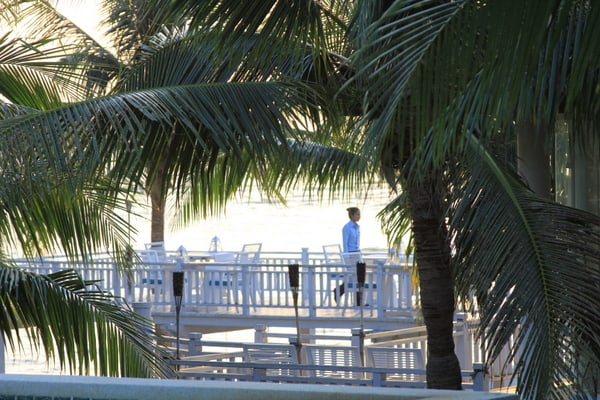 It feels like I blinked and the last two weeks were gone. One minute we were gathered around that table above on the deck at the Anantara Si Kao, listening to the waves crash below, and the next we were in our apartment in Bangkok, eating Toasted Sesame Ginger Glazed Salmon with smashed potatoes and dreading today's post-vacation return to work.
Two things lessened the blow of end of this vacation for both Frank and I. First, and most wonderfully, is the fact that my sisters, Veronica and Rachel, are here in Bangkok with us for another 10 days. We have tons of fun stuff planned. The second was the cozy dinner we ate together, watching movies on the couch last night.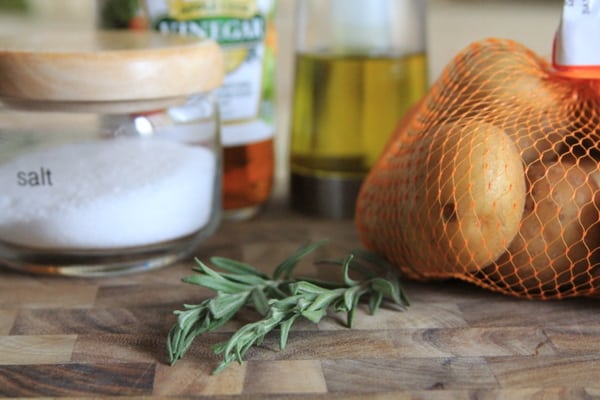 I so thoroughly procrastinated this month's cooking project for Secret Recipe Club that when I woke up yesterday morning, I knew I had no choice but to pick something from Heidi's chock-full site that would work as a side dish for dinner. I had eyed a few of her desserts earlier this month (when I thought I would have more than a mere 12 hours before posting). However, as soon as I opened the site yesterday morning, these potatoes jumped out at me. Variations of these potatoes have been running circles around the internet for years since Pioneer Woman first wrote about them.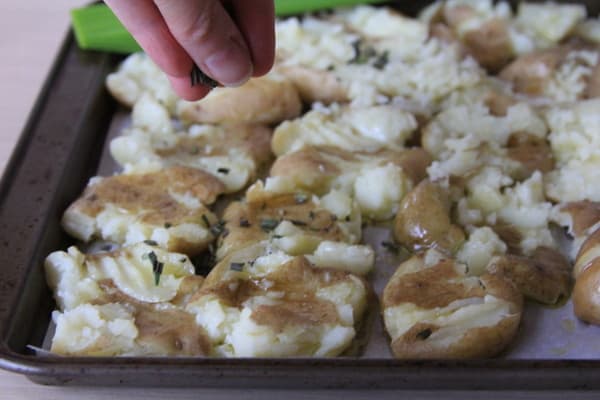 Although I'm so far from being the first to discover these, I'm more than happy to be jumping on the bandwagon late to sing the praises of these amazing potatoes. They are soft on the inside, crisp on the outside, and were devoured by husband, wife, and teenage sisters alike in this house last night. Heidi was right that these easily become a new favorite dish. My procrastination absolutely paid off.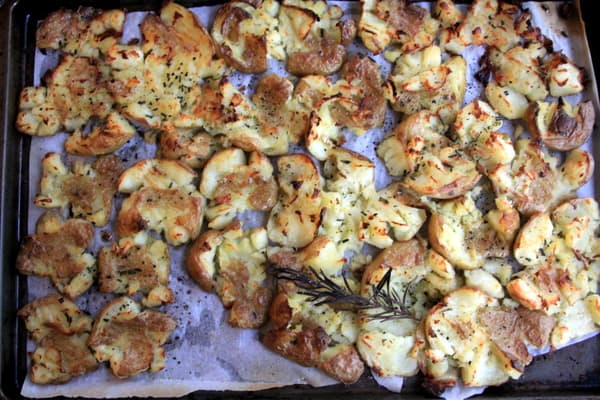 As for all those work emails I discovered this morning when I arrived in my office after a week of vacation…no amount of procrastination (or tray of crispy hot potatoes) will solve that problem.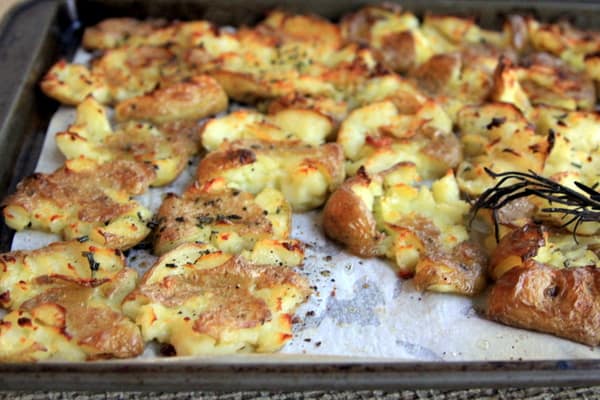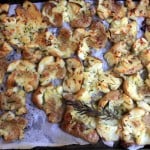 Print Recipe
Smashed Potatoes for Sunday Dinner
Ingredients
20

small potatoes (such as new potatoes)

2

teaspoons

salt (more, to taste)

3-4

tablespoons

olive oil

1

teaspoon

black pepper (to taste)

2

sprigs fresh rosemary, finely chopped

1

splash cider vinegar
Instructions
Put potatoes in a pot and cover with water to about 2 inches over the potatoes. Add 1 teaspoon of salt and put the pot over high heat until it comes to a boil. Boil until the potatoes are fork tender.

Drain the potatoes and allow to cool for a few minutes. Drizzle 2 Tablespoons olive oil over a baking sheet.

Preheat oven to 450 degrees Fahrenheit. Place the potatoes on the baking sheet and smash them down using a potato masher or fork. Brush another Tablespoon of olive oil over the potatoes, sprinkle the potatoes generously with salt, black pepper, and rosemary. Bake until the potatoes become crisp and golden, about 20 minutes. Remove from the oven and brush the top of the potatoes with cider vinegar. Serve immediately.