The onions in this tart are cooked slowly until they trade in their oniony-ness and for a tender, delicate sweetness that is equally satisfying to imagine enjoying straight out of the oven on a cold night or slightly chilled on a clear, tropical evening.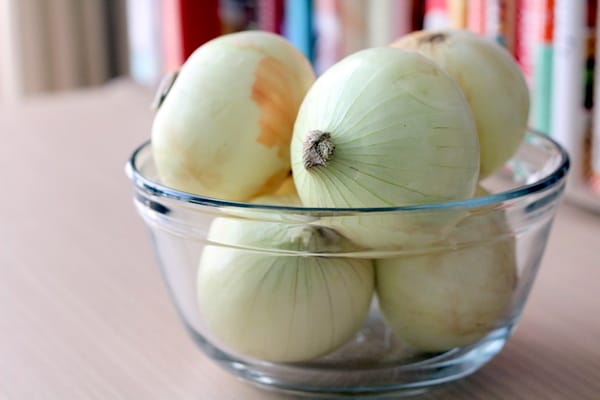 Frank and I neglected to make our way to the Sunday evening symphony concert in Lumpini Park until today, the second to last concert of the season. I'm not sure how this cool season escaped us, but the outdoor concert was high on our list to check out.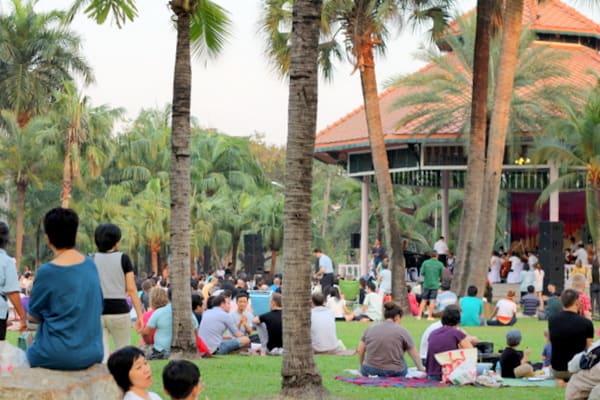 I was excited to sit outside under the stars (er….city lights…this is Bangkok after all) and enjoy the orchestra. I was also excited about the prospect of packing up picnic fare to take to the park. We kept it extremely simple, with this easy tart that went straight from the oven into the picnic bag and a spectacular tropical fruit salad of starfruit, pink guava and tangerines.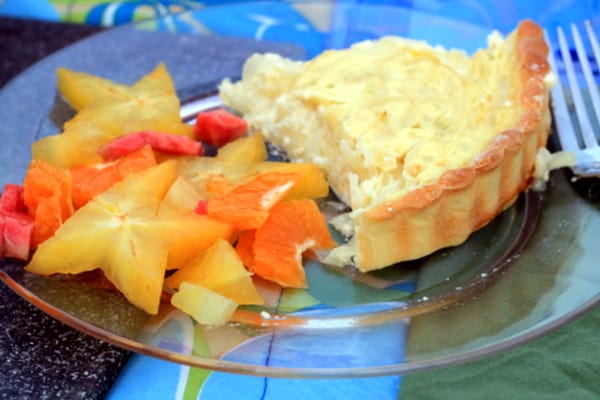 As you know, we are celebrating the arrival of household items which were shipped to us from DC back in November. Included in the shipment were our fabulous red cooler bag and sky blue Hawaiian picnic blanket. We were possibly the most well-equipped concert attendees….and the hardest to miss. Tonight we learned that Thai picnic-ers prefer subdued straw mats over bright, floral-patterned nylon blankets.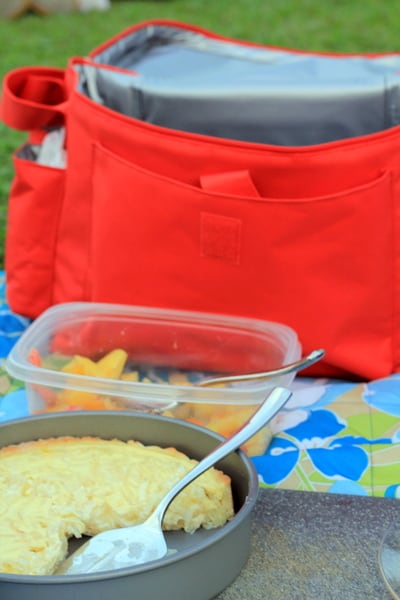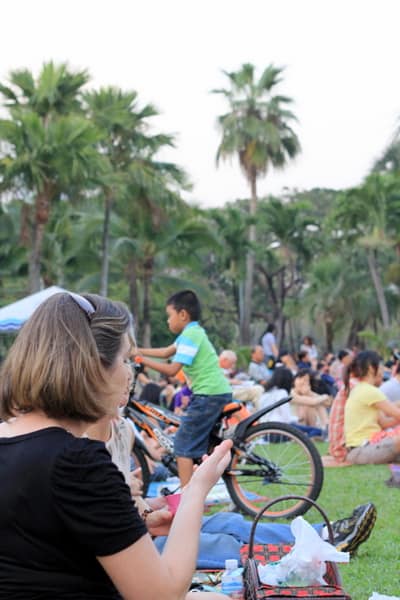 As with most casual events in Thailand, there was a continuous buzz of happy activity in the form of children playing (and even riding bikes through the crowd) and, of course, plenty of food and sweet drinks for sale.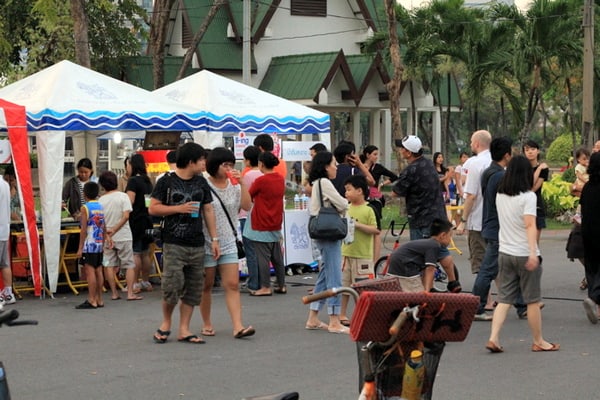 There are many things to love about this tart. The sweet onion flavor, doughy shell and creamy filling are wonderful together. It is also time-saver because it makes two tart shells – one for filling now…one for freezing for another dinner down the road.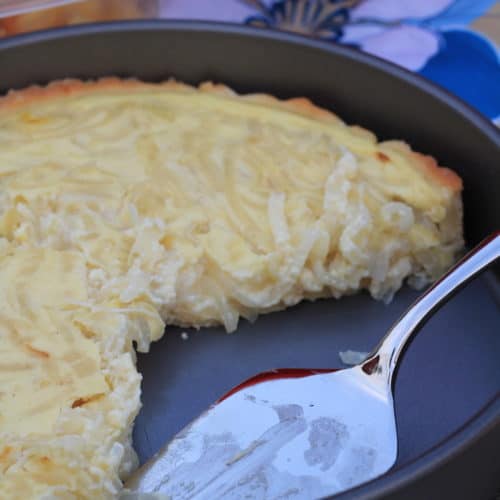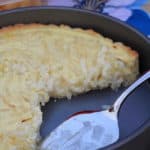 Print Recipe
Simple Onion Tart
Ingredients
For the tart shell:

1

Tbsp.

yeast

1

Tbsp.

sugar

3

cups

all-purpose flour (divided into 2 cups and 1 cup)

1

tsp.

salt

2

Tbsp.

olive oil (plus extra to coat the bowl used for the dough to rise)

1

egg

For the filling:

5

medium onions, halved and thinly sliced

1

Tbsp.

unsalted butter

1

tsp.

salt

1

tsp.

sugar

1

cup

sour cream (light or full fat will both work fine)

3

eggs, lightly beaten

1

tsp.

ground black pepper
Instructions
First, prepare dough for tart shell. Mix 1 cup room temperature water with yeast and sugar. Allow to sit for 5 minutes. In a large mixing bowl combine yeast mixture with 2 cups flour, salt, olive oil and egg. Stir with a wooden spoon until forms a wet, shaggy dough. Pour dough out on a well-floured surface. Begin kneading, adding the remaining 1 cup flour a few tablespoons at a time to prevent dough from sticking from your hands. Continue kneading and adding flour (as needed to prevent sticking) until dough becomes smooth and pliable, about 5 minutes. Place dough in a large bowl with ½ tablespoon of olive oil and turn dough to coat. Cover bowl with a dishtowel and set aside until doubled in size, about 1 hour.

While dough rises, prepare the filling. Cook onions with butter, salt and sugar in a large pan over medium-high heat. Stir frequently and continue cooking until onions are very tender but not brown, about 20 minutes. (Reduce heat if necessary to prevent onions from caramelizing. Onions should be soft, reduced in size by about half and should taste sweet when done.) Remove from heat and allow to cool. In a small bowl, combine cooled onions, sour cream, eggs and pepper. Mix until smooth.

Preheat oven to 350 degrees. When tart dough has finished rising, divide dough into two even parts. Roll one half out on a lightly floured surface and transfer to a 12-inch tart pan, pressing to evenly fill the bottom and sides and removing pieces that hang out over the edges of the pan. Repeat with remaining half of dough and a second 12-inch tart pan. Freeze one tart pan for later use.

Pour onion and sour cream filling into tart shell. Filling should come to the top of the shell (it will get puffy but will not expand while baking). Bake until filling is golden and firm, about 35 minutes. Allow tart to cool for at least 10 minutes before cutting into slices. Serve immediately while still warm or allow to cool completely and serve at room temperature.
Notes
adapted from "Bread" by Beth Hensberger (published by Chronicle, 1988)
Note: This recipe results in two 12-inch tart shells. I roll out both and press them into 12-inch tart pans. I then wrap the second shell tightly in plastic and foil and freeze. When you are ready to use the frozen shell, take it out of the freezer and allow to come to room temperature (about 30 minutes). You can fill it with the onion mix described below or swap the onions for any other vegetable combination of your choice - sauteed red peppers and broccoli immediately come to mind.