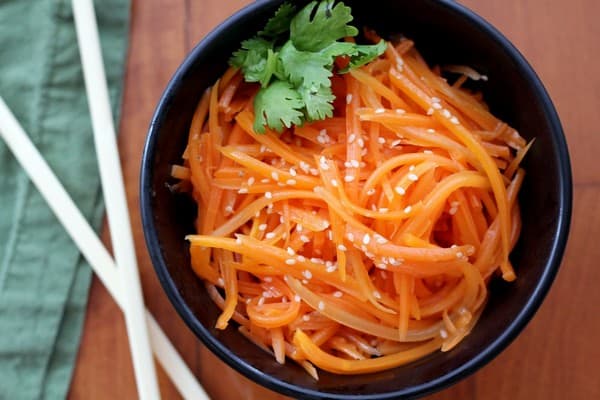 Last night, it was around 20 minutes past the time that I was supposed to meet my husband for our weekly date-night dinner in the "agreed-upon" meeting spot that I realized two important things. 1) Never plan to meet somewhere you've only been once when one of you has forgotten his cell phone en route to work that morning (ahem) and 2) never plan to meet for dinner outside Bangkok's busiest mall when the mall is flanked by giant Christmas rabbits of which everyone in town is dying to take a picture. (Did I mention my husband didn't have his cell phone?) Below is the scene. See the rabbits?
While wandering around and dodging photo-takers I got to thinking how fortunate I am that my husband grew up from a very picky child into an adventurous adult eater who is also a wonderful, encouraging sport about the experiments that come out of our kitchen these days. It was then that I had an idea for these marvelous little carrots.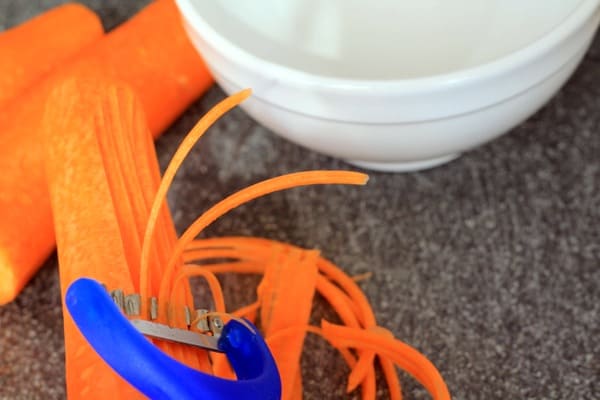 In truth, I've been thinking about carrots a lot lately. Ever since I saw someone using this little peeler to prepare papayas for Som Tham (spicy papaya salad), I wanted one. However, I wasn't sure how I would ever use it, outside of its obvious utility for slicing up hundreds of papayas. It was then that I stumbled upon a rerun of Season Two of Top Chef. (Now I realize the digressions appear to be spiraling out of control here, but stay with me.)
In one of the early episodes in Season Two, teams split up to cook dishes inspired by Korean and Vietnamese cuisines. The Vietnam team created a Pho dish that used….get this…carrots instead of noodles! Considering that Top Chef frequently features dishes that are made by pouring liquid nitrogen over various fruits and vegetables and then shattering them with a hammer, plain old carrots could seem a bit ordinary. But – carrots instead of noodles – genius!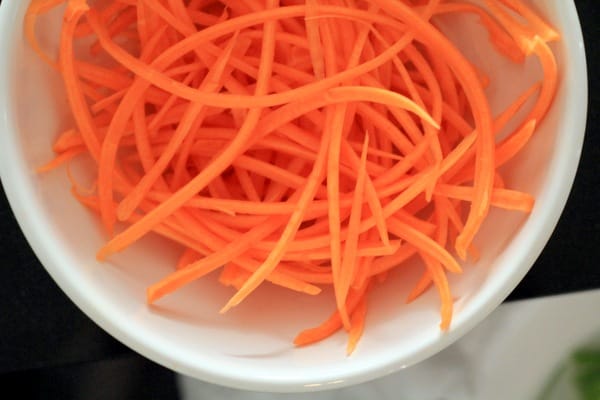 And that's where we return to me, standing outside of Siam Paragon, scanning the crowd for my 6-foot tall husband and contemplating ways to turn carrots into noodles with my new vegetable peeler. The following is what I came up with, and I promise you that if you get the carrots cooked to perfection, this is one that even very picky children (as my husband once was) might go for.
Oh, and eventually, I did find my husband. We went for sushi, in case you were wondering.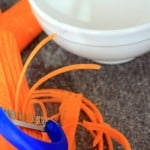 Print Recipe
Sesame Soy Carrot "Noodles"
Servings:
4
as a side dish
Ingredients
3

cups

carrots, peeled or grated into long, thin strips (as shown above)

2

Tbsp.

vegetable oil

1

Tbsp.

sesame oil

1

Tbsp.

rice vinegar

2

tsp.

honey

2

tsp.

soy sauce

1

Tbsp.

sesame seeds

a few cilantro sprigs for garnishing (optional)
Instructions
Start by blanching carrots. To do this, bring a large pot of water to a vigorous boil. (It is important to use a very large pot so that the water continues to boil when the carrots are dropped in.) Drop carrots into water and allow to boil for approximately 1 minute, until carrots just begin to become tender. Quickly drain and drop carrots into a bowl of ice water. Drain again once carrots are cool and pour into a medium mixing bowl.

To prepare the vinaigrette, combine remaining ingredients (except cilantro) in a small covered container and shake vigorously. Taste the vinaigrette and add additional soy sauce or honey to your liking.

Toss the carrots in the vinaigrette and refrigerate for at least 1 hour (overnight is fine if preferred). Garnish with cilantro sprigs and serve slightly chilled.