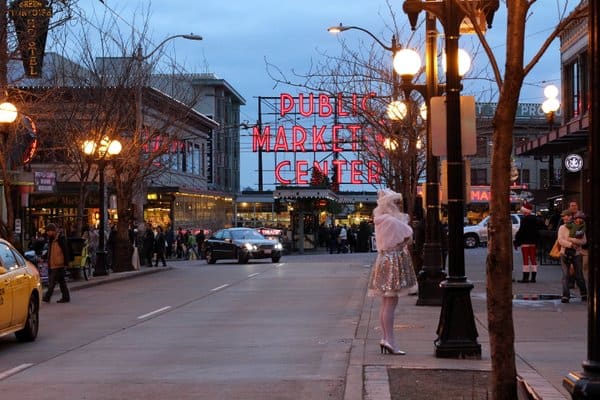 We landed in Seattle early last Saturday morning. Being home in the U.S. was sort of overwhelming at first - in the very best way that overwhelming can be. If you have ever traveled outside of your home country, you know how this feels. It's comforting and invigorating to return to the place that you "get". But for the first couple of days, I couldn't keep up. There's so much information everywhere now. There's WiFi on the airplanes, little bar codes for tracking where products originated, and super hi-def TVs providing constant news. Heck, our rental car even has a little screen that tells us what song is playing on the radio. (Love it.) The things that I tune out in Bangkok are pouring in - lyrics to music, people on cell phones, signs and papers and magazines, all begging to be heard and read. Where to begin?
Well. We began with food, of course.
Frank and I had a weekend stop in Seattle before spending the holidays with family and friends. I imagined that Seattle would be this foggy wonderland of great food, damp air, and beautiful sights. It was. We bundled up and spent our three days there seeing and tasting as much as we could.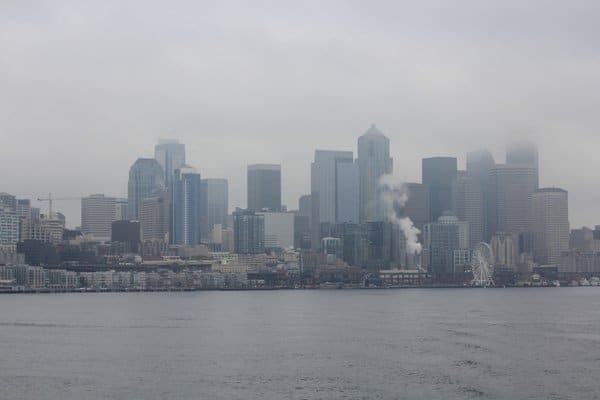 The food. Oh was it ever wonderful. We started our first day back in the U.S. with the epitome of U.S. breakfasts in a diner called Planet Java. Without grabbing as much as a cell phone for pictures, we dropped our bags at the hotel and dove into giant plates of home fries and bottomless cups of coffee. It was a fitting re-introduction.
That first day, we walked the city, breathing in crisp salty air, and ended up at Pike Place Market where we concluded our first (slightly jet-lagged) afternoon over mussels, smoked salmon and six shared tastes of beer at Pike Brewing Company.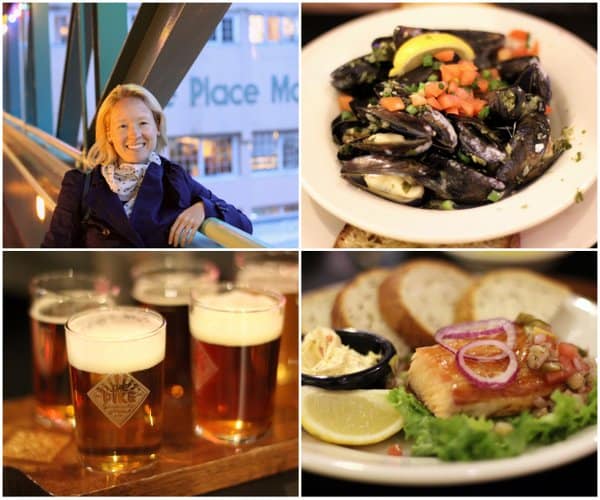 The next morning we had to drag ourselves out of the hotel to make it to our one and only dining reservation of the weekend. Sitka and Spruce. I wasn't at all sure what to expect, particularly after this article which described the food as "challenging" (although on his second visit Adam raved about it). It was warm and comforting inside the big, open dining room where, from every seat, you can watch the food being prepared. I sort of wanted to try everything, but instead, we chose these.
marinated beets with apples, pistachio condiment & arugula :: rockwell beans with braised pork belly, chard, migas & an egg :: bread with soft butter and Jacobsen flake salt :: local cheese with squash butter :: house made yogurt with delicata squash, pumpkin seed & honey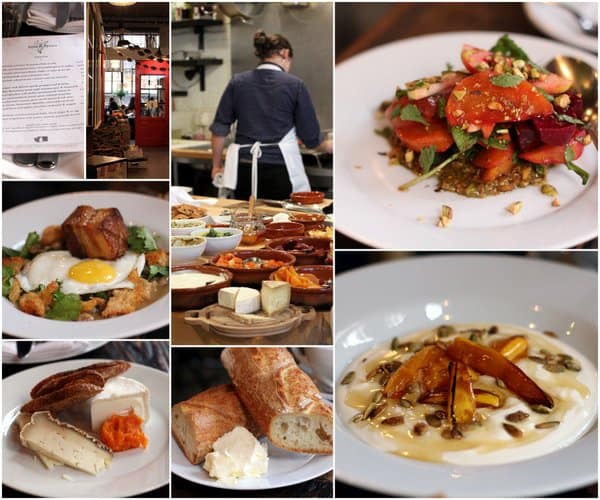 That yogurt was my favorite - whomever thought to put these super-sweet squash slices over yogurt made my morning.
We ventured over to Ballard (about a 10 minute taxi ride from downtown) and had missed the farmers' market by about an hour. It was surprising how early the sun set in Seattle. It started getting dark around 3:30, which is shocking after starting December in sunny Bangkok. The cold, damp weather and darkness created perfect conditions for tucking into The Walrus and the Carpenter for an early dinner. I loved this tiny place and the fact that they shucked all the oysters right in front of the counter where we sat. We could watch all the action.
fried brussels sprouts :: bread and butter :: grilled sardines with walnut, parsley, shallot :: and oysters (!)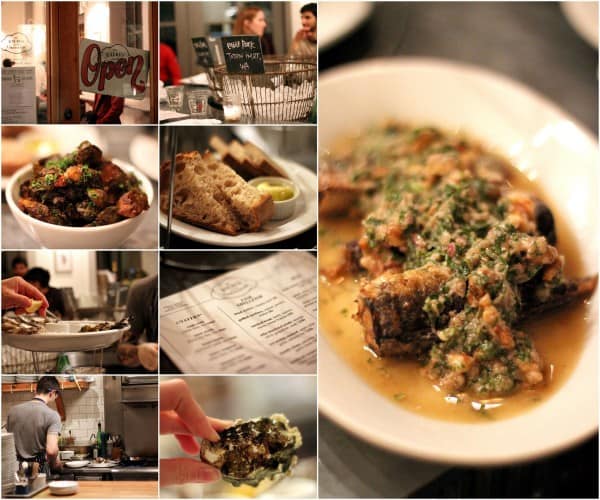 (Neither Frank or I know anything about oysters, but they couldn't have been nicer about it. They gave us two of each type to try.)
And the dessert at The Walrus and the Carpenter was deserving of extra mention. This "drinking caramel" was unlike anything I've ever had. Like hot chocolate, but with rich creamy caramel in place of the chocolate.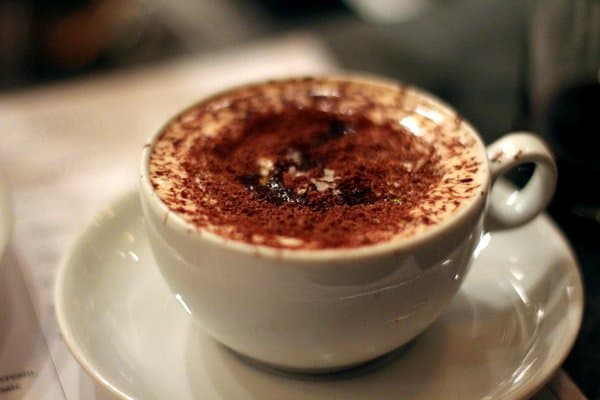 Our last day in Seattle was spent riding the ferry out to Bainbridge Island. We once again dragged our jet-lagged selves out of bed to make it to the ferry at Pier 63. Only when we got there, we discovered that the ferry, in fact departed from...Pier 50. Woops.
We fueled up on coffee and donuts and caught the next ferry. At Pier 50.
It was worth the wait to take the ferry both for the amazing views of Seattle (the pictures at the top and bottom of this post are both from the ferry) and the fun day of wandering on Bainbridge Island. When we got cold, we stopped for tea and great sandwiches at the deli attached to Hitchcock, but there were countless tempting restaurants I would have liked to try if we had stayed for dinner.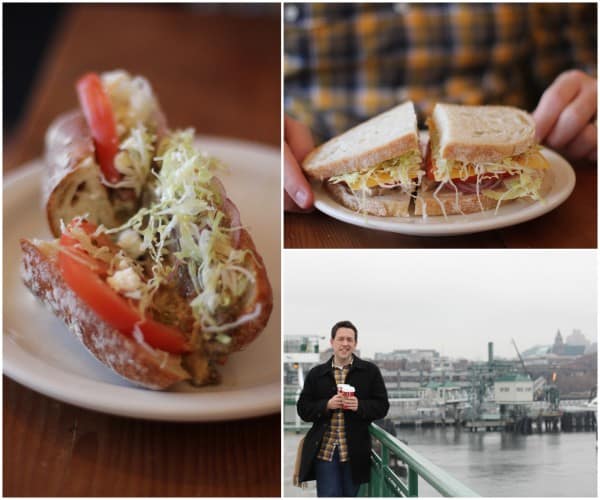 All in all, it was a great way to dive right back into so many things that I miss about the United States and adjust to the time difference a bit before heading off on the next leg of our U.S. adventure.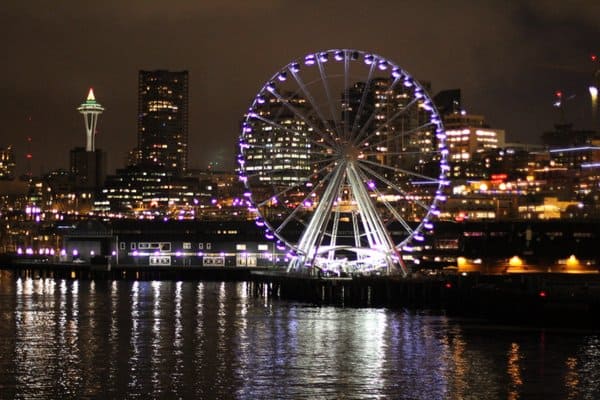 Next up...Kansas City!
Seattle - Where we Ate (I would recommend every single one):
The Deli at Hitchcock (on Bainbridge Island)
Marché (this place was fantastic, but we didn't take pictures - it was featured on Top Chef two weeks ago)
Where we Stayed (this was a great hotel with easy walking access to everything downtown):
The Arctic Club Seattle
700 3rd Avenue Seattle, WA 98104