For the first couple months after we arrived in Thailand I kept tormenting myself with Food and Wine magazine. I've always loved it, and it arrives on our Bangkok doorstep only a couple weeks after it comes out in the US. An unfortunate truth about the North-American-based Food and Wine magazine becomes clear when you step out your front door to palm trees and tropical sunshine. Turns out…there is nothing appealing about "hearty winter stews" and roasted cuts of meat when it's 90 degrees outside. Food and Wine makes all of these things look so beautiful and tempting that I find myself completely torn between wanting to make them and having a heat stroke at the mere thought.
Feeling short on new recipe ideas and wishing for some foodie-friendly reading, I found myself flipping through magazines at the airport on our weekend getaway, and had a love-at-first-sight moment the Australian Gourmet Traveller. And how could I resist? Gorgeous pictures of beach resorts, detailed stories on new restaurants, articles that discuss such interesting topics as how great burgers are just starting to make an appearance in the upscale restaurant scene in Sydney, and, of course, recipes. But not just any recipes, recipes I can actually use.
It was immediately clear that (duh) I should have been looking towards the Southern hemisphere for cooking inspiration over the past few months – because it has been SUMMER in Australia. When I was lamenting the beautiful yet unhelpful pages of winter fare in Food and Whine, Gourmet Traveller was full of creative popsicles, beautiful salads, and articles about tomato season. Sigh. Next winter I'll know better.
And so, friends, here is one of the many fantastic things featured in the February issue. Don't be thrown by the unusual combination of flavors. I hesitated for a moment just before adding the mint, but the recipe completely hit the mark. The mint is subtle, but key in what is a surprising and wonderful balance of flavors.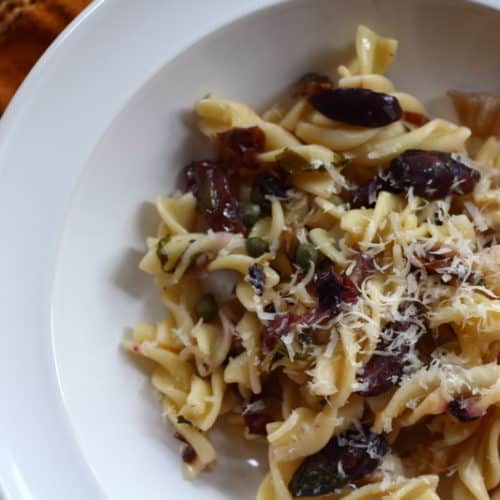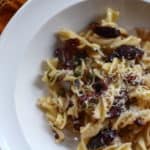 Print Recipe
Pasta with Radicchio, Capers and Mint
Ingredients
1

lb.

(450 g) dry spirali pasta (or Anelli Siciliani - see note)

1

Tbps. olive oil

4

Tbsp.

(60 g) capers, rinsed and drained

20

Kalamata olives, pitted and quartered

2

cloves

garlic, minced

1

small head radicchio, thinly sliced

1

cup

loosely-packed fresh mint, thinly sliced

zest from 1 lemon

1

cup

(30 g) freshly grated Parmesan, plus extra for serving

1

Tbsp.

fresh-squeezed lemon juice
Instructions
Bring a large pot of water to a boil and cook pasta according to package directions. Meanwhile, heat olive oil in a large saute pan. Saute capers, olives and garlic in oil just until garlic begins to soften. Add radicchio and mint and stir quickly to combine. Remove pan from heat. Stir in lemon zest.

When pasta is cooked, drain it, reserving ½ cup (115 ml) of the cooking water. Add cooked pasta and cooking water to saute pan, tossing to combine with other ingredients. Add Parmesan and toss just to combine. Drizzle lemon juice evenly over pasta. Serve immediately.
Notes
adapted from "Anelli Siciliani con Radicchio", Gourmet Traveler, February 2011
The original recipe calls for Anelli Siciliani as the pasta. These are ring-shaped pastas which would be delightful, but I (not surprisingly) could not find them. Instead, I used Spirali and was very happy with the result. If you can get your hands on some Anelli Sicilliani, definitely use it.