Mark Bittman is a genius. How does he manage to come up with such beautiful, simple recipes that are better than any other variation out there. HOW I ask?
Every time I want something in its most straightforward, tasty form, Mark Bittman's recipes are the first place I look. He's the expert.
Now, if I wanted the expert on puffy, long links of sausages, I would look to this man out in front of my apartment building…
But for salmon burgers…I'll stick with Mark Bittman.
His recommendation to blend a small amount of the salmon until it becomes a paste and then pulse the rest of the salmon just a couple times meant that these burgers had a great, light texture. The paste worked to bind the rest of the ingredients together, but the patties still had that flaky, moist quality of salmon filets.
I debated about what to top these little beauties with, but the truth is that they didn't need much. The salmon came out flavorful and with a hint of salt and spice from the combination of Dijon mustard, shallots, and capers. In the end I opted for mashed avocado, sliced cucumbers, and cilantro, but I've got a few more ideas for next time (below).
And with these delicious salmon burgers, there will definitely be a next time.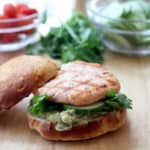 Print Recipe
Salmon Burgers for Two
Ingredients
3/4

pounds

salmon, skin removed

1

tsp.

Dijon mustard

1

large shallot peeled, cut into quarters

1/4

cup

coarse bread crumbs

1

tablespoon

capers, drained

1/2

tsp.

each of salt and pepper

1

tablespoons

butter or olive oil

2

hamburger buns (I always use these, particularly since I keep a stash of them in the freezer)
some ideas for toppings:
1/2

mashed avocado

lettuce leaves

cilantro leaves

sliced cucumbers (for crunch)

sliced tomatoes

a batch of cucumber raita
Instructions
Put a quarter of the salmon and the mustard in a food processor. Blend until the mixture becomes an even paste. Add shallot and the remaining salmon and pulse until the mixture comes together but pieces of salmon still remain.

Scrape the mixture into a mixing bowl and add bread crumbs, capers and salt and pepper. Stir with a wooden spoon until evenly combined. Shape into 2 patties. Refrigerate (covered) until ready to cook.

Add the butter or olive oil to a skillet over medium-high heat. Cook the burgers for 2-3 minutes on each side, until cooked through. Serve on buns topped with any of the above toppings (we used cucumber slices, cilantro leaves and mashed avocado).