Root Vegetable Lasagna
Published Nov 17, 2011•Updated Apr 19, 2022
I have been in a state of distraction lately. My usual organization when it comes to planning our meals has been totally out to lunch (ha ha!) these past few weeks. Of course, the flooding and stocking up on boring things like canned vegetables has consumed a lot of time. Then there was this book. It was so good that I seriously could.not.stop. Then there's the fall television line-up. Thanks to Itunes, in a matter of weeks we have gone from television no-man's-land to an overstimulating list of new episodes of The Office and Top Chef (loving the new season in Texas – yeeehaw).
This week I've got it together though, because I finally audited my ever-growing list of recipes and pulled out some serious winners. There will be delicious, low-maintenance things cooking at our house all weekend. But I also got it together and made a double recipes of this amazing fall-inspired lasagna. Not only did we have one for dinner, but we've got one on hold in the freezer.
The fall-craving part of me is slowly caving to the temptation to curl up on the couch and spend the afternoon reading while dinner magically winds its delicious web around our cozy apartment. This is one of those dinners. It takes a bit of chopping up front, but the sweet smell of roasting fall vegetables and later, the richness of the lasagna are thoroughly worth the effort.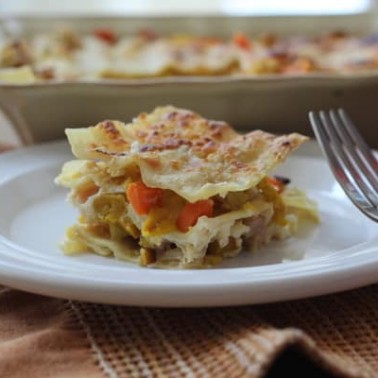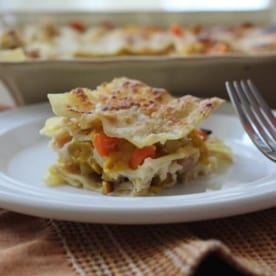 Root Vegetable Lasagna
This vegetarian lasagna full of roasted root vegetables is perfect for a winter night, and is surprisingly light.
Ingredients
6

cups

(1/2-inch) cubed peeled butternut squash (about 2 1/2 pounds)

2 1/4

cups

(1/2-inch) cubed peeled sweet potato (about 1 pound)

2

cups

coarsely chopped onion, divided

1

tablespoon

olive oil

Cooking spray

4

cups

1% low-fat milk

1/8

teaspoon

ground nutmeg

1/8

teaspoon

ground cinnamon

1

bay leaf

1 1/2

ounces

all-purpose flour (about 1/3 cup)

1/2

teaspoon

salt

1/4

teaspoon

freshly ground black pepper

1 1/4

cups

(5 ounces) grated Parmigiano-Reggiano cheese

9

packaged no-boil lasagna noodles

1 1/2

cups

(6 ounces) shredded part-skim mozzarella cheese
Instructions
Preheat oven to 450°.

Combine squash, potato, 1 cup chopped onion, and oil in a roasting pan coated with cooking spray, tossing to coat vegetables. Bake at 450° for 30 minutes or until vegetables are tender, stirring once; set aside.

Combine remaining 1 cup onion, milk, nutmeg, cinnamon, and bay leaf in a medium saucepan over medium-high heat; bring to a simmer. Remove from heat; let stand 15 minutes. Strain milk mixture through a fine sieve over a bowl; discard solids. Wipe out the inside of the pan well with paper towels. Return milk mixture to pan. Weigh or lightly spoon flour into a dry measuring cup; level with a knife. Add flour, salt, and pepper to milk mixture, stirring well with a whisk. Cook over medium heat 10 minutes or until thick, stirring frequently. Remove from heat; stir in Parmigiano-Reggiano cheese.

Preheat oven to 375°.

Spread 1/2 cup milk mixture in bottom of a 13 x 9–inch baking dish coated with cooking spray. Arrange 3 noodles over milk mixture; top with half of squash mixture, 1/2 cup mozzarella, and 1 cup milk mixture. Repeat layer with noodles, squash mixture, mozzarella, and milk mixture. Top with remaining 3 noodles. Spread remaining milk mixture over noodles, and sprinkle with remaining 1/2 cup mozzarella. Cover with foil coated with cooking spray.

Bake at 375° for 30 minutes. Uncover and bake an additional 20 minutes. Let stand 10 minutes before serving.
Notes
Note: Although I miss butternut squash so much that it seems to be creeping into my dreams, there is no butternut squash here in Thailand. The combination of butternut squash and sweet potato is a winner, so I've kept the recipe in its original form, although any combination of roasted fall vegetables will work. I used a combination of roasted Kobucha squash,white sweet potato, carrots, and cauliflower.
Recipe from Cooking Light.
Nutrition information is automatically calculated, so should only be used as an approximation.