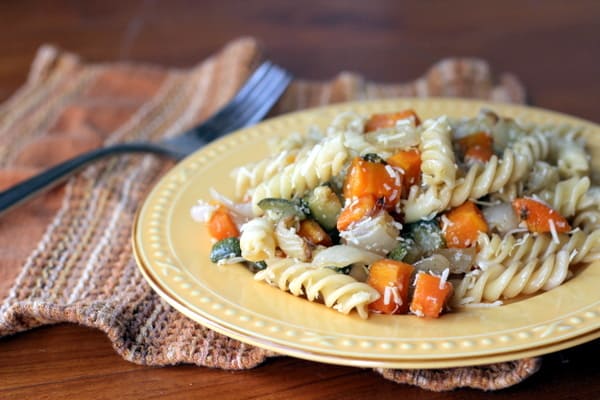 I have had a cold all week, which has left me tired and in a state of general grumpiness. It seems that this is the season in Bangkok for colds, and it is clear that I am not the only one with the sniffles. I get the sense that even for people who have lived their entire life in this tropical climate, there is something not quite right about having a cold when it is 85 degrees out. This roasted vegetable pasta was a welcome change from the week of soups I've been making in hopes of a chicken noodle soup-style remedy. The combination of the slightly sweet and tangy balsamic and the nuttiness of the gruyere bring out the flavor of all those roasted vegetables.
The gruyere I found at our local grocery store was quite satisfying, despite its questionable label as "Florida" Gruyere. Does Florida produces a fine aged gruyere that I was unaware of until this very moment?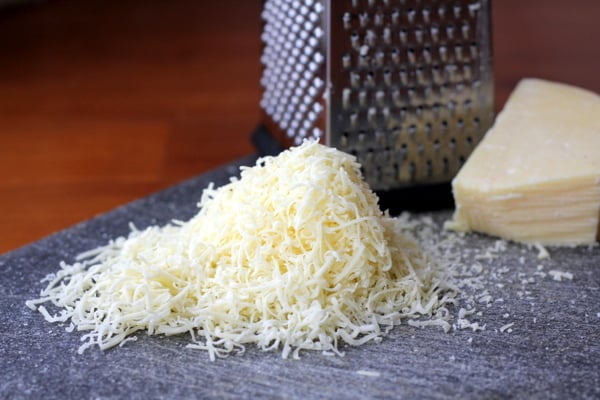 I made a big batch of this pasta, as the leftovers will be delicious for lunch. It is just as good room temperature as it is warm. The best thing about a roasted vegetable dish like this is that you can substitute just about any vegetable that might be hiding in the depths of your fridge. If you are in a place where winter vegetables are available, try this with sweet potato instead of zucchini. It is also a great way to use the hodge-podge of vegetables that you (like me) might end up with after a visit to the farmer's market.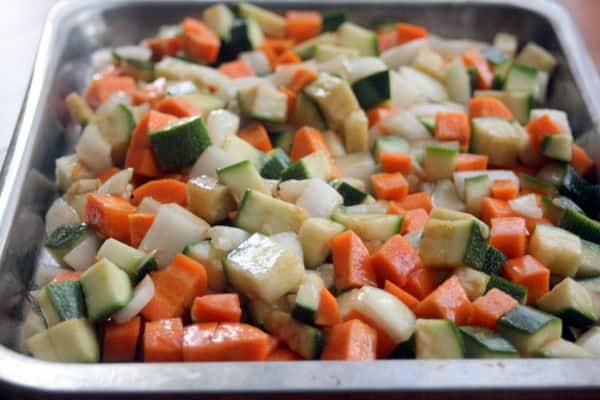 The key to good roasting here is to spread the vegetables out on a big baking sheet so that they don't overlap. The picture above is not a good example of this. I have a shoebox size oven and have to use child-size baking sheets, so spread your vegetables out more than me if you can. I find it tempting not to pull the vegetables out of the oven before they are done, but they are best after they get a nice brown on them and become very tender. Not to mention that the longer they are in the oven roasting, the longer your house is guaranteed to smell like a good Italian restaurant.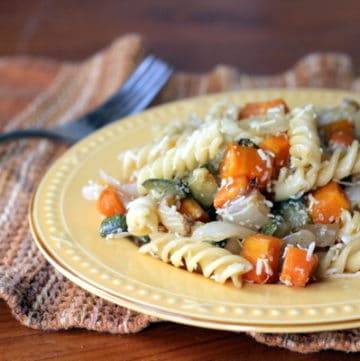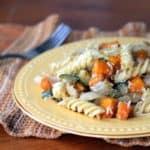 Print Recipe
Roasted Vegetable Pasta with Gruyere
Ingredients
4

Tbsp.

olive oil

2

Tbsp.

balsamic vinegar

1

tsp.

salt

1

tsp.

pepper

4

cups

zucchini, cut in ½ pieces (about 3 medium zucchini)

4

cups

carrots, cut in ½ pieces (about 4 large carrots)

2

cups

onion, chopped

1

bag (1 pound) Fusili pasta

¾

cup

gruyere cheese, finely grated
Instructions
Preheat oven to 375 degrees.

In a small container with a lid, combine olive oil,vinegar, salt and pepper. Shake vigorously to combine.

Toss vegetables in a large mixing bowl. Add about one-third of the oil/vinegar mixture to the bowl (reserving the remaining two-thirds for the pasta) and toss to evenly coat. Pour vegetables out onto a large baking sheet.

Roast vegetables, turning with a spatula every 15-20 minutes to insure they cook evenly without burning. Continue roasting until carrots are fork-tender and vegetables have turned a dark golden color; 50-60 minutes.

About 20 minutes before vegetables are done roasting, bring a large pot of water to a rolling boil and cook pasta until tender. Drain pasta and pour into a large serving bowl. Add roasted vegetables and cheese to pasta and stir to combine. Serve immediately.