Over the weekend I managed to take a divinely simple summer dish, roasted tomato bruschetta, that usually does not require a recipe and turn it into a day-long DIY project. I think after a week of minimal kitchen activity, the prospect of an entirely unplanned Sunday afternoon was enough to send me into a cooking frenzy.
This recipe from Food and Wine was a staple of our DC summer life, because it could be made entirely of ingredients I would pick up at the Dupont Circle Farmer's Market – fresh baguette, ricotta from Blue Ridge Dairy, basil, and cherry tomatoes. A few years ago we quadrupled the recipe, invited over a bunch of friends, and sat around the table on a steamy July night, laughing and eating this bruschetta with copious amounts of white wine until late into the night.
It probably would have never occurred to me to make bruschetta with ricotta (which is not widely available in Bangkok) if not for this post on ricotta from the ever-inspiring Smitten Kitchen. And although several other kitchen endeavors on Sunday were massive failures (don't even get me started on my first attempt at macarons), the ricotta came out creamy and delicious. Combined with this easy baguette recipe that came out a nice crust, the bruschetta were not the quick, thrown-together dinner they would have been on a Sunday back home, but were every bit as good as I remembered them to be.
The only things missing were the table full of friends and bottles of white wine.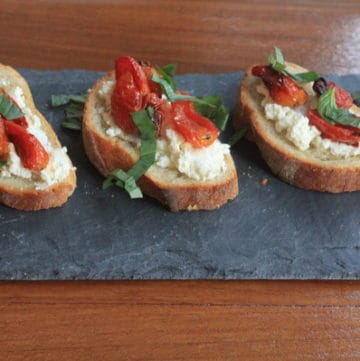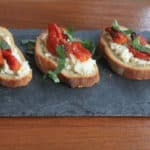 Print Recipe
Roasted Tomato Bruschetta with Ricotta
Roasted tomato bruschetta is a wonderfully simple summer dish. Start enjoying the beautiful weather with this easy appertizer now.
Servings:
4
as an appetizer
Ingredients
2

pints

cherry or grape tomatoes, halved lengthwise

1 ½

tablespoons

extra-virgin olive oil, plus extra for drizzling over bread

1

teaspoon

kosher salt

½

teaspoon

freshly ground pepper

1

baguette cut into ½ inch slices

1

cup

fresh ricotta (8 ounces)

20

basil leaves, thinly sliced
Instructions
Roast the Tomatoes: Preheat the oven to 300°. In a large bowl, toss the tomatoes with the olive oil, salt and pepper. Spread the tomatoes out on a large baking sheet. Roast, stirring every 15 minutes, until tomatoes become shriveled and golden, about an hour and a half. (These can be made up to a couple days in advance and stored in the refrigerator. Allow to come to room temperature before assembling the bruschetta.)

Toast the bread: Preheat the broiler. Spread out the baguette slices on a baking sheet and brush or drizzle the top of each slice with olive oil. Broil for about 30 seconds, just until the edges become golden brown.

Assemble the bruschetta: Top each baguette slice with ricotta and a few of the slow-roasted tomatoes. Scatter basil leaves over the top. Serve immediately.
Love bruschetta? Check out my recipe for Roasted Red Pepper Bruschetta and Bruschetta with White Beans, Roasted Garlic, and Rosemary.