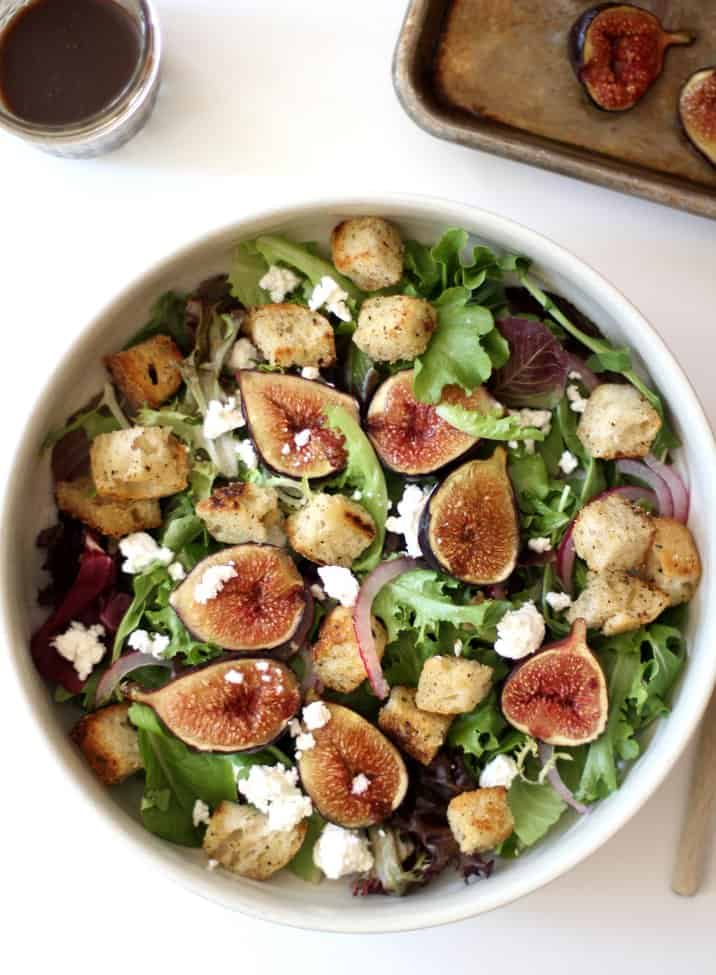 Not to get all reverse culture shock on you, but after living abroad for five years, I'm finding the cable TV situation in America to be seriously intense.  In Bangkok we didn't have the TV hooked up to cable, so now that I'm back home I can hardly figure out how to turn the thing on.
My current strategy is to type S-E-I in the search screen because Seinfeld is always on somewhere.  And it gets funnier with age.
As do the clothes.  Was I really alive in the decade when those jeans were stylish?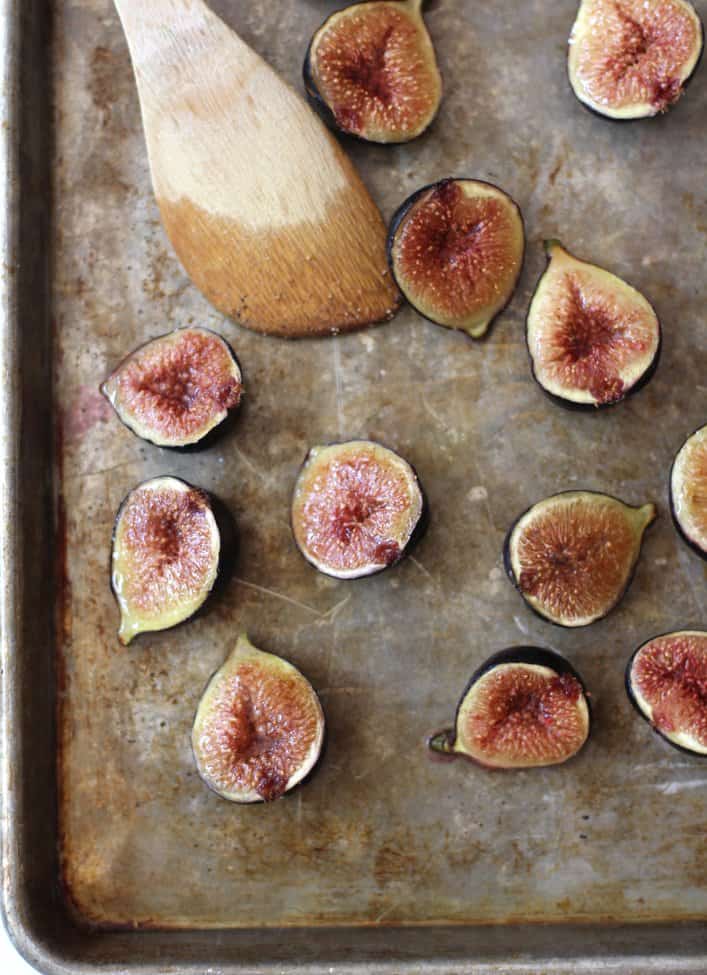 TV's an issue, but the plus side of reverse culture shock is the fruit.  Having binged on tropical fruit for half a decade, North American fruit is my jam right now.  Peaches and plums, and all the berries.  And figs.  I'm loving the figs.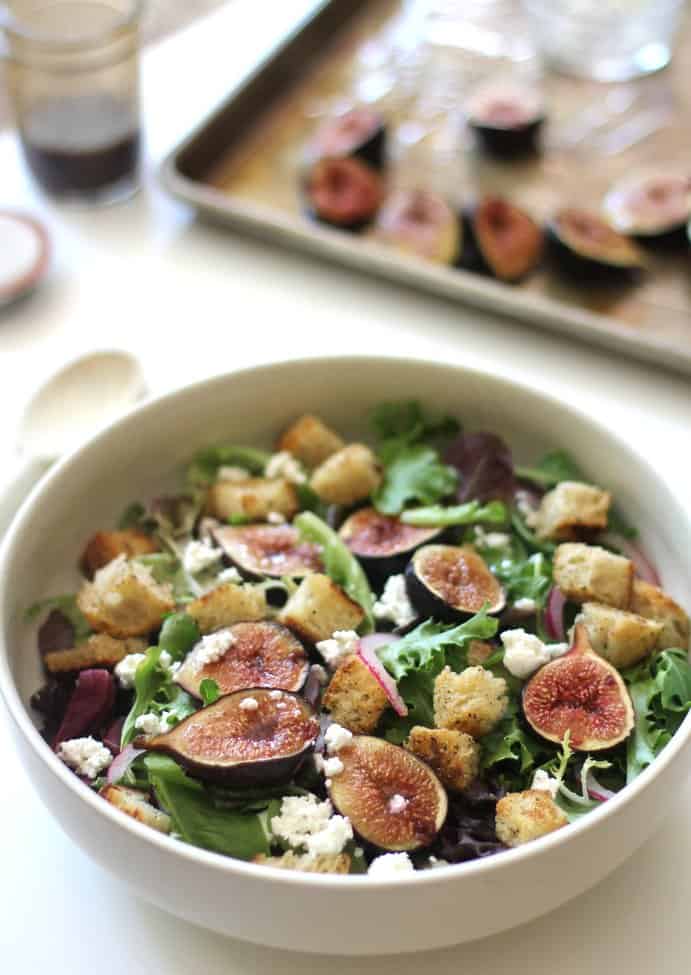 Figs are a funny sort of fruit.  I missed their sweet, crunchy, general…figginess.  But I also missed how fleeting they are.  One day they're nowhere to be found and the next there are ten kinds at the market.  Knowing they could be gone tomorrow makes them taste better somehow.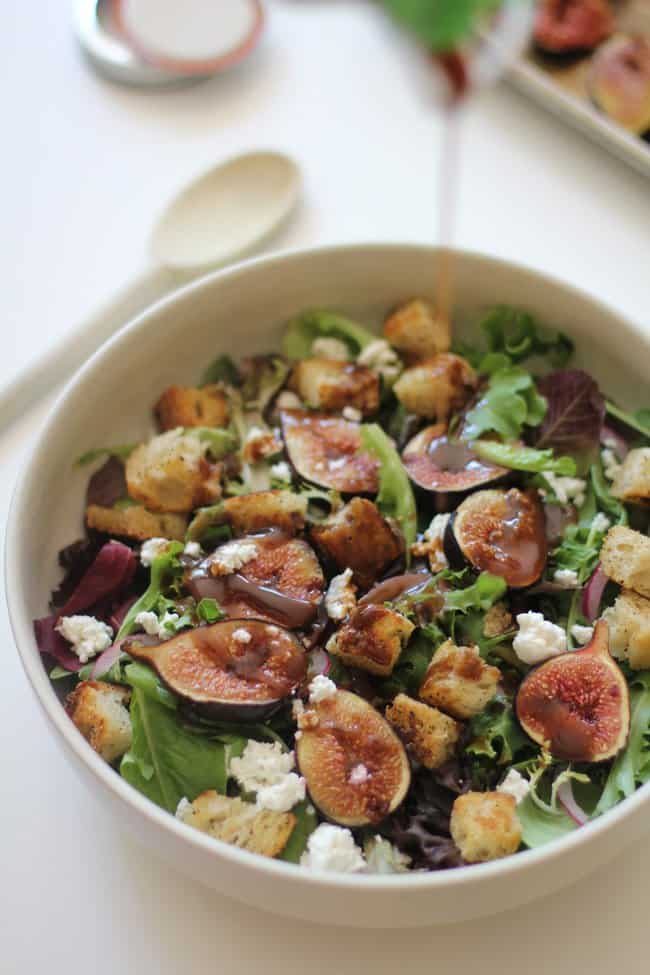 I also love that figs are such a perfect fit with some very delicious ingredients.  Honey, creamy goat cheese, spicy black pepper.  Right after we took this photo my sisters and I stood around this bowl and ate the entire thing.  With our fingers.
It's nothing if not glamorous, this food blogging life.
Hope you're having a happy Thursday and keeping your eyes on the weekend prize.  Talk to you in a couple days when I may or may not have eaten another couple pounds of figs and worked my way through all nine seasons of Seinfeld.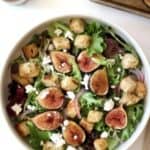 Print Recipe
Roasted Fig and Goat Cheese Salad with Black Pepper Croutons
This colorful salad with sweet roasted figs, creamy goat cheese and quick black pepper croutons makes a great side dish for a simple protein or a light dinner all on its own. Make each of the components up to a day ahead and toss everything together right before serving.
Ingredients
1/2

small Red Onion, thinly sliced

1/3

cup

White Wine Vinegar

8

small Figs (4 large), any variety

1/2

tsp

Granulated Sugar

1/2

tsp

Ground Cinnamon

2

Tbsp

Cooking Oil

1/2

lb

loaf Italian Bread, cut into 1-inch cubes

1/2

tsp

Salt

1-2

tsp

fresh-cracked Black Pepper

3

oz

Goat Cheese, crumbled

4

oz

Spring Lettuce Mix
For the Vinaigrette:
2

Tbsp

Balsamic Vinegar

1 1/2

Tbsp

Honey

1

tsp

Dijon Mustard

1/4

cup

Olive Oil
Instructions
Turn on the oven's broiler and move a rack so that it is about 6 inches under the heat. Lightly coat a baking sheet with nonstick spray or olive oil.

In a small bowl, combine the red onion and vinegar (add more vinegar if needed to cover the red onion). Set aside.

Cut the figs in half and place them cut-side up on the baking sheet. Combine the sugar and cinnamon and sprinkle a bit over each fig. Place under the broiler until lightly caramelized, about 4 minutes (watch them closely to be sure they don't burn). Set aside to cool.

Place a large skillet over medium-high heat. Add the oil and bread cubes and toast, stirring often, until bread is golden brown and very crisp. (This should take 6 to 10 minutes, depending on how thick and how fresh the bread is.) In the last couple minutes of cooking, drizzle with a bit more oil and add salt and a generous amount of black pepper.

To make the vinaigrette, whisk together the balsamic vinegar, honey and mustard. Add the oil while whisking. Season with salt and pepper, to taste.

To serve, drain the liquid off the red onions. Top lettuce with red onions, croutons, figs and goat cheese. Drizzle with vinaigrette just before serving.
Nutrition
Calories:
360
kcal
|
Carbohydrates:
41
g
|
Protein:
8
g
|
Fat:
19
g
|
Saturated Fat:
5
g
|
Cholesterol:
10
mg
|
Sodium:
589
mg
|
Fiber:
4
g
|
Sugar:
22
g
And here's Molly with the remote just this morning.  She's also frustrated with the technology and adds that there's just no good quality programming for kids these days.