I have been on quite a frozen dessert kick this year. I would blame it on the tropical climate, but it seems that it's not just me. Everywhere I look there's an article about making your own frozen yogurt, ice cream, slushy drinks, or popsicles. And they seem to be taking on some wild flavors that are so much more complex than the apple-grape juice popsicles I used to make as a kid. (Although, those were definitely tasty.)
I've been playing around with different varieties of popsicles, using super simple ingredients and sometimes just pouring the leftovers from the smoothies I have for breakfast into these charming Martha Stewart star-shaped holders. I don't make a habit out of having chocolate banana smoothies for breakfast, but a spoonful of the mixture for these popsicles may have me singing a different tune.
If the chocolate is mixed with bananas and yogurt, does that make it acceptable to eat before 9am?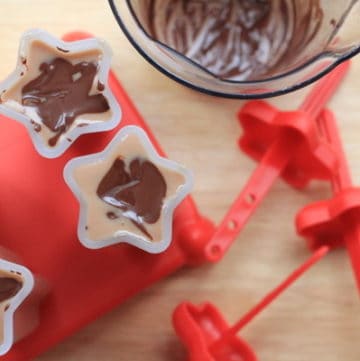 Print Recipe
Rich Chocolate Banana Popsicles
Ingredients
4

large bananas

1/2

cup

plain or vanilla yogurt (1 small container)

5

oz

(150g) dark or milk chocolate
Instructions
Combine bananas and yogurt in a blender or small bowl (if, like me, using a hand blender to mix). Heat the chocolate until it is just melted (about 30 seconds in the microwave). Pour 3/4 of the chocolate over the bananas and yogurt, reserving the remaining melted chocolate, and blend banana mixture until smooth and creamy.

Pour the banana mixture evenly into popsicle containers, leaving about 1/2 inch at the top of each. Top each container off with a spoonful of the remaining melted chocolate. Add the popsicle sticks and freeze until solid, about 4 hours.
Notes
I like to finish off each popsicle with a dollop of pure chocolate which tends to drift down to the center of the popsicle to make a solid chocolate core, but they are just as good with all of the melted chocolate mixed in with the bananas.