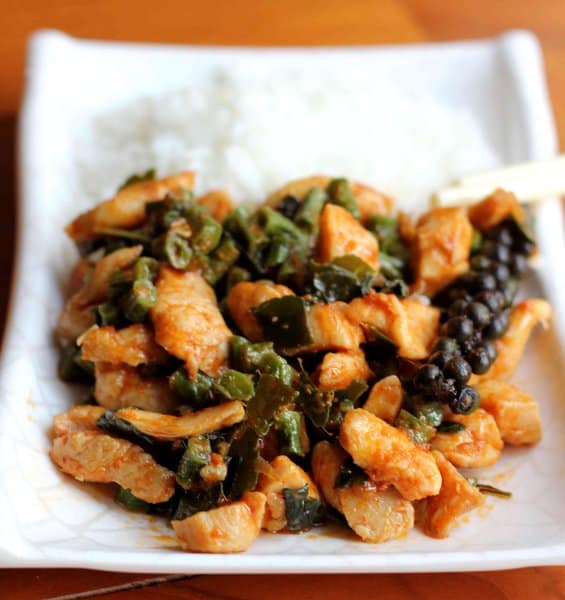 Few things intrigue me as much as unusual produce. In Bangkok it's a good thing that produce is so cheap because the temptation to buy it is constant. It's sold on every corner – exotic veggies and artfully cut tropical fruit. (To be completely honest, the produce is often overshadowed by the fried things on sticks, also sold on every corner…but that's a topic for another day.)
Before we moved to Bangkok I fell head over heels…for kale. Forget that its so healthy, I loved it in its huge, dark green bunches at the market and loved that it was tough enough that you could put it in a salad and it would stand up to anything that was thrown on top. I had a similar response to the Japanese white sweet potatoes, which I sometimes buy without any plan – just because they look so nice. It's the same with the Chinese long beans. Sometimes they're called "snake" beans, which I find to be charming, since it is such an accurate description. These very long green beans are often sold twisted into coils like a snake, but as you see below, my local vendor opts for the long bunches.
Although these beans taste almost just like every other green bean I've had (perhaps with a bit more crunch), I love the crazy shape. I've been curious if there are any recipes out there in which you leave them in lengths for cooking. They would be decidedly hard to eat, but I love the thought of putting them on the dinner table in all their 2…or even 3 foot glory. Once you chop them up, they're just like any plain old green beans. Still delicious, but not nearly as interesting.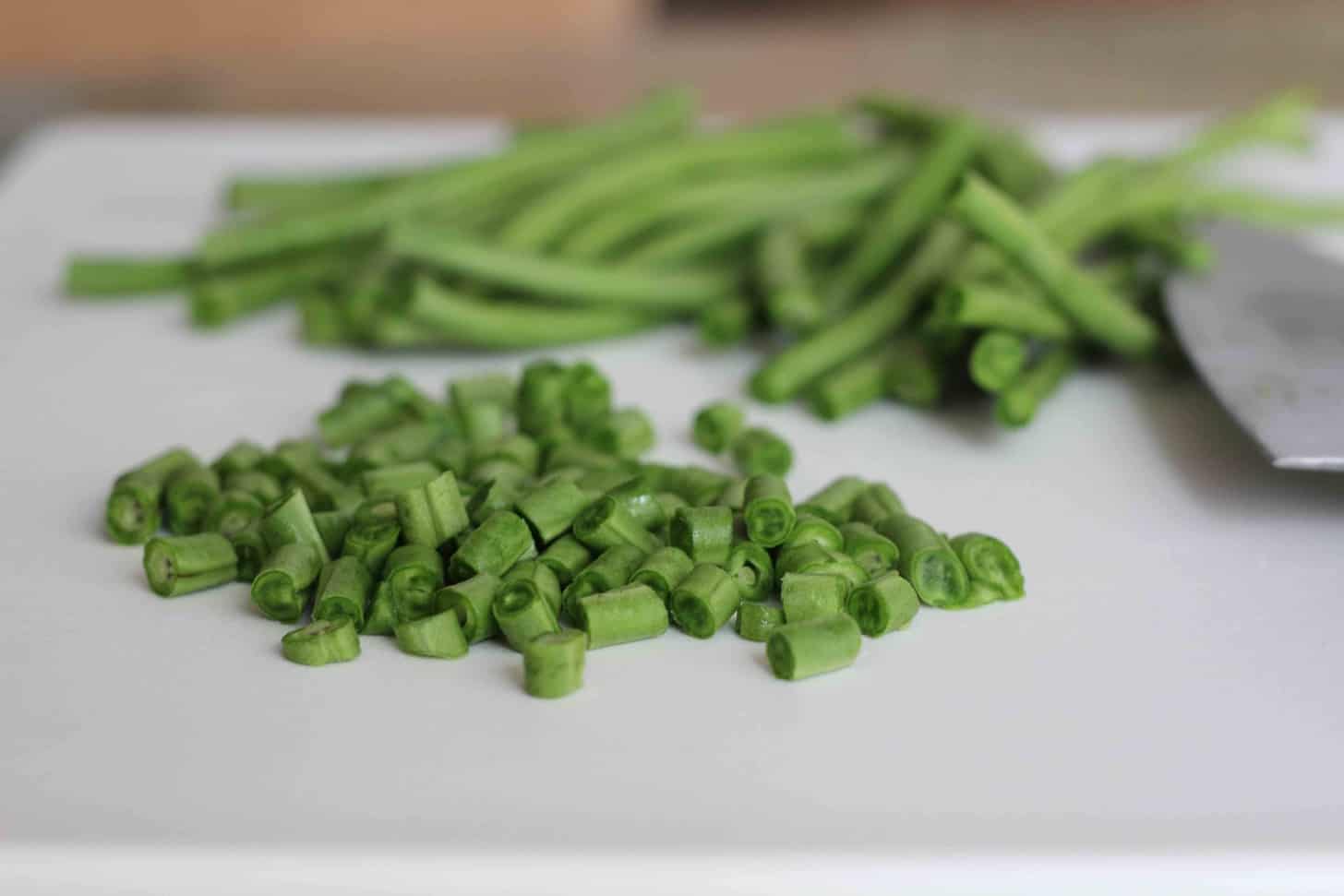 Having said all that, you do not need the long beans for this recipe. (They get chopped into little pieces no matter what kind you use.) You do, however, need red curry. Red curry paste is available at most large grocery stores, in the international foods aisle (or occasionally, refrigerated). Although it looks very similar to panang curry paste, they are not the same thing. Since curry pastes can vary dramatically in spice, give yours a little taste before cooking with it.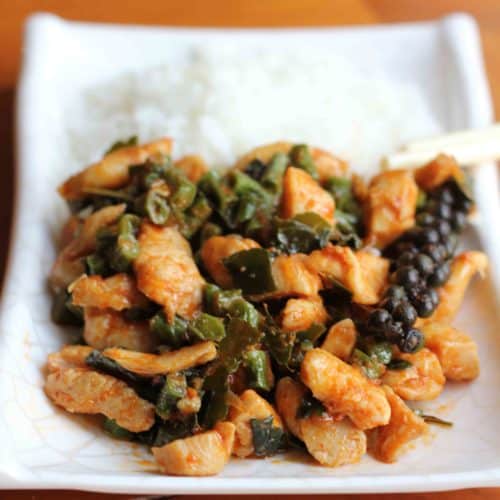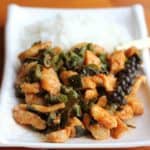 Print Recipe
Red Curry Chicken with Snake Beans
Ingredients
1

Tbsp.

red curry paste

2

cups

low-sodium chicken or vegetable broth (divided into 1 cup portions)

1

boneless, skinless chicken breast, sliced

1

cup

Chinese long beans (or regular green beans), cut into 1/2 inch slices

2

strands green peppercorns (optional)

6

kaffir lime leaves, torn into small pieces

3

small shallots, thinly sliced

1

Tbsp.

palm sugar

1/2

Tbsp.

fish sauce

10

basil leaves
Instructions
Heat a tablespoon of vegetable oil in a wok over medium-high heat. As the oil is heating (before it gets to full heat), add curry paste, and half the broth, stirring until smooth. (Reserve the remaining broth to add to the wok if mixture becomes dry and curry begins to sizzle on the bottom of the wok.) Continue heating and stirring until the curry becomes fragrant and the wok has reached full heat, 1-2 minutes.

Add chicken and stir fry until just cooked through, about 4 minutes.

Add green beans, peppercorns, kaffir lime leaves, shallots, palm sugar, fish sauce and stir quickly to combine. Continue cooking for 2 minutes. If mixture becomes dry, add additional broth, 1/4 cup at a time. (Mixture should be smooth but should thick enough to coat the other ingredients.)

Add basil and cook just until basil begins to wilt, about 1 minute. Remove from heat and serve immediately.