This weekend there was a lot of waiting. Lots of calling friends to see if their houses had been flooded and be sure they were safe. Lots of passing on rumors about when the water may reach us. Lots of checking in to see if local grocery stores had bottled water/candles/waterproof boots. But mostly…there was waiting. We are on edge waiting for water that has not yet come, but now sounds as if it will reach inner Bangkok at some point in the coming days. As has been the case all along, what we can do is be prepared…and patiently wait.
Fortunately though, life goes on, and there were many other things to do this past weekend (a three-day holiday weekend here in Thailand). There was catching up with a visitor from home, shopping for electronics, drinking bubble teas, and marveling at the concrete walls that many storefronts have set up to protect themselves. There was lots of laughter, a good dose of homemade chocolate chip cookies, and time devoted to catching up on the final season of Entourage. And somehow, even as we wandered around town in the warm sunshine and spent an evening with friends who grilled a fantastic impromptu dinner outside, my cravings for fall managed to creep in.
For a long time after we arrived in Bangkok, I tried to pretend that I didn't need Starbucks with their dependably tasty lattes and addictive sugary concoctions. Starbucks in Bangkok is just like Starbucks anywhere else in the world. The only indication otherwise is that occasionally someone sets out a Christmas mug in July or a lizard goes scrambling off the table when you sit down with your coffee (even Starbucks can't keep the tropics out).
However, this year as "fall" approached, I found myself feeling thankful for Starbucks and its ability to offer me a taste of fall…in the form of a Pumkin Spice Latte. I have been thoroughly disapointed. To-date, I have not witnessed a single seasonally-themed, intensely flavored pumpkin spice latte at Starbucks in Bangkok. Did Starbucks headquarters intentionally skip over Southeast Asia in their planning for fall? I may never know.
Regardless of the reasoning, you can imagine my delight when homemade versions started popping up all over the web. Turns out that a Pumpkin Spice Latte is really just a coffee drink with…well…some pumkin and spice thrown in. It's a cinch to make! I had two this weekend. I thought I would peruse around and test out some different recipes, but the version below from The Kitchn turned out to be exactly what I was looking for. It has a distinct fall flavor and is delicious with either espresso or regular brewed coffee.
I also highly recommend serving it in a JMU mug. Go Dukes!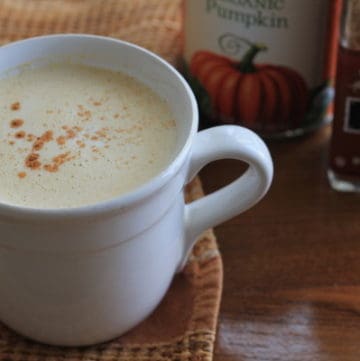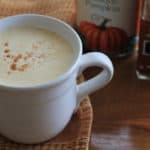 Print Recipe
Pumpkin Spice Lattes
Ingredients
2

cups

milk

2

tablespoons

canned pumpkin

1-2

tablespoons

sugar, to taste (I used honey)

2

tablespoons

vanilla extract

1/2

teaspoon

pumpkin pie spice

1-2

shots espresso (about 1/4 cup of espresso or 1/2 cup of strong brewed coffee if you don't have an espresso machine.)
Instructions
In a saucepan over medium heat whisk together milk, pumpkin and sugar, cooking until it begins to steam. Remove from heat, stir in vanilla and spice, transfer to a blender and process for 15 seconds until foamy (alternatively, just whisk the mixture until well combined). Pour evenly into two mugs and top with espresso (or coffee).