We're going big on the holidays this year.  We have family in town for Thanksgiving which makes even our Thai turkey-day feel so authentic and festive.  Frank broke one of his holiday rules and started playing Christmas music the weekend before Thanksgiving.  I've been putting pumpkin in everything and splurging on Christmas decorations that we have done without these past three holiday seasons in Bangkok.  We're even going to bite the bullet and buy a big (although still fake) tree.  For the past couple years, we decorated a $15 Charlie Brown Christmas tree that we bought at Target the day before we the movers came to put our belongings on a boat to Thailand.
So as not to miss out on a single minute of the festivities, I'm going to keep this short.  There's still no denying that we live in the tropics, so we're headed to the beach today through Saturday to celebrate with drinks by the pool and walks in the sand.  But before I go, I wanted to share this Thanksgiving twist on my favorite coffee cake.  On a whim, I substituted a simple, lightly sweetened pumpkin-inspired layer for the raspberries that usually go on top.  The resulting layers swirled together in a beautiful pumpkin-cinnamon work of art.  It was perfect for the season, and just the right balance to be a sweet breakfast or brunch or a welcome dessert.
However you are celebrating this year – I hope it's a good one.  Happy Thanksgiving!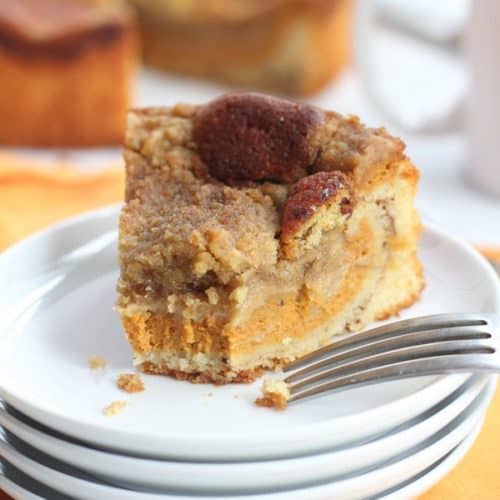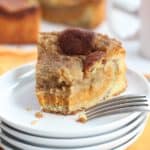 Print Recipe
Pumpkin Coffee Cake
A twist on two classics - pumpkin pie meets coffee cake.
Ingredients
For the Crumb Topping:
1

cup

all-purpose flour

3/4

cup

(packed) light brown sugar

1/2

teaspoon

kosher salt

1/2

cup

slivered almonds, toasted, chopped

6

tablespoons

chilled unsalted butter, cut into 1/4-inch cubes
For the Cake:
Nonstick vegetable oil spray

1 1/2

cups

all-purpose flour

1

tablespoon

cornmeal

1/2

teaspoon

baking powder

1/2

teaspoon

baking soda

1/4

teaspoon

kosher salt

3/4

cup

plus 3 tablespoons sugar, divided

6

tablespoons

(3/4 stick) unsalted butter, room temperature

1/2

teaspoon

vanilla extract

2

large eggs

1

cup

buttermilk

1

tablespoon

ground cinnamon
Pumpkin Filling:
1/4

cup

packed light brown sugar

1/2

teaspoon

salt

1/2

teaspoon

ground cinnamon

1/2

teaspoon

ground nutmeg

1

large egg

1

large egg yolk

1/2

cup

heavy cream

1

cup

pumpkin puree
Instructions
To make the crumb topping, whisk flour, sugar, and salt in a medium bowl. Stir in nuts. Add butter; using your fingertips, work butter into dry ingredients until large, moist crumbs begin to form. Refrigerate topping until ready to use.

Preheat oven to 350°. Coat a 9-inch springform pan with nonstick spray.

To make the cake, in a medium bowl, whisk flour, cornmeal, baking powder, baking soda, and salt; set aside.

Using an electric mixer on medium speed, beat 3/4 cup sugar and butter in a medium bowl until light and fluffy, 3–4 minutes. Beat in vanilla. Add eggs one at a time, beating to blend between additions and occasionally scraping down sides of bowl, until mixture is pale and fluffy, 3–4 minutes longer.

With mixer on low speed, add dry ingredients to bowl in 3 additions, alternating with buttermilk in 2 additions, beginning and ending with dry ingredients. Pour half of batter into prepared pan and smooth top. Whisk remaining 3 Tbsp. sugar and cinnamon in a small bowl; sprinkle evenly over batter in pan. Spoon remaining batter over; smooth top.

To make the pumpkin filling, in a small bowl, whisk together the light brown sugar, salt, cinnamon, and nutmeg. Add the egg and egg yolk and whisk until evenly combined. Stir in the heavy cream. Add the pumpkin puree and whisk until smooth. Pour the pumpkin filling over the coffee cake and gently spread evenly over the top.

Sprinkle crumb topping over pumpkin filling.

Bake cake until top is golden brown and a tester inserted into the center comes out clean, 55–60 minutes. Let cool completely in pan.

Store in airtight container at room temperature. (This is a great make-ahead cake. I think it tastes even better the day after being baked.)